A Real Faith that Really Works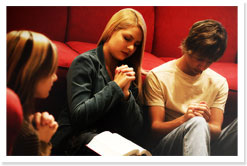 N

ine of Jesus' disciples held an unscheduled deliverance service one day that resembled many of our modern Christian meetings. Nothing happened.
There was no deliverance, no freedom, no miracle, nothing to give God glory. Matthew 17:14-18
Yet all nine of the disciples believed it would or they wouldn't have tried. So did the man who brought his tormented son to be delivered. Jesus wasn't there. He was up on the mountain in prayer with Peter, James, and John. That left the ministering to the other disciples. They had done it before. Luke 9:1-6 There was no reason to expect a problem.

What the disciples didn't know was there was No Reason to expect a miracle. They asked Jesus why they had failed. He said because they didn't have faith. Matthew 17:19,20 Do you see what is happening here? It's the same thing that Christians experience all of the time, and Jesus is just as upset today as He was then! Mark 9:19 We believe God can, even that He will, but He doesn't. WUWT (What's up with that?) What does Jesus mean when He says that "we don't have faith"??
First of all, don't get tangled up with the words believing and faith. Accept that it's possible to do one (believe) without having the other (faith). The father of the young boy in this story said as much:
"I do believe. Help my unbelief".
Mark 9:24 We absolutely must understand these two things: We have to believe, but Only Jesus can give us Faith!
Let me repeat: ONLY JESUS CAN GIVE US FAITH. We cannot work it up, strive for it, or do anything within ourselves to make it happen. It comes from Him, and Him alone.
That
is the Master Key to the Kingdom of God! If we could get faith apart from Him, then we could live without Him. However, the message of the entire Bible is summed up in John 15:5 where Jesus said, "apart from Me, you can do nothing".
Hebrews 12:2 -
fixing our eyes on Jesus, the author of our faith.
Jesus is the "author" of our faith - the originator, creator, it all comes from Him. Does that mean, "Whatever will be, will be?" Do I just go along my merry way doing whatever I please, and if I don't have faith, then it's not my fault? No!!! Faith comes when Jesus speaks. It comes to those who realize that He does not exist to do our will, but we exist to do His! Faith comes when the blessed phrase comes to pass...

..."And Jesus said." That is when the Storm is stilled, the Demons leave, the Blind eyes are opened, the Sickness leaves, the Promise is believed, the University is built, a man can Walk on Water, a Church gets a Revival, the Dead are raised, a Man or Woman gains Courage to do the impossible. Do you see? Do you hear? Do you understand? Faith comes when we are all about Him, listening for His voice, and obeying when He speaks. Faith - to do, believe, have, obey - comes when He speaks.

...in the Next Lifelines, "Why we must Obey to Have Faith"