Ministry Update




Take A Stand! Ministries

PO Box 279

Spanaway, WA 98387

-------------


ATTENTION!

Eric on the road




Columbus, OH


Join Eric and a host of great speakers for the Southwest Radio Ministries Columbus Conference held at Embassy Suites (Airport) in Columbus. Click here for conference, speakers, and lodging details.

Logan, OH


Eric will be ministering three times at

Ebenezer Baptist Church

(9:30am, 11am and 7pm).

Click here

for directions and details.

Columbus, OH


July 21

(am)

Eric will be ministering this morning at Fellowship Bible Chapel, currently meeting at the Tree of Life Ministries Building, 5000 Arlington Centre Boulevard, Columbus, OH. Doors open at 9:15am and service starts at 9:30am. Eric is speaking twice this morning on two different topics.



July 21

(pm)

This evening at 6pm Eric will be speaking on "The Deception of Chrislam." This special meeting is sponsored by Fellowship Bible Church however, please note that the meeting will be held in the facilities of Grace Fellowship Church, 3475 Paris Blvd, Westerville, OH.

Abbotsford, BC
August 15-17

Join Eric and others for the Learn to Discern Conference at Columbia Bible College. Click here for more info.



Abbotsford, BC

August 18 (am)

Eric will be ministering once again at Olivet Church in Abbotsford. Click here for more.

Eric is speaking again this year at the 2013

Great Lakes Prophecy Conference

held at

Calvary Chapel

. Find out more

here

.

Future Speaking Opportunities

Eric is accepting invitations for meetings July 28, August 4 & 11
(West Coast US only) and throughout the rest of 2013 and 2014 across North America.

Click Here or call 214-289-5244 to schedule Eric for your church!



Donate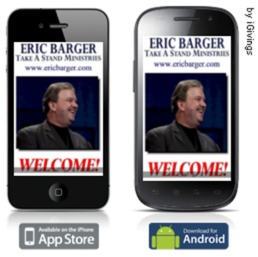 Featured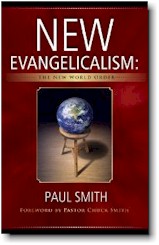 "New Evangelicalism:

The New World Order"

by Paul Smith



Like cascading dominoes, the intentional departure from believing the Bible is inerrant has plunged the church of the 21st century down the treacherous slippery slope of accommodation and compromise.


* Why have so many evangelicals identified themselves as new evangelicals?

* What is the relationship between Fuller Seminary, the Purpose Driven Church, and the Emergent Church Movement?

* How is the Emergent Church push for globalization harmonizing with the new world order in these prophetic last days?

Addressing these and many more questions with riveting case studies coupled with staggering and sobering documentation, the author unfolds the shocking progression of ideas that were birthed in a nest of aberrant church beliefs.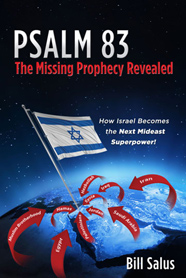 "Psalm 83: The Missing Prophecy Revealed"
by Bill Salus

An ancient prophecy written over 3000 years ago reveals that the Arab states and terrorist populations, which presently share common borders with Israel, will soon confederate in order to wipe Israel off of the map. These enemies of Israel are depicted on the red arrows upon the book cover image, and their mandate is clear:



They have said, "Come, and let us cut them off from being a nation, That the name of Israel may be remembered no more." (Psalm 83:4).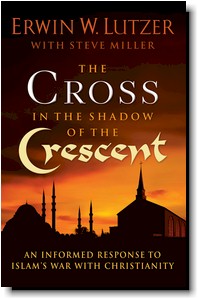 The Cross in the Shadow of the Crescent

by Dr. Erwin Lutzer
Islam is on the rise all over the West, including America. In this compelling new book, bestselling author Erwin Lutzer urges Christians to see this as both an opportunity to share the gospel and a reason for concern.

We have now reached a tipping point--the spread of Islam is rapidly altering the way we live. These changes are cause for alarm, for they endanger our freedoms of speech and religion.
Order & More Info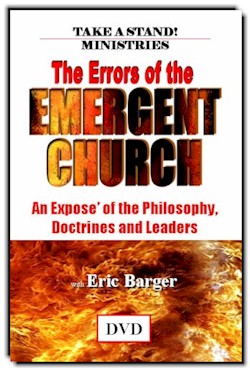 Emergent philosophy has invaded nearly every once-safe denomination. In this seminar DVD, Eric defines Emergent thinking and terms, concisely exposing the leaders and errors of the Emergent Church.
See All Products
Visit and Subscribe to Our Channel
Can a Christian trust in Jesus but
NOT
God's Word?

The evidence indicates that as Jesus taught and ministered He verified the complete reliability and comprehensive authority of the Old Testament. Unlike the skeptics, who've often masqueraded as theologians, nowhere are we left with the impression that the Lord considered those 39 books corrupted, incomplete, or tainted with allegory, fable, or fiction. To Jesus they were flatly and absolutely the Word of God. Can His true followers afford to do any less than the Messiah did? If the Old Testament had contained errors of any sort, be they historical, scientific, or doctrinal, the incarnate Son of God would have surely brought correction during His time on earth. Instead, Jesus only corroborated the content of the Old Testament. The Master certainly had plenty of opportunity to address alleged mistakes, for during His earthly ministry He quoted from 24 different Old Testament books. But rather than casting aspersions on various Old Testament prophets or what they wrote, Jesus instead validated accounts and passages that critics seem to find pleasure in bemoaning. Here are just a few instances from the Gospels that contain Old Testament references that draw fire from the skeptics.
- Abel, Lk 11:51
- Noah, Mt 24:37-39; Lk 17:26-27
- Sodom and Gomorrah, Mt 10:15; 11:23, 24; Lk 10:12
- Jonah, Mt 12:39-41; Lk 11:29, 30, 32
- Moses, Mt 8:4; 19:8; Mk 1:44; 7:10
- The Validity of Genesis 1 & 2 (Creation),
Mt 19:4-5; Mk 10:6-8; and traditional marriage in the same passages
If the accounts of Noah, Jonah, Sodom and Gomorrah, or the six-day creation in Genesis weren't absolute truths and real events, would Jesus have spoken matter-of-factly of them?
As He taught, Jesus never wavered or discounted anything the Old Testament prophets wrote. Judging from Jesus' approach throughout the New Testament, if these and many other accounts were mere fable, it is unthinkable that God incarnate would not have taken the numerous opportunities He had to correct what is known as His OWN WORD. After all, Jesus was complete, absolute, and total truth with feet and hands, wasn't He? (Your answer here needs to be an emphatic "yes!") It is inconceivable to think that if the Old Testament held errors of any sort Jesus would have avoided speaking up. Plus, the apostles, having no desire to protect Judaism as represented by the Pharisees, would have gladly recorded any such statements.
If we mortals attempt to pick and choose which books or accounts from Genesis to Malachi we deem as only lore, allegory, or somehow untrustworthy because they don't suit our fancy or that of the skeptics, atheists, intellectuals, and secular scientific community, then we pit our opinions squarely against those of the King of Kings and Lord of Lords. In reality, if we dare reject the trustworthiness of the Old Testament, then we are in effect also rejecting the Lord Jesus Christ with it!
So, the next time someone besmirches the credibility of God's Word - be they friend, family, clergy, teacher, or scholar - remind them that Jesus, the sinless, perfect, Son of God, by His own words defended it. It would be wise for those who think they somehow know better than Jesus Christ to repent from such delusions of intellectual superiority and do so quickly! Once you know the facts, it seems impossible that a true believer can trust in Jesus but reject the inerrancy of God's Word.
Here's just part of what a survey of Jesus' teaching tells us about the Old Testament:
1. Authority - Matt. 22:43
2. Reliability - Matt. 26:54
3. Finality - Matt. 4:4, 7, 10
4. Sufficiency - Luke 16:31
5. Indestructibility - Matt. 5:17-18
6. Unity - Luke 24:27, 44
7. Clarity - Luke 24:27
8. Historicity - Matt. 12:40
9. Facticity (scientifically) - Matt. 19:2-5
10. Inerrancy - Matt. 22:29; John 3:12, 17:17
11. Infallibility - John 10:35
During the high priestly prayer found in John 17, Jesus prays to His Father in Heaven about those who follow Him. He said: "Sanctify them through thy truth: thy word is truth." He said it - believe it!
* For more teaching like this, see Eric's DVDs
"Hath God Said? - Holding Onto the Bible in Troubled Times" and
"The Proof and the Power of the Resurrection."
Both are available by visiting our online bookstore at
www.ericbarger.com
or by clicking the images below.
Tracking with the topic of dependance on God's Word, this weekend (June 22-23) Executive Producer, Larry Kutzler and I explored some of the beliefs of
the new but disturbingly confused evangelicals.
If you missed this "Understanding The Times" radio program when it aired on our affiliates nationally, I encourage you to download the podcast or listen online. If you have friends or family mixed up in postmodern thinking or Emergent ideas you'll want to hear this broadcast and possibly share it with them. Find it posted on www.ericbarger.com and at www.olivetreeviews.org.
Bring Eric to Your Church or Community in 2013-14

Click the image above to view our new Eric Barger/Take A Stand Intro Video

If you or your church are interested in hosting Eric's cutting-edge "Take A Stand! Conference" please contact us immediately. Email here or call 214-289-5244.

-------------------------

_______________________
SPECIAL OFFER!




Want an assortment of Eric's teachings to share with others or enjoy again and again?

Order our
One of Everything Special!




Includes:



- 20 of Eric's full-length seminar DVDs
- 10 CD messages by Eric
- 5 Books

$250

(a $449 value)

Great for home use, Christian and home school study, Bible studies, small groups, Sunday School, church libraries and anyone just wanting a collection of Eric's DVDs, his most current Books plus others and an assortment of his teaching CDs.

Order online

or call 214-289-5244

You may also mail your request to:

Take A Stand! Ministries

PO Box 279 - Spanaway, WA 98387