New York City Food Policy Watch is the monthly e-newsletter of the New York City Food Policy Center at Hunter College. We keep an eye on food policy in New York City and on urban food policy around the nation and the world. We also provide updates on our own policy analyses and research activities and on the food policy activities of City University of New York faculty, students and staff.
To subscribe to our newsletter click here >>>
Policy Brief
Needed: New Thinking on Poverty and Hunger in New York City
by Nicholas Freudenberg
In the last month, three new reports on hunger and poverty in New York City have been released. Food Bank for New York City produced The Hunger Cliff One Year Later: 56 million meals lost and the need for emergency food remains high. The New York City Coalition Against Hunger (NYCCAH) produced The Unkindest Cuts, its 2014 Hunger Report, and the Women's Center for Education and Career Advancement released Overlooked and Undercounted The Struggle to Make Ends Meet in New York City. Together the reports paint a devastating and depressing portrait of the life circumstances of our city's low income populations and the painful consequences of city, state and federal policies that continue to widen the city's inequality gap.
A few numbers tell the story:
Food Bank estimates that the 1.4 million food-insecure New York City residents face a meal gap of 250 million meals a year-of which at least 56 million meals can be attributed to the 2013 cut in SNAP benefits. The gap represents 178 meals per food-insecure person per year -about 60 days of 3 meals a day.

A

majority of New York City's food pantries and soup kitchens experienced increases in visits in 2014, ran out of food, or reduced the number of meals in their pantry bags.
Community Partner Spotlight:
Hot Bread Kitchen
Hot Bread Kitchen is a non-profit social enterprise that builds lasting economic security for foreign-born, minority and low-income individuals by increasing access to professional opportunities in the culinary industry.
Tell us about your work
Our organization currently operates two programs in our East Harlem space: the flagship on-the-job bakery training serves low-income, immigrant, and minority women by providing a year of intensive bakery training and professional development. Graduates of the program move on to positions at top bakeries and restaurants across New York City.
HBK Incubates supports food entrepreneurs ready to grow out of their home kitchens by providing rentable commercial kitchen space, business-focused workshops, and advising. Graduate businesses move on to their own space or co-packing facilities; a number of our graduates are now selling nationally.
The Advocate:
Interview with Gary Oppenheimer,
Founder, AmpleHarvest.org
An ongoing series of interviews with food policy advocates
Gary Oppenheimer is the Executive Director and Founder of AmpleHarvest.org. As director of a community garden in 2009, he learned about the wasted food in many plots and created a local program called "Ample Harvest" to get the excess food to local food pantries. This program grew into a national, web based solution called AmpleHarvest.org, which uses the internet to educate, encourage and enable gardeners nationwide to share their harvest with 7,093 (as of late 2014) local food pantries - for the rest of their gardening life.
What inspired you to get involved in food? How did AmpleHarvest.org evolve into what it is today?
"Finish what's on your plate because kids are starving in Europe." As a first generation American whose parents escaped from Germany, I grew up in the fifties with that. And since then it's been "China" and "India" and during the Johnson administration-"Appalachia". I was inculcated with the idea that food is something you don't waste because somebody else is hungry. It made no sense to me at the time. I said, "Give them the food" but that didn't fly with my grandmother. As a result, I use resources judiciously - today I apply that to food, time, emotions, energy and money. I'm very aware of resources and I think most people should be- but for me it's second nature.
East Harlem Community Resident Spotlight:
Nancy
Themes, Trends and Ideas to Emerge from UPENN's
"The Last Food Mile" Conference
On December 8-9, 2014, the University of Pennsylvania's School of Veterinary Medicine convened a group of agronomists, lawyers, academics, farmers, economists, gleaners, psychologists, entrepreneurs, gardeners, scientists, composters, restaurateurs, chefs, grocery retailers, food industry representatives, faith-based organizations and anti-hunger advocates to discuss the growing issue of lost or wasted food, a $161 billion burden on the United States and an even greater problem on a global scale.
Two Food Policy Center staff members, Ashley Rafalow and Jan Poppendieck, attend and here they highlight some of the key themes, trends and ideas to emerge from this two-day conference. The goal to spur discussion on how New York City can build upon its efforts to feed the hungry, minimize food waste and divert solid waste from landfills. The presentations and resources from this conference will be posted on our website as they become available.
Size of the food waste phenomenon:
Globally: The UN Food and Agriculture Organization (FAO) reports that 1.3 billion tons of food are lost or wasted each year. At the same time, we are far from reaching the goal of the 1996 World Food Summit to reduce the number of people suffering from malnutrition, and that is without an anticipated population bump to 9.2 billion people by 2050.
Nationally: The estimated total value of food loss in the United States is approximately $161.6 billion. In 2010, 31% of the available food supply was lost- 10% at the retail level, 21% at the consumer level.
Where does the waste come from?: In higher income countries, it's often easier to throw food away than to eat, reuse or recycle it. In lower income countries issues including storage, transportation, infrastructure are sources of food waste. USDA data suggests that a majority of food loss in the U.S. occurs at the consumer level, with vegetables comprising the highest percentage of food lost.
NYC Food by the Numbers:
Food Waste
In 2013, former Mayor Bloomberg committed to diverting 75% of New York City's waste from landfill by 2030. City efforts to reduce food waste take many forms, including:
Mayor's Food Waste Challenge: With a goal of reducing landfilled food waste by 50%, Mayor Bloomberg invited New York City Restaurants to participate in the Mayor's Food Waste Challenge. Learn more
Local Law 77 of 2013, requiring the NYC Department of Sanitation to establish a voluntary residential organic waste curbside collection pilot program as well as a school organic waste collection pilot program. Read the Organics Collection Pilot Program Report
Local Law 146 of 2014, mandating that businesses generating over one ton of food waste weekly must source separate and divert their organic waste beginning in July 2015.
Tip sheets for food businesses to support source reduction and

food waste diversion
The most visible of these efforts has been the Organics Collection Pilot Program reaching a few selected residential communities spanning all 5 boroughs and public schools across the city. Though food loss occurs at many points in our food system, these numbers present a snapshot of New York City's progress in diverting food waste (at the consumer and institutional level) from landfill:
Of the 31% of residential waste that is suitable for composting, food waste comprises 18%.
Organic waste collected by DSNY curbside and containerized collections, in tons per day: October 2014 and October 2013,
Read more about food waste in NYC>>>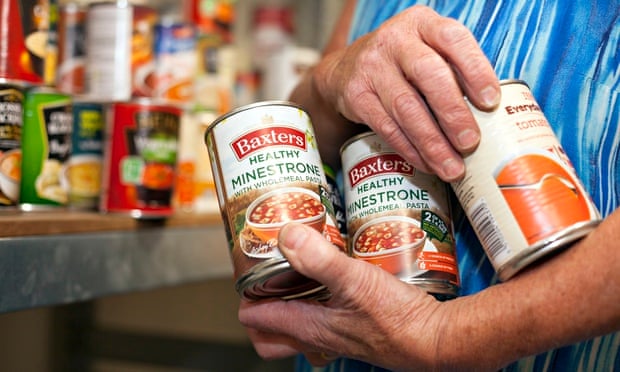 'Under-resourced food charity and the private sector will never achieve a zero-hunger Britain.' Photograph: David Sillitoe for the Guardian
Food banks don't solve food poverty. The UK must not institutionalise them (The Guardian)
"'My Canadian hopes for the UK's all-party parliamentary report, Feeding Britain, quickly faded on reading that charitable food banks and the church, along with supermarkets and food manufacturers, are proposed as core agencies in a new national network to abolish national hunger.
"
Looking for Good Food in LA? Head to the School Cafeteria!(Switchboard)
A food fight 20 years in the making comes to Capitol Hill (The Hill)
Organic Certification System Experiences Growing Pains (Beyond Pesticides)
Global Nutrition Report Launched in New York City (Sustainable Development Solutions Network)
Food Policy Journal Watch
Select food policy-focused peer reviewed journal articles from this month.
Photo: Cornell Cooperative Extension
Does SNAP improve your health? (Food Policy)
"Our results indicate that SNAP has an consistently positive effect on self-assessed health; it significantly increases the probability of reporting excellent or very good health. We also find that SNAP participants spend about 3 fewer days in bed due to illness each year, and report between 1 and 2 fewer office-based doctor visits and a fraction fewer outpatient visits. Supplementary specifications indicate that, although SNAP participants consume fewer office visits overall, they have more checkups than comparable non-participants" Read the article>>>
About the NYC Food Policy Center at Hunter College
The New York City Food Policy Center develops intersectoral, innovative and effective solutions to preventing diet-related diseases and promoting food security in New York and other cities.
The Center works with policy makers, community organizations, advocates and the public to create healthier, more sustainable food environments and to use food to promote community and economic development. Through interdisciplinary research, policy analysis, evaluation and education, we leverage the expertise and passion of the students, faculty and staff of Hunter College and the CUNY School of Public Health and other CUNY campuses. The Center aims to make New York a model for smart, fair food policy.
Center staff include Hunter College faculty, staff and students:
Upcoming Food Policy for Breakfast Seminars:


December 16
Food Policy for Breakfast:
80 Years of Federal Food Assistance Policy:
Implications for Child Nutrition Reauthorization in Uncertain Times
CUNY Graduate Center

9am - 10:30am

365 5th Avenue @34th St.
9th Floor, RM9206

New York, NY 10016
*note new location
If you previously RSVPed for our 12/2 breakfast that was cancelled, your RSVP was tranferred to the seminar on 12/16.
RSVP>>>
This time of year is busy for those of us who work in and care about food. With Thanksgiving now behind us and Christmas fast approaching, we hope the spirit of sharing and generosity will remain past this holiday season.
On November 14th we were pleased to host the 2nd Annual FRESH Food Retail Summit, which brought together industry leaders from corporate to community to hear perspectives from around the table and strategize the role NYC neighborhood food retailers can play to increase access to healthful foods in underserved areas of New York City.
Join the NYS Food and Nutrition Policy listserv for discussions, debates and sharing of information!


Open to anyone involved in the fields of nutrition and food policy in the state of New York.


All viewpoints, questions and discussions are welcome and encouraged!


The listserv is intended to be an interactive, open forum where any and all topics related to food and nutrition policy can be discussed and debated. Topics will likely include:
Best practices for communities
Action Alerts on policy issues
Open discussions on policy and practice issues
Requests for assistance
Questions listserv

members may have on food and nutrition policy issues

Sharing of resources
Sharing articles or posts related to the topic of food and nutrition policy
Postings of studies/research
Job opportunities
If you wish to join the new listserv, select one of these options: