Modeling Northwestern Pacific's GP9 1922
Model By Chris Palomarez
Being a fan of the late Southern Pacific Railroad, I have become fond of a successor route called the Northwestern Pacific. This shortline has an extremely interesting history. When the route was spun off from the Southern Pacific in the mid 1980s, it has struggled on it's own. The Northwestern Pacific has seen several operators, each having it's own spin on how the line should be operated; a reflection that carried over to the diversity in paint schemes. The "New" NWP as it is referred to has a modest roster of locomotives. In particular is a GP9 that was repainted into my beloved Southern Pacific's "bloody nose" scheme. I'll cover 3 possible starting points for modeling this locomotive. Each method will employ the new NWP decal set 87-1414. First method will be for those not wanting to do a complete repaint, second method will be for those that rather paint then do a bunch of body work, third will be for a REAL cheap way to model 1922, but the problem is finding the right locomotive on ebay for cheap.
All three models will need these parts (clicking each link will send you to the Walthers page for the item):
METHOD ONE: modifying an SP unit to avoid a complete repaint (will need to partially repaint the nose and rear nose red. Parts of the long hood will need to be repainted as well.
Best model to start with is SP 3759. Lacks SP's extra lights on the front and back of the unit
If you already have an SP unit with the extra lights and want to modify it to 1922, additional work will be required to replace the gyra lights and move the headlight between the number boards front and back. Filling some bulb holes may be required. Fill in the number board access doors below the number boards.
To remove the lettering follow these steps I wrote in Microscale's March 2009 article: "Removing Athearn Genesis Lettering."
The tough part will be removing the dynamic brakes, then, for the roof use "Cannon and Co. Adjustable Long Hood Roof 191-1751." Use some strip styrene for the sides of the non-dynamic brake section.
Once you got the non dynamic section build up with a roof and walls you will need to add the non turbo exhaust stacks Detail Associates makes those 229-2402. You will probably have to repaint the front and back nose with red after these mods. The good news is there is an easy paint match for touching up the gray. Use Testors Model Masters 1788 Euro I Gray FS36081. It's a perfect match. I used it with great success on my tunnel motors.
METHOD TWO: Completely strip a Northern Pacific model. You can use either of these #s 332 or 333. Add details in parts list above Method One. Remove stock bell, remove shields over the exhaust, remove stock horn, remove stock sun shades and use A-line sun shade 116-29210. Completely repaint of your choice SP Scarlet Red and Lark Dark Gray.
METHOD THREE: El Cheapo 1922 build. Use a Life Like Proto2000 Phase II GP9 with non-dynamic brakes. You may have to find one on ebay and
chances are it'll be decorated so you will have to completely strip this model. I had this model laying around in my closet for YEARS...was going to model an SP passenger GP9 with torpedo tube type airtanks on the roof. The project felt too ambitious and I lost interest in the unit anyway. Fell in love with the NWP so this model project is finding a new purpose as NWP 1922. The cool thing for me are there are so many great modeling options available for this locomotive. It really just matters how much you want to invest in detail parts and extra time to put them on. You can make it as easy or as intricate as you want. For one I'll need the A-Line sun shades as described in method two. Personally I like metal parts so I plan to upgrade to metal grab irons DA 229-2201 and coupler pin lifters DA 229-2211.
I'm also planning on adding etched brass steps to the pilot much like this example. Cannon and Company part 191-2022. One may decide to use some nicer laser cut windows from American Model Builders to enhance the look of the stock cab. AMB Part# 152-316.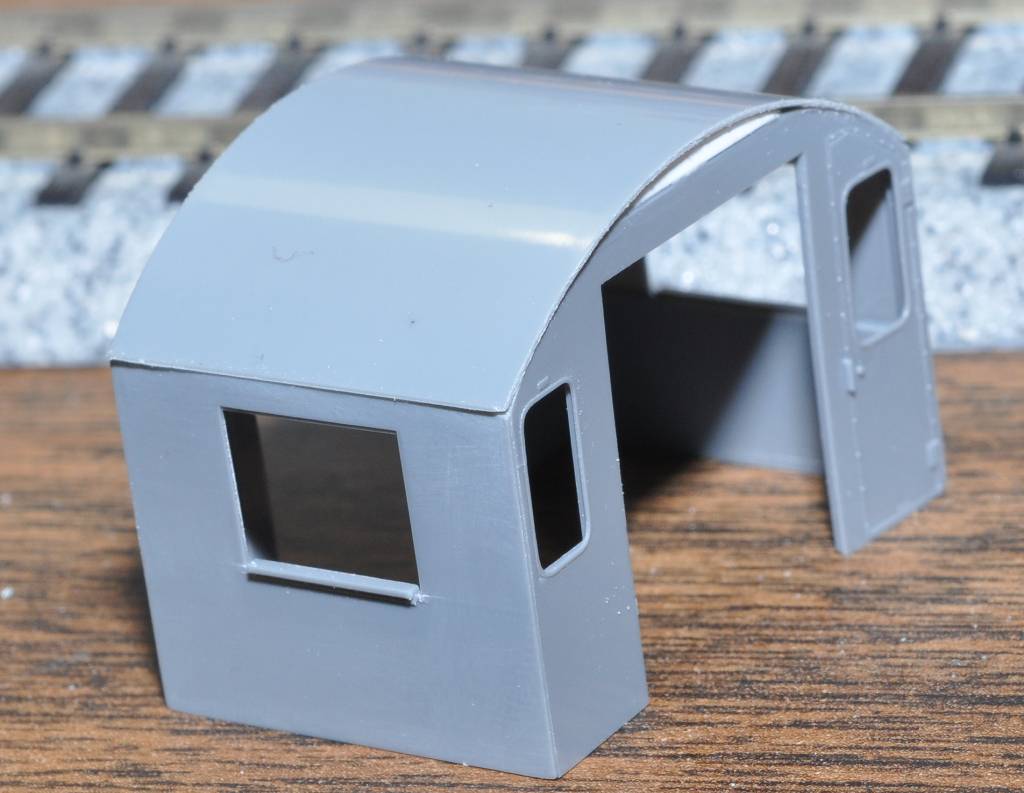 Another optional upgrade is to replace the cab on the Life Like GP9. Replacing the cab negates the need to purchase the AMB new window glazings for the stock P2K cab. Although good, I feel having the flush windows and finer detail around the sliding windows will enhance the model significantly. A friend of mine, Andy Harmon, developed a way to kitbash the Cannon and Co. 35-line cab CC 191-1502 with a switcher roof CC 191-1504 to yield a GP9 cab from the combined parts. His method is described on the old Atlas forum.
Photo above left is of the completed cab awaiting installation. Windshield Wipers from A-Line part # 116-29200 will complete the parts for the cab.
Decals for NWP 1922 will be available starting May 1st 2013 from Microscale HO scale 87-1414 and in N-scale 60-1414.
Well there you have it! Several ways to get yourself an NWP 1922. Simply pick a method that works best for you.