Greetings!
WOW! Can you believe it! It's December! Where did 2012 escape to? I am sitting here right now in disbelief and somewhat of a panic trying to figure out how I arrived at December so quickly! As my heart beat slowly goes back to normal I ponder if we, ASTD of SWFL, have anything of great significance to show for 2012.


Alright, now that my breathing is under control and I am back to my normal state (whatever that is), I know that ASTD of SWFL has done amazing things: our membership has grown, our board has grown, our community awareness has grown both locally and nationally, and our knowledge has grown from providing amazing monthly programming that is both interactive and fun.

With 2013 approaching at mach speeds, know that your ASTD of SWFL Board is already hard at work planning another amazing year for you. And, I am again honored to be serving as your chapter President for 2013!

So, get excited and look forward to 2013 and all that ASTD of SWFL has to offer. Become involved! Find out what you can do to help ASTD of SWFL to continue to grow and bring value to our community.

Stay connected, and I hope to see you at our December celebration.

Happy Holidays!

Your ASTD SWFL President,
Ken Bodenhamer
Employee Learning Week Panel
Ammie Black, PHR
Training and Development Coordinator
Cypress Cove at Health Park
Karen Jaye
Chief Human Resources Officer
Lee County Clerk of Courts
Arthrex
November's Chapter Meeting Recap
Traits of High Performing Learning Organizations
November's panel of Teresa Hiatt, Helen Wythe

(Independent Process Facilitator)

, and Vikki
Dingman
(HR Director, R&L Truckload
)
focused the group on National ASTD's reports on how high performing organizations measure training effectiveness and how to benchmark our learning programs to be the best of the best.
As training partners to organizations it can sometimes be hard to explain exactly how much value you add to an organization that focuses on concrete absolutes. The panel discussed several quantitative and qualitative data collection methods to help define the impact training programs have on the issues most important to overall business strategies.
ASTD's State of Industry

(Applied Research Corporation and Skillsoft)

is a free report to national members that showcases training measurement data from ASTD BEST Award winning companies, Global 500 companies, and other organizations across industries. Access to the entire report is linked below. The numbers reflected below are from the newly released 2012 report.
Organizations in the United States spent a total of $156.2 billion on the training and development of their employees.
Expenditure
is one of the most commonly used metrics to measure training effectiveness across all industries. This ratio puts a price on the training resources available to each employee. Employers are still supporting training by spending on average approximately
$1,182
per employee annually, slightly lower than the 2011 report.
BEST Award
winning organizations spent
$1,272
, while
Global 500
companies spent
$1,034.
Both of those figures are relatively the same as the previous year.
The average employee spent 30.5 hours a year participating in training and development sessions. This number has decreased over the previous years' survey, but employers are paying more for the time spent. BEST Award winning organization employee's spent significantly more time; 49.1 hours a year. Global 500 companies' employees spent closer to the entire sample's average of 35.2 hours.
% of Revenue is a value used to measure how much potential is there for the learning function to support internal growth. Most employers are spending around 1.2% of their revenue to develop their talent. BEST Award winning organizations spent .6% investing in training, while Global 500 companies spent .7%.
Want to learn more? Download or purchase the entire report
Click Here
2013 Programs Survey

Your local ASTD chapter has a survey for our members. The Board is planning the Programs for next year and we value your input. We strive to provide value adding programming for our membership.


If you haven't taken the survey yet please click on the link.

Curious to see the results of the survey so far, then
CLICK HERE
.
Upcoming Event
Chapter Board Meeting at Cracker Barrel from 8:00am - 9:00am on Wednesday, December 5th.
Wednesday Coffee Social will be cancelled for the month of December ONLY due to the holidays. The traditional monthly meeting will resume on January 23rd.
January's chapter meeting will take place at a new location, Rasmussen at the Forum on Colonial Blvd. Please join us January 16th from 11:30am - 1:00pm for lunch and discussion.
Career Opportunity
Lee Memorial, Cape Coral is looking for a Learning Services Specialist.
This opening is for designing, developing, delivering, and evaluating training programs system wide and for individual department goals.
Minimum educational requirement is a Bachelor's in Adult Education, HR, or related field.
Must show a competency of corporate training, experience facilitating groups, and collaborating with subject experts to develop learning objectives.
Did You Know?
We now have a QR Code.
Simply scan the image with your smart phone and you will automatically be directed to the chapter's website. Look for this on future pamphlets and materials.
We have a BOGO program for visitors.
Do you know someone who could really find value in our group, but wants to try it out first? Members, utilize this program and provide that person with a free meeting and meal. Click the link below for the BOGO ticket. Members must be present to qualify.
BOGO TICKET
Thank you for reading and enjoying this month's newsletter. Our chapter is vibrant and growing. Attend a meeting and you will find it to be value adding.
Sincerely,
Charlie Carpenter
ASTD SWFL - VP of Communications & Technology
December 12th, 2012
EVENING Chapter Meeting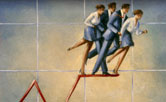 ASTD SWFL is celebrating "Employee Learning Week" in December! The meeting will focus on businesses that believe in the importance and benefits of training and investing in their workforce. It is important that we emphasize the significance of a well trained and informed staff, and ultimately how it affects the bottom line of any business or organization.
Please join us for an evening gathering where networking will be as important as the meeting! The informal meeting portion will include a distinguished panel from local businesses that will discuss their learning processes, with time for questions & answers.
The first 45 minutes will be for networking, followed by the panel and discussion, with time at the end for more networking.
Save the Dates

2013 Monthly Chapter Meetings
January 16*
February 20*
March 20*
April 17*
May 15*
June 19*
July 17**
August 21**
September 18**
October 16**
November 13**
December 11 (Dinner)
* Rasmussen College
9160 Forum Corporate Parkway
Fort Myers, FL 33905
**Keiser University
Local ASTD Member:
$15 with lunch, $10 without lunch
GUESTS or Non Local ASTD Member: $20 (with or without lunch)
Student with ID Non Local ASTD Member: $10 (with or without lunch),
Student with ID Local ASTD Member: $5 (with or without lunch)

Writing Survey Questions
Find out what your participants really took away from the training session. Here are 7 tips to writing excellent Multiple Choice questions from the November 2012 ASTD Infoline magazine.
When possible, ask a direct question rather than as an incomplete statement.
Make sure alternatives are mutually exclusive.
Present choices in some logical order, i.e. chronological, most to least, or alphabetical.
Create one correct or best response for each item.
Strive for at least four alternatives for each item to lower the chance of the test-taker guessing the correct answer.
Avoid answers to one item that may help test-takers figure out the correct answer to another item.
Avoid the use of "All of the above."
Our Chapter donates to the Harry Chapin Food Bank at every Monthly Meeting. We can't do it without You!

The

mission

of the Harry Chapin Food Bank is "to overcome hunger in Charlotte, Collier, Glades, Hendry, and Lee counties through education and by working in a cooperative effort with affiliated agencies in the procurement and distribution of food, equitably and without discrimination."
Every dollar donated allows the Food Bank to distribute $6 worth of food!