Greetings!
Well, it's that time again folks... strategic planning and goal setting for 2013. SHOO!

I started talking with some of you and I even planted seeds with some of you a while ago about what path we wanted our chapter to take in 2013. And, the same conversations kept occurring: ensuring that we continue to provide programming that brings value to our members; continue building our membership, and developing strategies for member retention.

So listen to this, at our last chapter meeting our amazing facilitator and member, Helen Wythe, engaged us by having us do some exploring about the history of ASTD of SWFL, our growth strategies, and our retention strategies for 2013. Through Helen's facilitation, we discovered that not only do we have an amazing history, but our chapter has really established some new milestones and achievements over the last few years. And, during all the excitement of the brainstorming session - we discovered that we have tons of great ideas for growing and retaining our membership. Thank you, Helen, for giving us some tools to make our strategic planning session amazing and successful.

Finally, I encourage all of you to tell me or any board member what it is that you are looking to get out of your local ASTD chapter.

Stay connected, and I hope to see you at our November chapter meeting.
Your 2012 ASTD of SWFL President,
Ken Bodenhamer
Individual National ASTD Recognition
Lorna Kibbey of Kibbey Leadership Solutions, has been selected to serve on the National Advisors for Chapters (NAC) of the American Society for Training & Development (ASTD) for a three-year term (2013-2015). The NAC is charged with providing strategic direction and leadership in the development and support of ASTD chapters and members.
As a volunteer group of distinguished chapter leaders, the NAC carries out the following functions:
advising and coaching chapters about ASTD initiatives

linking chapters with common needs

identifying and sharing best practices

advising ASTD staff about issues of importance to chapters

identifying and examining future roles for chapters

bringing issues of interest to chapters to the attention of the Board of Directors

ensuring that the needs of chapters are recognized by the Society.
Lorna is the Immediate Past President of the American Society of Training and Development Southwest Florida Chapter, and is an active member of the National Speaker's Association.
Theresa was recently selected by ASTDNational to serve as a judge for the Excellence in Practice Awards. She will be reviewing and critiquing submitted programs against ASTD standards. Categories include topics:
Career Development

Diversity and Inclusion

Managing the Learning Function *NEW*

Integrated Talent Management

Facilitating Organizational Change *NEW*

Performance Improvement

Coaching and Mentoring *NEW*

Learning Technologies

Organizational Learning and Development *NEW*

Sales Enablement *NEW*
We are proud to have you in our organization and excited to hear about your experiences!
October's Chapter Meeting Recap
Thank you to all of you who attended and participated in Helen Wythe's session this month . October's meeting was a great opportunity for us all to not only learn about Process Facilitation, but to experience it first hand.
Below are some key take always from the meeting about Process Facilitation:
Process Facilitators help organizations and teams Identify, Name, and Articulate opportunities and "White Elephant" matters.

Process Facilitation differs from Training in that it allows the client to determine the desired outcome.

The 3 W's of Process Facilitation are:

What?, So What?, Now What?

Process Facilitators are not content experts. As a Servant Leader to the group, Process Facilitators focus on the group's process so the group members can focus on the content.

Process Facilitators focus on ensuring each participant's voice is heard.

One key is allowing each member to think and brainstorm in his/her own way and then share his/her ideas with the larger group.

You see it, You believe it, You achieve it.
As we learned about Process Facilitation we were able to experience the process as Helen helped the group chart the history of our chapter.
From there we were able to brainstorm ideas about growing the organization and retention programs we could all participate in to further support a value adding organization.
Upcoming Events
2013 ASTD Strategy Meeting- We want you there! Please join us to share your ideas and suggestions on how to make 2013 a value packed year for our members and community. We will meet at Bass Pro Shops located in Gulf Coast Town Center from 8am-12pm on Wednesday, November 7th.
November Chapter Meeting- This month's meeting has been moved a week earlier to avoid holiday stress. Please join us November 14th from 11:30am -1:00pm at the FGCU Institute of Government office in the Atrium.
Wednesday Coffee Social at Books a Million on November 21st, 5:30 pm. A chance to socialize, talk about the chapter meeting, and of course topics of your choice over a cup of coffee, tea, or your favorite beverage.
Employee Learning Week will be the December evening meeting. Join us as we listen to best practices and industry trends from some of the area's largest employers. December 12th at 6pm
Local Employment Opportunity
Chemtura, a global chemical manufacturer with offices located in SW Florida is looking for a Training & Learning Programs Manager.
This employer is searching for a candidate experienced in researching, designing, and implementing training programs via multiple methods within a global matrix organization.
Please apply at the link below:
Educational Outreach

Fort Myers Middle School Academy
is searching for local professionals to share their career with future community trainers and leaders.
Help guide young students to understand what professions and career paths are available to them.
Please contact Bob Scallan, Career & Academic Event Coordinator for Fort Myers Middle School Academy at 239-936-1759 if you are interested in participating in this great opportunity.
Did You Know?
National ASTD Member resources-
24/7 access to ASTD's Knowledge Center. Thousands of articles, including research, podcasts, webcasts, full text books, and archived T+D magazines are at your fingertips. Also have access to training professionals like you all over the country. Utilize these tools and more by upgrading your membership at this link Click Here.
We have a BOGO program for visitors.
Do you know someone who could really find value in our group, but wants to try it out first? Members, utilize this program and provide that person with a free meeting and meal. Click the link below for the BOGO ticket. Members must be present to qualify.


Thank you for reading and enjoying this month's newsletter. Our chapter is vibrant and growing. Attend a meeting and you will find it to be value adding.

Sincerely,
Charlie Carpenter
ASTD SWFL - VP of Communications & Technology
November 14th, 2012
Monthly Chapter Meeting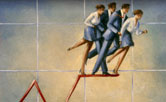 Traits of High Performing
Learning Organizations
Join ASTD of Southwest Florida on Wednesday, November 14th for a unique program: Traits of High Performance Learning Organizations.
We will review benchmarking data, examples from local organizations, and resources that can be used to conduct a review of any organization's learning function.
An interactive panel will lead our discussion on how the best companies strategically handle the learning and performance function.
In December, we will follow-up with a meeting dedicated to celebrating Employee Learning Week, a national initiative which focuses attention on the learning and development functions in organizations.
Who should attend?
Companies that have training and development activities,

HR, Training, and Development professionals

Learning Consultants and Contractors

Leaders who want to benchmark key training metrics
Topics for discussion will include:
Hours of training consumed per year per employee.

Average training dollars spent per employee.

Number of trainers on staff for size of company.

Ratio of eLearning to Live Learning

Other key measurements
Learn How You Compare!
The meeting will be held from 11:30 am to 1:00 pm at the Florida Institute of Government in the Atrium building -8695 College Parkway, Suite 1181.
Cost is $20 for guests and $15 for members.
Cost includes a box lunch from Jason's Deli. Pre-registration is required and can be done via the "Register Here" button above.
Our Chapter donates to the Harry Chapin Food Bank at every Monthly Meeting. We can't do it without You!

The

mission

of the Harry Chapin Food Bank is "to overcome hunger in Charlotte, Collier, Glades, Hendry, and Lee counties through education and by working in a cooperative effort with affiliated agencies in the procurement and distribution of food, equitably and without discrimination."
Every dollar donated allows the Food Bank to distribute $6 worth of food!
Save the Dates for 2012

Monthly Chapter Meetings
Nov 14
Dec 12 Dinner
Monthly Meetings
FGCU FIOG
The Atrium Suite 1181
8695 College Parkway
Fort Myers 33919
Wed 11:30-1 pm
Dinner Meetings
Holiday Inn Airport
Wed 6-8 pm
Words with Power
A recent study by Yale University found the following words to be the most powerful English words to drive results.

How often are you using them?

1. You

2. Money

3. Save

4. New

5. Results

6. Guaranteed

7. Health

8. Safety

9. Love

10. Discover

11. Proven
12. Easy
Resume Words to Avoid/ Use

If you have ever looked in the job market you know how important first
impressions
are. It's the difference between having your resume on the top of the pile or in the recycle bin.

Below are a few suggestions when choosing words to describe the impact you have made in your role.
Words to Stop Using:
Strong

Exceptional

Good

Excellent

Outstanding

Effective

Driven

Motivated

Seasoned
Words to Start using:
Reduced

Improved

Developed

Researched

Created

Increased

Accomplished

Won

Under budget