Happy Birthday, Juliette Low
Learn more about the founder of the Girl Scouts!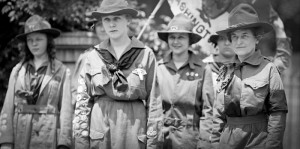 On October 31, Girl Scouts celebrate the birthday of our founder, Juliette Gordon Low. Learn more about "Daisy" Low by visiting the website for her birthplace in Savannah, Georgia: http://www.juliettegordonlowbirthplace.org/. Or, see if you can answer the trivia questions posted by Girl Scouts of the USA on Facebook: https://www.facebook.com/GirlScoutsUSA. Looking for even more? Check out the biography, Juliette Gordon Low: the Remarkable Founder of the Girl Scouts. Be sure to let us know what you learn!
Fall Opportunity Sale (FOS) 2012
FOS Cupboards are open!
The FOS Cupboards, located at all of the Girl Scout Offices (Emporia, Garden City, Hays, Salina and Wichita) and in Hutchinson, will be open through November 12, during regular business hours, and on Saturday, November 3 from 9 AM to 1 PM. Some Office Cupboards will have additional hours - just check with the specific cupboard when calling to place your order. Thank you to all the volunteers and families who are helping girls earn troop proceeds and learn valuable skills through the Fall Opportunity Sale! Keep up the good work!
From the Council Shop
A limited time offer
All Age Levels of the Adult Guide Journey Book Sets are on SALE - Now through December 31, 2012 for only $10.00.