HOW TO TALK TO SOMEONE WHO IS GRIEVING
By Rachel Walton, MSN, CRNP
Although we tend to search for the right words to say to a person who is grieving, words may not be the best medicine. In fact it is likely there are no right words. Often it is what we do not say that is most helpful. What is needed is that we give our full attention and caring presence to listening attentively to what grieving people are saying.
Listening Attentively

Contrary to conventional wisdom, listening is neither easy nor natural. It is a skill we need to learn and to practice in order to keep ourselves from jumping in and offering unhelpful solutions, advice or opinions. We need to learn the purposeful acts of listening and giving undivided attention, because these are the specific healing agents.
There are times when our own anxiety and discomfort lead us to say things that can actually be hurtful. Avoid statements like, "You are young, you can have more children." "You are young, you can marry again." "Aren't you relieved she is no longer suffering?" "She was 82 and lived a full life." These comments invalidate the pain the grieving person is feeling in the moment. The bereaved woman is missing her 82-year-old mother tremendously. Even though she lived a long and full life her death is now still a painful loss. The young father who has just lost his wife is so overburdened with emotional and practical matters that a future marriage is inconceivable to him.
The next time we are with a person who is grieving we could experiment with giving full, quiet attention. A good rule of thumb is that if we are trying to figure out what to say while a person is talking or if we are waiting for our turn to talk, then we are not listening effectively. We can try to put aside all other business of the day and the expectations we hold of ourselves in the situation. A nod of the head, consistent eye contact, and a simple word of validation may be all that is needed. When we notice ourselves wanting to fix the situation or find a solution to the person's grief, we can take a breath and remain quiet. Allowing ourselves to listen a little more and wait for a different response to come forward can be helpful. "That sounds so hard." "I can feel how difficult that is for you."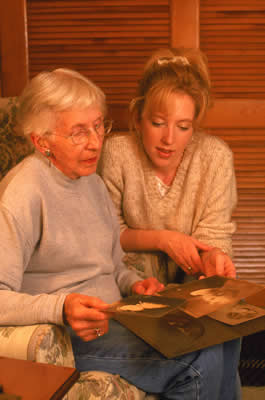 Allowing Authenticity
Since grieving is a universal human experience, being with the bereaved is essentially about one person relating to another. We can listen carefully and say little. When we do speak, we can be honest and genuine. Maybe we should start by asking the simple question, "How are you?" and be prepared to really listen to the answer. We should not be afraid to use the deceased person's name. "Janice's death is such a big loss." "I am going to miss Billy." "I really loved Tamara's paintings." Our thoughts and gestures should come from an open heart and authentic desire to listen and offer connection.
Keeping it Simple
Since grieving people are likely to be overwhelmed with disturbing sensations, feelings and thoughts, we can tailor our responses to decrease whatever chaos they may be feeling. These people do not need more stimulation or input. Often when talking to them, we may recall our own life losses and coping strategies but this is not the time for us to recount them. This is not the time for us to unload our personal war stories. We might simply say, "I understand." "I remember."

Sadness, shock, anger, confusion, exhaustion, loneliness, powerlessness, and fear along with trouble sleeping, eating, concentrating, and psychosomatic symptoms are part of the wide range of emotional and physical responses grieving people may express. We can follow their lead in reflecting and validating their experience with simple statements. "Of course you are feeling (exhausted, angry, disoriented.)" "I can imagine you are having a hard time (eating, sleeping, paying attention.)"
A Final Word
We should try to not let the discomfort of not knowing what to say keep us away from a grieving person. Unfortunately because this happens all too often we leave the bereaved with an increasing sense of isolation and alienation. If we have listened attentively we will know how and whether to talk to them. If we can't find words, we can keep listening. If we never say anything but we offer undivided attention and an open heart, we have given sufficient support. By simply listening, we provide an experience of connectedness that is essential to the healing process.
Rachel Walton, MSN, CRNP - Forbes Hospice homecare nurse, teacher of community classes on compassionate care of the dying with the Institute to Enhance Palliative Care at the University of Pittsburgh, is an author of a children's health reference book, and Board Member of the Good Grief Center for Bereavement Support (www.goodgriefcenter.com).