| | |
| --- | --- |
| | may 2016 |
Greetings!

If the weather we've enjoyed as of late wasn't proof enough of summer's imminent arrival, this issue of marlo monthly should dispel any doubt. Not only do we have another gin to add to our rotating G&T repertoire, but we've now got two rooftops on which drinking said G&Ts (and/or a chilled white, a fruity sangria or a refreshing beer) can happen even more fabulously. As if this evidence wasn't enough, with Memorial Day on the horizon, well, the calendar don't lie!
Summer is also a time to up your social game, given all the extra free time you'll have to scroll through your phone while soaking up the rays. If you're not following us already, what are you waiting for? We even make it easy with only one social handle to remember for SnapChat,
Instagram
,
Twitter
,
LinkedIn
and
Facebook
: @marlomarketing. Think of it as your monthly dose of marlo, delivered daily!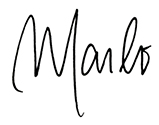 No matter the age, brothers and sisters don't always get along, and working together can get a liiittle dicey. Sometimes, however, it pays to keep it all in the fam; for every Kardashian krew, the universe gives us a pair of Olsen twins or Williams sisters. Thankfully, the dynamic duo behind Bully Boy Distillery -- Dave and Will Willis -- falls into the latter category, which means that the spirits we love to sip aren't in danger of running out anytime soon.
Never ones to rest on their (considerable) laurels, the Willis brothers are at it again for summer '16, bringing their newly-launched Estate Gin to market. True to the Bully Boy brand, Estate Gin reps its roots while slightly bucking tradition. Rather than adhering to the time-honored method of using a neutral grain as the foundation of the spirit, Bully Boy upped the ante by creating a unique and proprietary base of neutral apple and grain made from Stormalong cider, which is brewed in good 'ol Massachusetts. In other words, were you to stumble upon the set of Good Will Hunting and have a youthful Matt Damon inquire, "How do you like them apples?" the answer here would be to make like President Roosevelt and reply, "Bully!"
Similar to

a

London dry gin with more depth and mouth feel (chalk it up to its American accent), its unique base is complemented by wild juniperus virginiana and McIntosh apples, which are both sourced from the Willis family farm in Sherborn, Massachusetts (natch). Bright notes of coriander and lemon are subtly balanced with deep hints of hibiscus, pink peppercorn and lavender.
Available at retailers, restaurants and bars across Massachusetts and Rhode Island, Bully Boy's Estate Gin is perfect to sip solo, mix into a cocktail, or pair with its liquid #foreverdate, tonic. So gather your family -- or friends that feel like family -- and raise a glass to the fact that some things, and people, are always better together.

Ah, the rites of spring: rising temps, dropping layers, and buzzing streets following the annual winter hibernation. That list gets even better with the addition of the opening of the
Rooftop Pool at The Colonnade Hotel
. But you know what's even better than that? Those among us who actually stuck to their New Year's resolutions will soon have ample opportunity to show off their hard-earned physiques, and we can't think of a better place to debut (or simply admire) a set of six-pack abs than the RTP.
This year, the RTP opens for the 2016 season right in time for Memorial Day weekend, and trust, it's way better than the beach. Outlined with billowing private cabanas perfect for catching up with estranged amigos whilst sipping from a pitcher of the hotel's signature white sangria, the RTP offers a beautiful 12-story buffer between you and the busy world below.
However, if, like us, your bikini bod is still something of a work in progress, yogini and author Rebecca Pacheco will be relaunching her popular morning yoga classes starting in June. Yogis new and old alike can greet the day with Sun Salutations while actually in the sun! And if you've got nowhere to be after you get your "om" on, you can bliss out with significantly-discounted RTP day passes and kick it at Boston's only true outdoor rooftop pool.
So whether you de-stress by sunning, sipping, stretching or swimming -- this urban oasis will fit the bill. And given the relatively short time frame until we must bid adieu to summer and reluctantly welcome pumpkin spice, sweaters and the other attendant rites of fall, we recommend striking while the weather is hot and enjoying quality RTP time as often as your summer schedule will allow.

As the perpetual crick in the back of your neck may tell you, we are all guilty of spending too much time scrolling through our phones. And, #sorrynotsorry -- we kind of like it that way! Between stalking, er, "checking in" on old flames via FB, Snapchatting up a storm or fawning over epic Instagrams, if we're going to press pause on screen time, the reason's gotta be damn good.
Enter the very aptly named Lookout Rooftop and Bar at The Envoy Hotel. Perched high above Boston's booming Seaport District, Lookout is back for the 2016 season, offering the ah-mazing views of the city's skyline and waterfront we've come to love (and gladly wait in line for, especially now that we've got the sexy Outlook Kitchen and Bar on floor one to cool our Aquazzuras in!). Once you ascend, it's time to sidle up to one of the roof's (now) two bars and order refreshing tipples courtesy of the one and only Michael Ray. Drink in hand, it's up to you to decide whether you want to stay on your toes or alight yourself of the rooftop's brand spankin' new custom furniture. Before ordering your next round, take a moment to appreciate your chosen elixir's ability to make the city lights -- or that fetching stranger at the next table -- look all the better. Hey, it's your choice, although we know which one is the safer bet come the morning after...
A multi-sensory experienc
e in every way, an evening spent at Lookout is one of the few things that is sure to make even iPhone addicts like ourselves happily say sayonara to the ol' cellular telephone...at least until it's time to snap/insta/post/
tweet the food/drink/view/beautiful people to share with our adoring followers. Even better? Unlike that crick in the back of your neck, the view from up here simply never gets old.

| | |
| --- | --- |
| May 28: | |
| June 4: | |
| June 9: | |
| June 18: | |
| June 20: | |