| | |
| --- | --- |
| | september 2015 |
Greetings!

This month, we have six words for you: thank goodness swimsuit season is over! We trust you'll wholeheartedly agree when you read this issue of marlo monthly and see what's coming down the pike... From what's sure to become an iconic (deja vu much?!) dining destination to Halloween-art lattes; from a just-opened restaurant at the hotel that was hands-down Boston's hottest summer place to be seen to news of one of the culinary industry's most cutting-edge NYC-based events. Yea, it's ramping up to be one delicious fall!
Bon appetit!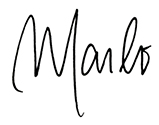 We're not usually one with a flair for dramatics (WE'RE NOT, OKAY?!), but there are instances that warrant more than a lukewarm "that's cool," or a passive aggressive text message to that bitch who bought the snake-skin "So Kate" Louboutins you've had your eye on since Christmas (perhaps we're getting a bit off topic here...). Such is the case with the space that formerly housed Locke-Ober, an indelible icon of Boston Brahmin living and go-to party spot for a who's who of politicians, movie stars, old-school crooners and literary figures. When the restaurant closed in 2012, a bit of the city's spirit went along with it -- a part now blessedly restored with the opening of

Yvonne's.
And we couldn't possibly be more excited (hyperbole intended).
Named for Locke-Ober's members-only downstairs club, Yvonne's
reinterprets the supper club -- a place that effortlessly flows from dinner and drinks to lounging and revelry.

This entirely new social experience blends ambitious, shared-style eats with thoughtful service in an almost impossibly chic setting while

maintaining elements of Locke-Ober's original architecture and tacit discretion. Divided into a main dining room, lounge area and intimate Library Bar, Yvonne's seamlessly merges tradition and irreverence through the bones of a 150-year-old interior appointed with luxurious modern trappings. The restaurant caters to groups looking for a communal celebration with a cosmopolitan menu of sharable dishes weaving in flavors of the Far & Middle East, Mediterranean, Europe and America. Large-format wines and etched crystal towers laden with punch or huge renditions of updated classic cocktails similarly command serious attention in the dining room.
Also drawing sets of captive gazes is a modern reproduction of the restaurant's namesake portrait -- a curvaceous nude named Mademoiselle Yvonne -- hanging on the dining room wall in full T&A glory.
Guess you better go snatch those Loubs to make sure all eyes are on you, and maybe throw in a bandage dress for good measure. Trust us, you'll see... Yvonne's truly is all that.

Ask any Bostonian what was in the Seaport 10 years ago and you're sure to get some variation of "A whole lotta nothing." Fast forward a decade and the once-barren stretch of waterfront land is now dubbed the Innovation District -- the hub of Boston's development activity boasting several million square feet of residential, commercial and corporate space. Among this shiny new construction is
The Envoy Hotel
,
the city's first Autograph Collection property offering a lively, stylish and tech-forward port of call in the pioneering neighborhood.
Entering the lobby, it's clear The Envoy keeps its forward-thinking location top of mind, sporting amenities like a dramatically oversized chandelier made from reclaimed rope and vintage phone cords, a classic billiards table reimagined into an interactive touch-screen workstation, a wall of heat-sensing bulbs that mirrors guests' movements twinkling behind the check-in desk, and comfortable, communal seating areas encouraging convergence and conversation.
Perched on the top floor, a 4,000 square-foot rooftop deck, Lookout Rooftop Bar, continues The Envoy's engaging, inventive spirit with spectacular waterfront and city views alongside seasonal cocktails and local beers, including a house brew created especially for the property by Harpoon Brewery. And because it takes sustenance to fuel change, a full-service restaurant, Outlook Kitchen + Bar, serves progressive, seasonally driven, regionally inspired cuisine under the leadership of Executive Chef David Verdo. Lest we forget this vibrant, versatile destination is indeed a hotel, this is probably a good time to bring up the accommodations -- 136 mostly king-bedded guest rooms outfitted with custom furniture -- like flat-screen TVs mounted onto bicycle frames -- and pops of The Envoy's signature shade of yellow.
Surrounded by vestiges of the area's progress (landmarks, large-scale art installations, buzzing nightlife, cutting-edge gathering spaces, trailblazing businesses and -- of course -- continued construction), you'd never guess that the Seaport 'hood was once better known as a sea of parking lots and the nefarious dealings now playing on the big screen in cinemas across the country. Black Mass no more!
Why is it that fall feels like a great, big hug? Maybe it's because after the sickening stickiness of summer we're finally allowing people to touch us again; or maybe it's all of those little comforts that the season brings. Oversized sweaters. Boots. Football tailgates. Pumpkin spiced everything (ambrosia of the basic bitch). But this autumn, we're saying sayonara to those tired PSLs and konnichiwa to a coffee beverage that's a bit more -- how you say -- worldly.
Throughout the month of October, famed Kyoto-based roaster Ogawa Coffee will top each foamy cappuccino at its Boston location with Halloween-themed art (ghosts, jack o' lanterns and the like) designed by Haruna Murayama, the 2010 World Latte Art Champion who relocated from Japan to train the shop's baristas. Since opening its first US store this summer (actually, its first store outside of Japan, period!), Ogawa has been committed to introducing Boston to its home country's rich coffee culture, which puts a strong emphasis on service and hospitality, outstanding coffee quality and world-renowned latte artistry.
Sorry, Starbucks. Looks like real coffee just rendered your cloying specialty bev as so last season.

I hope this doesn't sound super creepy, but I feel like we've know each other for years. I mean, I follow your Instagram with almost religious fervor, have eaten through all of your cookbooks and regularly pore through issues of Bon Appetit, Food & Wine and Saveur hoping to catch a glimpse of your latest culinary genius. I guess what I'm trying to say is, it's pretty rad that the industry encourages such a culture of shared ideas -- both among the pros and from chefs to diners -- through things like pop-ups, social media, large-scale demos, etc. Case in point, StarChefs.com's annual
International Chefs Congress
coming up in October.
Now in its 10th year, the ICC brings together the crème de la crème of the food/drink world (we're talking Jose Andres, Ken Oringer, Jenn Louis, Jim Meehan, you know -- the peeps you run with on the reg) to explore the theme "Open Source Cooking: The New Era of Collaboration and Connectivity" through main stage cooking demos; hands-on savory, pastry and bartender workshops; wine tasting seminars; and business panels. As one of the top magazines and resources for culinary insiders, StarChefs.com has the hookup with these culinary luminaries, and is eager to have you up on the main stage to work those whisks and nail those knife skills alongside some of the most exciting chefs from Spain, this year's featured country. This great idea swap is the premise of ICC; it's why these chefs have gathered for the last decade to celebrate and learn from the heroes and underdogs of food and
drink.
We're gonna go ahead and mark your participation as a oui, Chef.
Even culinary inspiration needs to come from somewhere, and learning with and from your peers from around the globe...what's more inspiring than that?!