Celebrating Summer
as we head
Back to School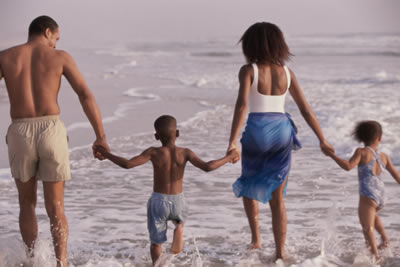 The summer season is winding down and we'll soon be preparing for back-to-school routines. Here are some ways to celebrate and remember the fun times of the summer as a way of transitioning into the school season.
1. Write a family (or school) book about your summer adventures
.
Give each person a page to describe and draw a special event. Write the caption together. Compile the pages into a book that can be read and re-read. Use the book to talk about all the fun times and adventures that the
summer offered.
2. Play picture charades.
This game works well even if you're waiting in a line or doctor's office since many photos are on our phones. Show a photo from a summer event. Ask the child or group to guess where the photo was taken and to tell you a story or something that he or she remembers from that event.
3. Display the different places you've traveled over the summer. Post a map of the United States or Delaware in your central greeting area, on a parent bulletin board. Ask
families to mark a location where they traveled, and if desired, bring in a picture. Ask children to share their experiences from these many

locations. Families
can do this at home by mapping their travels if they took vacations or mapping their own adventures within their neighborhoods. Post it on the refrigerator.
You can find many Delaware Early Learning Foundations (ELFs) in all of the activities described above. Look for these:
Infants and Toddlers--Discoveries

Memory, Attention and Persistence, Curiosity and Problem Solving; Emergent Literacy; Emergent Writing.



Preschool-- Approaches to Learning:

Initiative and Curiosity; Language and Literacy: Receptive Language Expressive Language, Emergent Reading, Emergent Writing; Mathematics: Data Analysis; My Family, My Community, My World: Places and Spaces-Geography; Creative Expression: Visual Arts.
As excited as a little person may be about the playdates, new lunchbox and backpack that mean he or she is finally going to get to go to school like the "big kids," the first day of preschool may or may not be a smooth transition from the excited anticipation. These TIPS can make the first day of preschool (and the days after) a more manageable experience for little ones - and for parents.

"I can't wait to begin using this system. It makes so much sense."
Child Assessment Pilot
Professional Development a Huge Success!
A key to helping children succeed in any early childhood program is the planning of appropriate learning experiences and a great tool for planning is authentic ongoing assessment of children. With that in mind, the Office of Early Learning offered a child assessment pilot to train early childhood professionals to use Teaching Strategies Gold (TSI) child assessment tool. 160 practitioners in forty six (46) Delaware Stars 3,4 and 5 programs seized the opportunity to participate. Stars technical assistants and early interventionists also took part in the day-long July and August training sessions. Congratulations are in order for the participants as very nearly 100 % of all individual registering for the sessions completed the training, a rare thing in the professional development world! FULL ARTICLE
Pre-Kindergarten through Second Grade
Learning Standards Development Initiative Begins Soon
Students are more likely to succeed when they experience an aligned pre-kindergarten-third learning system that provides for continuity and supports sequenced learning. Delaware's Early Learning Foundations for infants and toddlers and preschoolers focus on many of the same content areas as the pre-k through grade 2 academic standards. Some key areas found in the Early Learning Foundations, however, are not yet part of Delaware's pre-k through grade 2 standards, in particular social emotional and approaches to learning.
The Office of Early Learning and the Department of Education are joining together to develop new pre-k through grade 2 standards to identify social emotional and approaches to learning that indicate students' ability to learn and the way in which they are able to acquire information in a classroom setting. In doing so, a continuum of learning from birth through grade 2 will be more clearly established. We are bringing together representatives from a diverse group of stakeholders and are seeking volunteers to participate who are:
preschool teachers and administrators (child care, ECAP, Head Start, district);
kindergarten-second grade teachers and school administrators;
early intervention and special education, Positive Behavior Supports;
private-public funders;
Delaware State Education Association;
Department of Education and Office of Early Learning representatives;
behavioral health providers;
Others in the Delaware community who are content experts in the areas in which standards are being developed.
Interested participants are invited learn more and apply. Send the completed application to: susan.mitchell@state.de.us by September 13, 2013. Selected members will be notified of their participation along with meeting dates and location details.
Rising Stars
Shining Bright
We congratulate the Delaware Stars programs that have attained new status as a Star 3, 4 or 5 program during the summer months. As Delaware families look to the Stars when searching for early childhood programs for their children, they find quality early learning programs such as the Stars programs that have moved up in quality rating!
CORE Sessions in Sussex County
Stars programs are encouraged to attend one of the CORE (Compensation, Education and Retention Awards) information sessions that are scheduled for Thursday August 22 in Georgetown and Friday, August 23 in Rehoboth. Information about the Infrastructure Fund will also be available at those sessions.
For schedule and details
Apply to be a Delaware Readiness Team
The Delaware Office of Early Learning (OEL), in cooperation with its managing partner, the Delaware Early Childhood Center (DECC), is seeking applications for participation in its new place-based strategy, Delaware Readiness Teams (DEL TEAMS).
Funded by the Early Learning Challenge Grant in partnership with private foundations and corporations, DEL TEAMS is a state-wide initiative that offers a unique opportunity for communities to build strong and reciprocal linkages between early learning and K-12 schools and to support young children's, birth through age 8, readiness for school and for life.
Call to sign up for any of the upcoming information sessions across the state!
Library Crates Filled with Early Literacy Materials available to Early Childhood Programs Statewide!
The New Castle County libraries have 25 differently themed crates filled with Early Literacy materials and are available for the asking to early childhood programs throughout the state.
Here's the scoop:
The loan period for the crates will be 3 weeks
* Each library will own 2 crates
* You may search for the contents of the crates
* Each crate consists of 18-20 books and the
accompanying manipulative


Subjects Available:
All About Me, Award, Bedtime, Books, Colors, Cooking, Counting
Family. Farm. Feelings. Friends. Guessing, Hats, Letters and Shapes
Multicultural, Nursery Rhymes. Oceans. Opposites, Pets, Rhyming
Sound, Toys, Transportation, Weather, Wild Animals
According to Amy Abella, the Youth Services Librarian at the Woodlawn Library, programs in Kent and Sussex counties can request the crates through the reference desk at their local library.
Download a
Information postcard
or
bookmark
with the subjects list.
SPOTLIGHT ON LOCAL SUCCESS
EARLY EDUCATOR SPOTLIGHT:
While every teacher's path to early childhood education may be different, what keeps them inspired once they are there is virtually the same. For the three early childhood educators in this month's spotlight, their students are the ones motivating them to learn, grow and become better teachers every day.
Eileen Blouse
Eileen Blouse is a pre-kindergarten teacher at the University of Delaware (UD) Early Learning Center in Newark, Delaware. The center, which is a Delaware Star 5 program, serves children from six weeks of age to five years of age, an
d Blouse has been teaching pre-K four and five year olds for more than 25 years.
The seasoned veteran of early childhood education said it was not always her dream to work in education, but she found herself there once she started raising her own children.
"I've always been a teacher at heart," Blouse said. "When my kids were young, I thought, 'I can do this.'" FULL ARTICLE...
Stephanie Fox
Stephanie Fox is another early childhood educator at the UD Early Learning Center. Fox teaches in the infant classroom, which includes students from six weeks old to about 16 months.
Like a lot of early childhood educators, Fox knew she wanted to teach younger kids, but never imagined teaching in the infant classroom...and loving it. Fox said that throughout college, she thought she wanted to teach older pre-K students, but then a chance to substitute in the infant room opened up, and Fox took it.
"When my schedule opened up, I took a full time teaching spot in the infant room," Fox said. "After a year of doing it, I don't see myself doing anything else." FULL ARTICLE...
Meghan O'Grady
Meghan O'Grady is another early educator, teaching in the 3-year-old room at the Latin American Community Center (LACC) in Wilmington. O'Grady teaches with a co-teacher in the English classroom, and there are two other
teachers who teach her same students every other day in Spanish.
O'Grady is in her second year teaching at the LACC. She came to early education through a program called Teach for America (TFA) and has learned so much in her first year that will undoubtedly help her in her second year.
As far as professional development goes, O'Grady has had a lot of it. In addition to professional development sessions for the LACC, she also has sessions with TFA as well. O'Grady recently attended a PD session for the LACC on the Responsive Classroom Approach, which helps schools create a strong school culture, among other things. FULL ARTICLE...
Article contributed by
Heather Wentz, Teach for America/Delaware
Inclusion Shows Benefits for Diverse Learners


When it comes to early language development, preschool-age children are just as likely to learn from their peers as their teachers. A study published in

Child Development found that students with lower language skills showed remarkable improvement when taught in classrooms alongside students with strong language skills, compared to when they were taught in classrooms limited to only children with low skills.

The Risks Facing Young

Children in Military Families

Nearly half a million children under the age of six have an active duty parent and some have two. This research brief discusses some of the special circumstances that characterize military life and the implications on the well-being of young children.

Obesity Rates Declining in Low Income Preschoolers

This abstract from Centers for Disease Control reports that obesity rates

among low income preschoolers are slowly declining supporting the case for sustaining prevention efforts.
DUAL LANGUAGE LEARNERS




Poll Shows That Majority of Americans Support Early Learning



The results of a national survey of voters finds that a

significant majority of Republicans, Independents and Democrats support a plan to help states and local communities provide better early childhood education programs to parents of children from birth to age five.

First Five Years Fund published the results of the national telephone survey which was conducted by the bipartisan research team of Public Opinion Strategies and Hart Research. The 800 registered voters polled indicated overwhelming support for ensuring that children gain the knowledge and skills necessary to succeed in kindergarten and beyond.

ARTICLE AND INFOGRAPHICS

Dual Language Early Education Best for Young Language Learners

According to an article in Education Week about a new federally funded analysis of the large, and growing, population of preschool dual-language learners, using the home language of young children, in addition to English, is probably "the most important aspect" of effective early-childhood education for dual-language learners. According to the study, when early-childhood classrooms emphasize English-language development only, a dual-language learners' first-language skills can decline and harm their progress toward English-language proficiency later.

Read the FULL ARTICLE
THE IMPACT OF GUN VIOLENCE ON AMERICAN CHILDREN

The Children's Defense Fund has published a new report on gun violence in America. This report provides the latest statistics on firearm deaths by race, age and manner; highlights state gun violence trends and efforts to prevent child access to guns; dispels common myths about guns; and outlines progress at the federal and state level since the massacre at Sandy Hook Elementary School.




Link Between Social and Academic Skill Building in Mixed Language Groups



A new study published in the Journal of Early Childhood Research provides evidence of the direct link between social and academic skill building during early childhood. The study's author, Ruth Piker of California State University - Long Beach

In her analysis, Piker reported that the best opportunity for using "extended and complex English language" occurred when children played in "mixed-language groups." She noted that when playing with other dual-language learners, the subjects "usually spoke their primary language, but mixed-language groups often provided scaffolded opportunities to practice English, alongside the grounding familiarity of hearing occasional Spanish.

"

MENTAL HEALTH/ SOCIAL-EMOTIONAL

Emotional Consistency from Teachers Matters for Preschool Children



A

University of Virginia report

finds that consistency in providing emotional support in early childhood classrooms is related to better academic and social outcomes for children.

The Impact of Diaper Need on Child Health



This study in the Journal of American Pediatrics suggests that one method to reduce parenting stress among low-income families is to inquire about diaper need and refer families to local diaper distribution services.The study goes on to suggest that parenting stress is a critical factor influencing child health and development and that diaper need could be a significant source of parenting stress. Full Report