Common

Elementary

School
Common Knowledge, Common Virtues, Common Sense
A National Charter School of the Year, A Nationally Recognized Blue Ribbon School,
A Certified Official Core Knowledge Site School, A John Irwin School of Excellence ,
A Gilder Lehrman Affliate School



Nov. 3-14

|Liberty Common Canned Food Drive (

see details below)

Nov. 7 |Picture Retakes-7:45-8:30


Nov. 7 |Hearing and Vision Screening

-

All students Kindergarten-3rd and 6th grade. Only 4th and 5th graders new to Liberty Common. Students NEED to bring their glasses/contacts for a thorough exam. Nov. 21 |Liberty T-Shirt DayNov. 25 |Grandparents Day Nov. 26-28|Thanksgiving Break, No School

Register Now for Odyssey of the Mind

Don't wait any longer to sign-up for Odyssey of the Mind. Teams are forming and coaches are still needed. Registration forms are available in the front office.

For more information, please contact Liberty Common's Odyssey of the Mind Co-Coordinators, Pinky Tiwari at

[email protected]

or Lynne Koontz at

[email protected]

Please read further

to learn more about what is required of Odyssey of the Mind adult coaches:

We are so thrilled to be bringing Odyssey of the Mind to Liberty Common this year! We have several families interested in participating, however, we are still needing coaches to help.

I understand that the idea of coaching an Odyssey team can be intimidating. I once sat in your shoes. My daughter wanted to be on a team but we had no coach. Without a coach, we had no team so I stepped up to take the journey with them. I assure you that it was a decision that enriched my life in so many ways. The experience taught me a lot about the kids, myself, and parenting. Together we learned skills that carry over into so many aspects of my life.



What is involved in coaching?

An Odyssey coach is more of a guide. The ideas, the building of props, the assembly of costumes, etc is all done by the kids. The coach is there to help make sure the kids stay on track and meet the requirements.

What is the time commitment?

Coaches will need to attend a coaches training. For first year coaches there are two parts to the training: an evening webinar that gives you a little more information about the program in general and a classroom training that is hands on and more specific to the problem you will be coaching.

After training, coaches will attend team meetings to help the team prepare for tournament. Most teams meet weekly for 1 - 1 1/2 hours, however, there is no required guidelines. The coach and team can decide on the frequency and duration that works for them.


We would be honored to have you coach a Liberty Common Odyssey team this year! I assure you that the coaches training provides lots of information, tips, and tricks to get you started on your coaching journey. There is no right or wrong way to coach! In addition, I am available to assist in any way I can.

We are a program that is run completely by volunteers so we cannot have teams without someone willing to step up as a coach. I hope that you will decide to embark on this fantastic journey with Liberty Common this year.

Please let me know as soon as possible if you are willing and able to coach. I will direct you to the training sign up and we can notify the parents of interested students that we have a team. If I can answer any questions about coaching and/or Odyssey in general, please feel free to call me.

Thank you for your time and interest in Odyssey of the Mind!

Catherine Allum-Pawlikowski

PSD District Coordinator/Regional Director

Odyssey of the Mind

970-388-0445




When: November 3-14**All food needs to be at LCS by noon on Friday, Nov. 14th.

Benefits: Food Bank for Larimer County

Most Needed Items: Peanut butter, canned meat/fish, canned fruit in juice, whole grain cereal

PLEASE check expiration dates on food. Expired food has to be thrown away and cannot be donated.

If students collect 2014 Food Items they will receive a Free Dress Day.

If students collect 4028 Food Items their teachers will treat them to a Fashion Show.

Individual Student Makeup Day


"Your School Portrait Professionals"


818 E. Elizabeth, Ft. Collins, CO 80524


Fax (970) 416-5814 Toll Free 1-888-550-1516





LIBERTY COMMON ELEM. SCHOOL MAKEUP DAY


School portrait make-up day will be:
FRIDAY, NOVEMBER 7, 2014


TIME - 7:45 am to 8:30 am



1. If you were absent or are new to the school you may purchase a new package or have one taken for the records, yearbook and ID.

2. If you had a picture taken but didn't purchase a package you may have a new picture taken and purchase a package.


3. If you purchased a package and want a retake you must return the original package in full with reason for retake clearly stated on package.



Please refer to guidelines on back of package as what justifies a retake.



Order forms for new packages are available in the office


and you may use the order form from first day.OR SECURE PRE-ORDER ON LINE - Students will need to be re-photographed.


Click on pre order fall school portraits and have credit/debit card ready.


Attention Parents of Incoming Kindergarteners


If your child is a sibling of a student currently enrolled in Liberty, and will be attending kindergarten in the 2015-2016 school year, please make sure that they are on the sibling waiting list. We will begin running the lottery for the general public on January 2016, 2015. Please contact

Julie Russell

, LCS Registrar at

482-9800, ext. 3114

, to get on the list.

MathCounts Now Open to 6th Graders


MathCounts is a nationwide middle school mathematics competition. Its founding sponsors include the CNA Foundation, the National Society of Professional Engineers, and the National Council of Teachers of Mathematics. The competition is open to all

sixth through eighth grade students

and

will meet on Tuesdays from 3:15 to 4:00 beginning on November 4th

at

LCHS in Room 153

. The Northern Colorado competition is held in February every year and alternates its venue between CSU and UNC. For more information, contact Mr. Yu at

[email protected]

Moms In Prayer Treat Staff to Lunch


Many thanks to Liberty Moms In Prayer group who provided lunch to LCS and LCHS on Friday, Oct. 24th-the last day of Teacher/Parent Conferences. Your time and generosity are so appreciated.


Volunteer Kiosk Gets A Makeover


You may have noticed the new look of our Volunteer Kiosk. It looks GREAT! A special thanks to Mrs. Tiffany Green for bringing it all together! Liberty Common needs parent involvement and depends on parent volunteers to make our school great. We will be posting volunteer needs and announcements at the kiosk and in Monday Notes. So watch for your opportunity to get involved! If you have any questions please feel free to contact LCS's Volunteer Coordinator Marnie Dame at [email protected].

Contact Us


Liberty Common School


Office Hours: 7:50-4:00 p.m.

In an effort to keep students safe during drop-off and pick-up times, please refrain from using cell phones. The front, middle and back drop-off and pick-up areas are designated

NO CELL PHONE AREAS

.

Please call our attendance line by 8:30 a.m. if your child will not be attending school due to illness, appointment or is out of town.

(970) 482-9800, option 2, please call by 8:30 a.m.


If you need to take your child to an appointment during school hours, please come to the Front Office, sign them out and we will call them out of class.

All students who arrive after 8:00 a.m. must be signed in at the Front Office. It is important that a reason be written as this determines if the tardy is excused or not.

If your student is ill and you want any/all homework, please contact the teacher by email as early as possible and homework will be available after 3:00 p.m. in the office.

If you have any questions about these policies please contact Mrs. Ronen at

[email protected]

Healthcare Reminder


If your student is sick with a fever of 100 degrees or higher or is throwing up or has diarrhea, he or she is not allowed to attend school. Your child may return to school after having been healthy and fever-free for 24 hours without fever reducing medications.


Board of Directors

Joel Goeltl 593-8556

Paulette Hansen 282-8455

Bill Werst 631-8379

Denise Benz 420-4184


John Rohrbaugh 225-2259


You may contact all members of our Board of Directors at

Teacher's Lounge


Liberty Common School
1725

Sharp

Point Dr

.

Quiet Zone


Please remember that the front office is an office of business and the use of cell phones is prohibited. We also ask that conversations be kept to a minimum so that front office staff can provide quality customer service to students, staff members and other parents. Thank you.

Basketball Season Passes-Buy Now


King Soopers Gift Cards





Kindergarten Cowboys








National Core Knowledge Conference, Niagara Falls

By Casey Churchill, LCS Principal

Niagara Falls Panoramic
At the beginning of October, Ms. Rencher and I had the privilege of attending the Core Knowledge (CK) Conference in one of the oldest state parks in the US, Niagara Falls, New York. It is always such a joy to rub elbows with other schools across the county to discuss and share all the great things being done to educate children to read. The focus of this conference was literacy. The Foundation has been promoting their new Core Knowledge Language Arts (CKLA) program and this was a focal point. While Liberty is still testing the waters to see if CKLA is a good fit for our school, it was energizing to attend school presentations, teacher round tables, and visit with other CK administrators and teachers.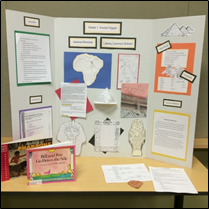 Ms. Rencher's Egypt display board.


Ms. Rencher and I both presented at this conference to share all that Liberty is doing. I was amazed at the national attention we had at the conference. People from far and near had heard about "that Liberty Common School in Fort Collins". Ms. Rencher presented a display board showcasing the Ancient Egypt unit the first grade teachers teach. The board displayed read alouds, activities, and vocabulary taught. This gave other schools a snapshot of how we teach CK.

My PowerPoint presentation focused on best practices of operating a CK school. Liberty has a lot to share on how we operate. I outlined our history, demographics, professional development of teachers, curriculum maps and outlines, and ways we identify and help struggling students. I also shared the many books our teachers read each summer to help them be the best they can be.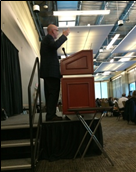 Keynote Speaker - Daniel T. Willingham

One of those books is
Why Don't Students Like School
by Daniel T. Willingham. Dr. Willingham was the keynote speaker in Niagara. He is a role model to me and the staff, and I was privileged to hear him speak. I have since contacted him to come to Liberty to present to all the LCS staff and parents.
Dr. Willingham's talk will take place on March 27th from 6:30 p.m.-8:00 p.m. (SAVE THE DATE) here at Liberty Common School.
CLICK HERE for event flyer.

During his talk, Dr. Willingham will describe theories of choice: what factors influence the child's decision to read a book versus play a video game? Based on his analysis, he'll suggest four general principles that parents ought to keep in mind as they seek to raise a reader. He will also show how those principles translate into action at home. And although educators can't control what happens at home, he will suggest concrete steps teachers can take in their classrooms to encourage reading.
As always, we walk away from conferences with a new appreciation for what we have here at Liberty as well as a good handful of tricks, tips, suggestions to become better educators. Liberty Common School continues to be a role model for all other CK schools. I was pleased and honored to attend this conference with Ms. Rencher in one of the United States most beautiful national landmarks.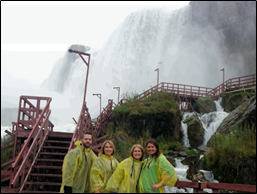 Mr. Churchill, CK Consultant friends from Arizona, Ms. Rencher.

Dear Parent,
CMAS is the new state assessment system, replacing the Transitional Colorado Assessment Program (TCAP). The new assessments are based on the Colorado Academic Standards, which are the expectations of what students should know in each grade and subject, to ensure college and career readiness. As a result, CMAS provides a series of periodic snapshots of student achievement in science, and social studies as students move through grades 3 - 12.


These new computer based summative assessments for Social Studies - grade 4, 7, 12 and Science - grades 5, 8, 12, were developed collaboratively by Colorado teachers, the Colorado Department of Education, and assessment contractor Pearson. Developers discussed each question/item, as well as the specific knowledge, skills and abilities that students need to correctly answer them. In contrast to the previous fill-in-the-bubble tests, the new tests are designed to be more interactive and measure deeper learning and critical thinking skills, in accordance with higher expectations of the Colorado Academic Standards.
Details about standards and assessments are available on the Colorado Department of Education web site at http://www.cde.state.co.us/Assessment.
Student's results are provided with performance level, scale scores, and percent correct, which are intended to gauge student progress over time, inform classroom practice, and improve school/district programs. Results must be interpreted with an understanding that the new standards and assessments are more focused and rigorous, which may cause a score dip when compared to previous TCAP results. Individual student performance level indicates your student's preparation in terms of knowledge and skills on track for success in college and career. Levels are reported in one of four categories: Distinguished command, Strong command, Moderate command, or Limited command. A student is on track to be College and Career ready when they score in the Distinguish or Strong command. The Performance Level Descriptors describe the skills and knowledge a student need for each level.
Scale scores provide reporting of performance overall and within content standards, framed in terms of district and state averages. The Subscale Performance score is an indicator of the strength or weakness within a specific area on the assessment.
Within each standard, Prepared Graduate Competencies (PGC) are identified. PGCs represent the concepts and skills that students need to master in order to be postsecondary and workforce ready. The percent correct within each PGC is taking in count the number of items and the difficulty of items which may vary in each PGC. That is why we cannot compare scores across years because individual items change every year.
Different assessments tell us different things.
A single assessment cannot present a complete picture of your child's abilities and CMAS is simply one component. An entire body of evidence - class assignments, test scores, grades, local assessments, and projects - paints a clearer picture of student progress. PSD has adopted a balanced assessment approach which utilizes summative, interim, and formative assessments. To learn more about the several other assessments in place to measure student progress, contact your student's teacher.

Veterans Day 5k Run
Saturday, November 8, 2014 @ 9:00 a.m.
Event Description:
The Colorado State University Veterans Day 5K is an annual, non-profit fundraiser designed to raise money for the Veterans Scholarship fund. This scholarship is awarded to veterans who were honorably or medically discharged and are living with disabilities related to their military experience. Each year we honor a member of our armed forces who has a personal connection to Colorado State University. Over the years, the run has attracted hundreds of participants -- CSU alumni, Veterans, kids in strollers, experienced runners, and everyone in between.
This course is as flat and quick as they come. The route takes participants around The Oval, a CSU landmark, and across the campus, highlighting much of what CSU has to offer.
*Meet south of the Engineering Building at the sculpture fountain plaza east of Glover*
Event schedule and times
7:30 a.m. - Day of race registration begins
8:45 a.m. - Registration closes
8:55 a.m. - Pre-race speech and playing of our National Anthem
9:00 a.m. - Race starts
10:00 a.m. - Awards for top finishers will be handed out
Please Note: This race will conclude our Liberty Common Running Club. However, the Veterans Day 5K is not a Liberty sponsored or chaperoned event. Mrs. Hersh and Mrs. Schupp will be attending and would love to run with your student. However, you must register your child, pay the $15 entrance fee, and be at the starting and finishing lines. We will not be responsible for transportation
Honor Our Service Men and Women

Every November, for Veterans Day, LCS likes to honor our men and women veterans and those that are currently serving our country with a display of thanks. To make our bulletin board a great presentation of respect and appreciation, we are needing pictures of our soldiers, seamen and airmen. Please bring any photos of service men or women to the office. Include their name, where they served or are currently serving and their relation to our Liberty Common student(s). Photos will be accepted until November 7th and will be returned. Photos can also be sent via email to
[email protected]

.
Sign Up Genius for Grandparents Day
2014
Liberty Common families and grandparents who have attended previous
Grandparents Day events and filled-out informational table cards at those
events should have received their invitations for Grandparents Day 2014.
This portion of the newsletter is also a reminder and 'save the date' notice for those families who may have family coming from out of town and would like them to attend!

If you do not receive an invitation, please visit our Grandparents Day Webpage as an open invitation to all grandparents of Liberty Common students.
Please read the content of the page for lots of information about the day and check the FAQ section to see if your questions can be answered there.
Parental families of Liberty Common students who receive an invitation should
share the invitation with their childrens' grandparents if they have not been able
to add their addresses to our Grandparents Day mailing list.

We ask that if grandparents cannot attend, parents do not come in their place.
We do not have the capacity to host every parent plus grandparents. Please
allow this to be a special day for grandparents and grandchildren.

Grandparents Day 2014 promises to be the best event yet! At the elementary
school, grandparents will be treated to a fantastic, home made breakfast that
is a recipe of a fellow Liberty Common grandparent, as well as performances
by students, and a chance to visit their grandchildren's classrooms, meet the
wonderful Liberty Common teachers, and get a grand tour of the fantastic
school given with pride by their own grandchildren.

At the secondary school, grandparents will be treated to some afternoon
snacks and performances by the amazingly talented students as well as get
to tour of the newly expanded, beautiful building and classrooms as well as
experience some interaction with the amazing teachers at this exceptional
educational institution.

Grandparents who are able to attend should not miss this wonderful experience
to spend a wonderful morning and/or afternoon with their bright, excited, and
proud grandchildren. Liberty Common staff, teachers, administration, the
Grandparents Day Planning Committee and all of the students look forward to
hosting people who are so special to the lives of the Liberty kids!
This event cannot exist without the support of parent volunteers. The Grandparents Day Planning Committee is still seeking volunteers to help the evening before the event beginning at 5pm in the elementary gym to set up seating, tables, and decor. Also needed are volunteers to help the day of the event anywhere from 7am am to 11:00am. The high school is seeking volunteers to help from noon until 3:30pm.
If you would be interested in helping make this wonderful, unique event a smooth
success, please use this SignUp Genius page to secure your spot!
CLICK HERE to volunteer, CLICK HERE to donate.
If you have any questions about volunteering for the event, contact Erin Mihulka
via email at [email protected]
Gala 2015 Committee
Ready for Volunteers and Book Donations

The Gala 2015 committee needs your gently used Reading List books to help raise funds for the school. To donate your books, leave them in the drop boxes located near the front office and back doors to the school.
Pink Bags are back! Gala planning and preparations are underway, and we've filled pink bags with projects that are simple to complete. Most of the projects can be done at home. All the supplies and instructions are included in each bag. Many hands make light work! Visit the front office to check out your Pink Bag Project today!
School Reach-Don't Mark "Spam"

If you'd like to opt out of any of the school's communications strategies, please contact the school and ask that your address, email address, or phone number be removed. When anyone marks our broadcasts or emails as "spam," it impacts the efficiency of our system's ability to send emergency broadcasts and urgent notices to families. We hope you will leave at least one phone and email in the system so you can receive emergency information through our SchoolReach broadcast system. This system is only used sparingly such as in the case of emergencies, school closures, traffic delays, etc.


Liberty's Own In The News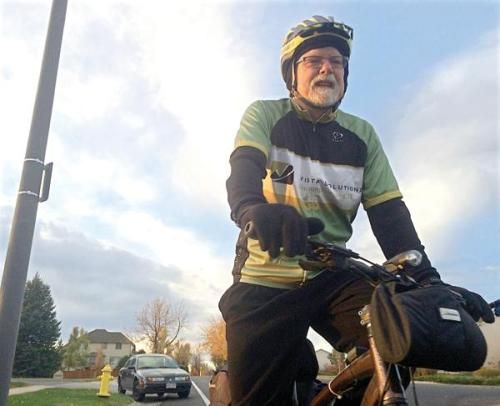 Liberty's IT Specialist, Mr. Tom Stokovaz, was featured in last week's Loveland Reporter Herald for topping the National Bike Challenge. Photo Credit: Jessica Benes / Loveland Reporter-Herald.
The Loveland Reporter Herald ran a feature story last Wednesday about Liberty's computer-technology specialist
Mr. Tom Stokovaz
upon his first-place showing in the National Bike Challenge. Stokovaz rides his bicycle to work daily from his home in Loveland - logging around 25 road miles a day. He puts in even more miles during his spare time just for the fun of it. His grand-total mileage in the national contest placed him first among Loveland competitors, second in the Fort Collins/Loveland region, and fourteenth in all of Colorado.
CLICK HERE
to read the full feature write up.
High School Musical Coming to Liberty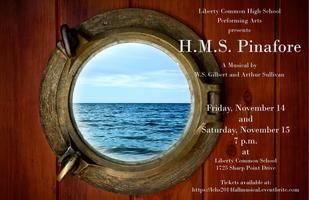 Ahoy! High School Musical Ahead! Gilbert & Sullivan's H.M.S. Pinafore is set to sail on Friday November 14th and Saturday, November 15th at LCS (1725 Sharp Point Dr.) from 7-10pm. Tickets can be purchased online in advance by
CLICKING HERE
or on the picture above (admission is $10/adult or $5/student or senior).