TCP Named a "Bright Idea"









The Ash Center for Democratic Governance at the John F. Kennedy School of Government, Harvard University, has recognized the TCP as a "Bright Idea." The Bright Ideas program recognizes and shares innovative government programs and partnerships.

The TCP is now underway and is operating in ten schools this year:
Margaret Brent Pre-K-8

Violetville Elementary/ Middle

National Academy Foundation

New Era Academy

Collington Square Elementary/ Middle

Patterson High

Historic Samuel C. Taylor Elementary

Walter P. Carter Elementary/ Middle

Francis Scott Key Middle (Montgomery County)

Neelsville Middle (Montgomery Count

y)
TCP in the News


TCP Mentor Anthony "Bubba" Green with student Robert Sawyer, from the Urbanite Magazine story

As students, teachers, and parents prepared for the return to school this fall, the TCP garnered local media attention for its success at getting children to school every day and on time. The TCP was featured in a
cover story
in the final issue of Baltimore's Urbanite Magazine. Anthony "Bubba" Green, the TCP Mentor Coordinator, appeared on the Marc Steiner radio show on WEAA in September with TCP graduate Robert Sawyer to discuss the TCP's success.
Click here
to hear the podcast. The TCP also was profiled in a Daily Record article on October 22nd.
TCP Welcomes CFCC Student Fellows
Second and third year University of Baltimore School of Law students enrolled in the CFCC Student Fellows Program I (SFP) are actively involved in seven TCP schools this semester. They participate in the TCP as part of the SFP's experiential component, a weekly seminar on the policies and theories surrounding cutting edge family law and family justice system issues.

Read their blogs and check CFCC's website for more information about who they are and their accomplishments.
CFCC Student Fellow Amin Berrah tutors TCP student after their TCP session
.
Photo by A. Bento
Greetings!
Welcome to the University of Baltimore School of Law Center for Families, Children and the Courts Truancy Court Program's Fall E-Newsletter! As we begin the eighth year of the Truancy Court Program (TCP), this issue announces new funding and innovations to the TCP, profiles the experience of a TCP school and team, reports on the data from last year's TCP, and introduces the newest TCP staff members.
| | |
| --- | --- |
| CFCC Receives Significant New Funding to Expand and Enhance the Truancy Court Program in 2012-2013 | |
Walter P. Carter TCP Student at TCP award event.

Photo by A. Green

CFCC has received unprecedented support from public and private sources to expand the scope and breadth of its Truancy Court Program (TCP). CFCC is operating the TCP in eight Baltimore City elementary, middle, K-8, and high schools and two Montgomery County middle schools. TCP students and schools benefit from, among other innovations, a "Kids and Theater" program, a yearly attendance "contest," school-wide assemblies, interactive workshops for parents, and special training on truancy-related issues for faculty and staff.
Over thirty Baltimore City public schools applied to have the TCP operate in their schools. CFCC received funding for eight schools: National Academy Foundation High & Prep, Patterson High School, Violetville Elementary/Middle School, Collington Square Elementary/Middle School, New Era Academy, Margaret Brent Elementary/Middle School, Walter P. Carter Elementary/Middle School, and Historic Samuel C. Taylor Elementary School. In addition, in a move spearheaded by Montgomery County Councilmember Valerie Ervin, chair of the Council's Education Committee, the Council included funding in the State's Attorney's budget to operate the program in two middle schools.
For the first time, CFCC will develop and implement faculty workshops during professional development days that will train teachers and staff on how to address truancy and the reasons that underlie truant behavior among their students. In addition, in another first, CFCC will introduce school-wide assemblies designed to make students aware of the importance of school attendance and encourage them to address issues that prevent them from regular school attendance.
Learn more about TCP's expansion and new funding.
A Violetville Elementary/Middle TCP student poses for a picture with (from left to right): TCP Judge David Young, School Social Worker Janice McKinnon, TCP Social Worker Eliseba Osore, and TCP Student Fellow Catherine Villareale. Photo by C. Jackson.
Failure to attend school is only one issue addressed - the tip of the iceberg - by the University of Baltimore School of Law Center for Families, Children and the Courts (CFCC) Truancy Court Program (TCP). School absence is the result of a much larger pattern of problems and events encompassed by the TCP, problems that can include bullying, academic struggles, substance abuse, negative peer relationships, low self-esteem, poverty, and homelessness, to name a few. The scope and breadth of issues that underlie truancy demand a holistic approach that connects students, families, the courts, schools, and service providers.

What are the parts that make up the TCP? Weekly teacher reports are the central component of the information provided to the TCP team. At Violetville Elementary/Middle School, which is in its third year of the TCP, Janice McKinnon, the school social worker, and Arlene Ditty, a second grade teacher, serve as the main contacts for the TCP. They indicate that the teachers' input is essential to the process of re-engaging a student with the school. For example, each teacher's report includes a positive comment about the student, providing the TCP judge and team with a springboard for emphasizing a child's success at the very beginning of the TCP meeting. Ms. McKinnon notes that "this kind of regular positive reinforcement is something every child deserves. So many don't get that, and to hear it from a real judge and the principal, as well as from a large team of caring adults, makes such a huge difference for them."

| | |
| --- | --- |
| The TCP Improves Attendance, Increases Self-Esteem, Improves Relationships, and Affects School-Wide Attendance | |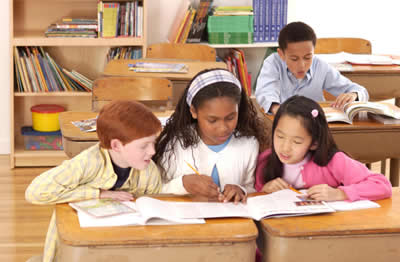 The Truancy Court Program (TCP) experienced unprecedented success in the 2011-2012 school year. The program served 186 students in three counties, including 149 students from Baltimore City. This brought the total number of students and their families served by the TCP in its eight years of operation to more than 1,250.
In Baltimore City, 80 percent of TCP participants graduated from the program, achieving at least a two-thirds reduction in unexcused absences and demonstrating improved academics and behavior. Program participants in all three counties averaged a 64 percent reduction in unexcused absences and an additional 33 percent reduction in unexcused tardies during the ten-week program, when compared to a ten-week period prior to their participation in the TCP. They also retained much of this progress after completing the program: Fall TCP participants averaged 54 percent fewer absences and 48 percent fewer tardies when tracked over the ten weeks after program involvement than they had in the ten weeks prior to their TCP involvement.
CFCC has added three new members to the TCP team:


Catherine Jackson serves as the TCP Co-Manager. She coordinates four TCP schools: Violetville Elementary/Middle, National Academy Foundation (NAF) High and Prep, New Era Academy, and Patterson High. Ms. Jackson was a CFCC Student Fellow during her second year at the University of Baltimore School of Law and continued to support the TCP during her final year, as president of the University of Baltimore Students for Public Interest (UBSPI). Ms. Jackson graduated from the School of Law in 2012.
Seth Okin serves as the TCP Coordinator at Collington Square Elementary/Middle and Walter P. Carter Elementary/Middle. Mr. Okin became involved with the TCP first as a volunteer and then as a CFCC Student Fellow. He graduated from the University of Baltimore School of Law in 2011 and entered the private practice of law. Mr. Okin notes: "The TCP is my obsession. It is an amazing opportunity for me to really help children and families."
Eliseba Osore serves as the TCP Social Worker, providing case management and therapeutic services for TCP students who need additional support. Ms. Osore specializes in working with families and children and has provided therapy to students at Baltimore's Tench Tilghman Elementary/Middle School. Ms. Osore was a social work student intern at the University of Maryland Clinical Law Office and has volunteered at the Community Law in Action C-SAFE Program. She received her Master's in Social Work: Clinical, Children and Families from the University of Maryland in 2012.
Sincerely,
Barbara Babb, Associate Professor of Law and Director, Center for Families, Children and the Courts
TCP Staff: Gloria Danziger, CFCC Senior Fellow; Andrea Bento, TCP Manager and School Liaison; Catherine Jackson, TCP Co-Manager; Anthony "Bubba" Green, TCP Mentor Coordinator; Seth Okin, TCP Coordinator; Edana Gerald, TCP Coordinator; Jana White, TCP Mentor; Eliseba Osore, TCP Social Worker; Elizabeth Mullen, CFCC Program Administrative Specialist
Editing Staff: Barbara Babb, Editor/Writer; Gloria Danziger, Editor/Writer; Andrea Bento, Editor/Writer; Elizabeth Mullen, Editor
University of Baltimore School of Law Center for Families, Children & the Courts