~ Organization Spotlight ~

With the start of July brings the return of the dreaded Asian Long-Horned Beetles. First introduced to North America through wooden pallets and crates, they eventually found their way to Worcester, and were not detected until over a decade later. Five years ago, the city of Worcester began to see how dangerous these beetles actually were. With no natural predator, they have caused the death of 30,000 trees and they have become the single largest threat to Massachusetts' native hardwood trees. In an attempt to eradicate the invasive species, the City of Worcester was forced to cut many of their hardwood trees down.
However, they did not leave it at that. In January 2009, Congressman Jim McGovern and Lt. Governor Tim Murray founded the Worcester Tree Initiative (WTI) with the intention of replanting those lost 30,000 trees in Worchester and surrounding areas in the next five years. Not only are they planting and giving away free trees, the WTI, along with the City of Worcester, Department of Conservation Recreation, and U.S. Department of Agriculture, are helping to educate people on how to identify and prevent the spread of the Asian Long-Horned Beetle and inspiring the next generation of stewards with the Young Adult Forester employment program.
Through a tremendous amount of effort and dedication from everyone, the WTI today is in line of making a huge and inspiring accomplishment. By spring of 2014, after the 5-year mark, they will have been able to recover those 30,000 trees!
Brian at the BYEN statewide Youth Environmental Leadership Institute in August 2012.
"As a kid growing up I always would love to look at nature and the trees. Then just about 5 years ago, when the beetle was found and trees were being cut down, I wanted to help reforest the area. I was so used to looking around seeing the huge tree canopy over every street in the area then having it all cut down I really wanted to help in every way possible to recreate the look of the canopy and to bring back everything that had left when the trees left. Like the birds and that nature."
To prevent the spread of these beetles, infested trees along surrounding hardwood trees were destroyed. Brian, who has lived in Worcester most of his life, recounts the tragic impact the ALB has made in his city. "Almost every tree was cut down and it was just horrible to look at. From full canopy...to nothing."
After hearing about the WTI and what they were doing, he saw the perfect opportunity to take action and help his home. As a member, he helps plants trees and trains others to plant trees. He also is a "tree care person", accountable for maintaining the growth of the trees. After working in the Young Adult Forester program, Brian now works in the office. He says, "I have my hands in almost everything here. The WTI has become a part of my life. Everywhere I go, I talk to people about it."
This organization has also impacted his career plans. After working with the WTI, Brian states: "Before then, I was like any other kid, wanting to become a fireman or a police officer. However, now I am going to school to receive a degree in environmental science and I hope to be able to work one day with a group that works like WTI."
Asian Longhorned Beatle Outreach Effort
Stacy Kilb is the Asian Longhorned Beetle Outreach Coordinator for the Massachusetts Department of Agricultural Resources (MDAR) since 2010. She recounts how she first got started with being environmentally conscious: "What got me started was studying abroad in Portugal. My host family ran a hotel with a restaurant, and one night I got to looking at the little single serve butter packets. One seems innocuous, but when you think about all the ones that get thrown 'away' worldwide on a daily basis, it's astounding." Although she started as a Spanish teacher for public schools, she soon steered towards environmental education and used her knowledge of Spanish to translate MDAR's outreach documents, and eventually used her teaching skills to gain her position today.
Stacey's main goal is to help eradicate the Asian Longhorned Beetles (ALB), and her job is to educate people: "Basically, my time is divided between office time generating outreach opportunities, and going out to those opportunities. We do three types of outreach: presentations/train-the-trainer sessions, where we either present directly or present to people (like teachers) who will then go on to do their own presentations. We go to events and have a table where we talk to passersby and hand out information. The third type is "general distribution" where we fulfill requests for materials as they are made, or if we can't do an event in person but the organizers are willing to put our stuff out.
Target audiences for presentations and tabling are mainly adults, preferably professionals in the green industries, or those who work for municipalities. Sometimes we do T3's (train the trainers) for scout troop leaders, teachers, or Department of Conservation and Recreation interpretive staff. I recently completed development of an online ALB training program for state employees as well. Sometimes I will go into schools and present to large groups of students, but those events have become rare as the Program has had me shift my focus to professionals."
All lessons and presentations are available online at: www.massnrc.org/pests/alb/albmedia.htm or http://massnrc.org/pests/pestFAQsheets/emeraldashborer.html. Stacey can supply digital or printed copies of the presentations, or even give
presentations. She is available at [email protected].
Summer Internship with the National Park Service
Daiquan Bradford at Salem Maritime National Historic Site.
Daiquan Bradford, from Roxbury, MA, first became interested in politics through conversations with his Dad, who wanted to raise him up to be an intellectual, a critical thinker, and a motivated individual. At 13, he learned about the Youth Force program at the Dorchester Bay Economic Development Corporation. After attending Youth Leadership Initiative trainings, he went on to public speaking to advocate for youth jobs on a state level and did outreach outside of Boston to bridge together communities and help improve the youth job system. As part of his work with Youth Force he offered workshops to and learned about BYEN participating organizations' environmental youth employment programs.
In 2009 he ended up publicly speaking in front of his Dad about his mom being laid off. His work in politics introduced him to a number of representatives, local politicians, and city counselors, who he thanks for getting him where he is today. Daiquan states that he is most proud of learning how to advocate for himself after working with Youth Force and other networks. He says those he connected with through these experiences were responsible for his acceptance at his dream school, Morehouse College: "It's not innate - it's something that you learn. That's the reason I'm in this college. The other reason is the networks I'm connected to - people are able to vouch for me and tell my story from afar."
This summer, through the Greening Youth Foundation's Historically Black Colleges & University Initiative, Daiquan is working with the U.S. National Park Service (NPS) as a Resources and Interpretation Intern. He is stationed at the Charlestown Navy Yard where he helps with community outreach and catalogues objects. He is especially inspired by the agency's goal to diversify its workforce and would like to better connect city kids and youth with the NPS, beginning with those involved in the many organizations he got to know while he was at Youth Force. In the last couple of months he discovered new, beautiful places and NPS short and long term opportunities for young people. He hopes more young people will visit and learn about these opportunities.
Daiquan states "I take a look at National Park's stories - they tell interpretative stories about their history - that may be from the Freedom Trail, or Bunker Hill, and my goal is to make it more inclusive and more representative of America. His future goals are to start a nonprofit and help intercity kids develop a passion for politics and go into legal fields.
To learn more about and apply to government jobs and internships, visit http://USAjobs.gov or contact Beth Jacendolf at [email protected] or617-438-4048.
The Boston Youth Environmental Network
,
an initiative of Boston After School & Beyond, is a comprehensive system of organizations providing hands-on environmental education and employment opportunities for children and youth.
Our resources and connections help individual providers more effectively engage kids in outdoor learning, academic achievement and career exploration.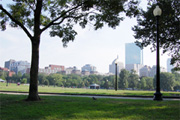 Want your organization highlighted in the BYEN Insider? Shoot us an email with a two-paragraph description of what your organization does and what events/activities you are doing!
Do you have an event, a program, a conference, job openings, or other opportunities centered on environmental education or youth employment? Let us know and we'll promote it on our website!