| | |
| --- | --- |
| | |
| | TD7 Peep gets ready to run for the first time on American soil. |
Turkey Dog Update
With the arrival of the TD7 Bunny Plane last month, AGA has brought 159 Golden Retreivers from Istanbul since May 9, 2015. We have also helped 30 other Golden Retriever rescues across the country and one in Canada to bring in TDs of their own. Total number of TDs who have come to America to AGA and other rescues is 407. Help us continue bringing TDs to Atlanta!
Adoption Day
Sunday, April 3 12 noon - 2 p.m. @
4958 Lower Roswell Road Suite 124 Marietta, GA 30068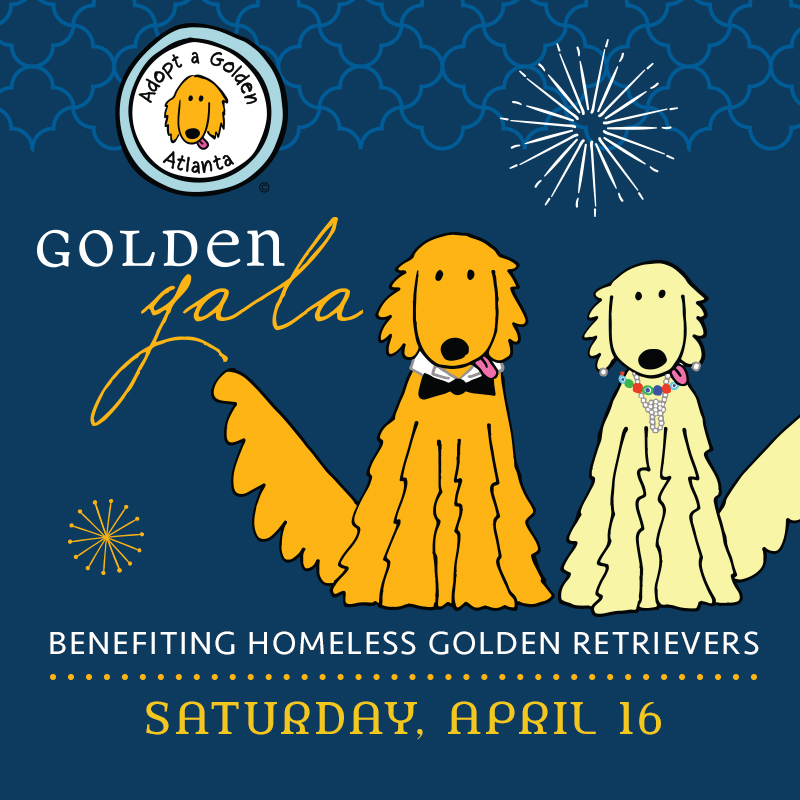 The Golden Party of the Year!
Don't miss the Golden Gala, Saturday, April 16, 7 to 10 pm, at Flourish in Buckhead. Tickets must be purchased by
APRIL 4.
Presenting Sponsors are Cox Automotive, Atlanta Beverage Company and Solid Gold Pet Food. Fabulous food stations by Legendary Events, our Signature Goldentinis and a Live and Silent Auction. Special Guest is Yasemine Baban, Turkey Dog Rescuer from Istanbul. Kaedy Kiely, 97.1 The River is emcee. Honorary Chairs are Mark and Debby Pirrung.
For full details, ticket and sponsorship purchase,
click HERE
ASK THE VET
Burping and Bloat
We get lots of questions about bloat and as parents of Golden Retrievers it's something we all need to be aware of. As with many things, prevention can be the best medicine.
How many times a day should you feed your dog? Check out this
adogslove.com article
to learn that and other tips about
burping and bloat.
ASK THE TRAINER
At the Dog Park: Who Is Friendly?
Over the past year the "dog park craze" has grown even more. There are many dogs that should NEVER be allowed in one and many owners are oblivious to that fact. So, you're in the dog park, how do you know which dogs to let your dog meet
and which ones to avoid? How do you quickly identify which dogs are friendly
and which ones aren't? The three tips in this Sarah Wilson Dog Expert article
illustrate what to look for.
RECENT ADOPTIONS
Congratulations to all of our pups who found their forever homes in March.
Bernie, Blake Lab, Cooper, Dexter, Finn, Goldie, Hugs, Lucy, Neyland & Tucker, Ruffus, Sadie Flowers, Sugar, True Love and Tyrone all found homes this month.
SAVE THE DATE:
Golden Open Golf and Tennis Tournaments
Mark your calendar now for Monday, June 6, at the Marietta Country Club in Kennesaw. It's Golden Open time!
Whether you're a golfer or a tennis player, we have a tournament for you. We're also looking for sponsors for each tournament.
Watch for specific information soon.
Nutrition and Rescued Dogs
AGA has learned firsthand the benefits of Solid Gold's SeaMeal™, an overall wellness and digestive health supplement for both dogs and cats.
When they arrive in the U.S. all of our Turkey Dogs start on Solid Gold food for good nutrition and they also are given the SeaMeal supplement for skin/coat and digestive issues. We have also put many of our American dogs on it as well, with much success. And does your dog have bad breath? A few days on this and it will be gone. Check out SeaMeal and their other products at
Solid Gold
.
Welcome, Adopt a Golden Nashville!
We are thrilled to report that Middle Tennessee Golden Retriever Rescue recently became Adopt a Golden Nashville (AGN), affiliating with the Adopt a Golden Network started by AGA. AGN is an 18-year-old organization that has rescued over 3,000 golden retrievers and currently saves 200 goldens a year, including 5 Turkey Dogs that came in on the last plane.
Shop at Kroger?




Put AGA as your charity and Kroger will make a donation.

Just register your card for free

here

using our NPO number 67180 and shop like usual to help support AGA.

Shop on amazon.com?

Use this link to get to Amazon and then shop like normal. AGA gets a donation from every dollar you spend while using our link.