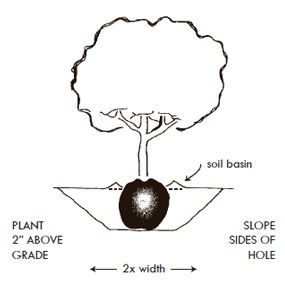 Summer Tree Planting Guide

Planting trees during the summer is as easy as planting them in the spring. The only difference is the amount of water they'll require to take root and establish themselves in your landscape.

By following these simple steps, you can have a beautiful ornamental tree that will anchor your yard for many years to come. Plus, with 30% OFF all balled & burlap trees during our Summer Sale, you can even save some money too!

Dig a hole almost as deep as the plant's root system and twice as wide while loosening the soil surrounding the hole.


Set the plant in the hole so that the root ball sits 2" higher than the existing grade. If the plant is pot bound, score the roots with a sharp blade or knife. Do not remove the burlap from the root ball unless the burlap is non-biodegradeable.


Untie all the string around the top of the root ball and remove any plastic strings completely. Do not remove the wire basket.


Amend the existing soil dug from the hole with peat moss, cow manure or compost. Add one shovel of soil amending material to three shovel fulls of existing soil.


Firm the soil around the base of the plant with your hands.


Make a shallow water basin 3-4" deep using soil or mulch. The basin diameter needs to be approximately 1 1/2 times the root ball size.


Fill the basin with water 2-3 times, saturating the root system. Continue to water on a regular basis using this method.


Make sure to apply a root stimulant. If you have questions, please ask our staff about the fertilizer requirements for your particular plant.


Complete your planting by mulching with a 1-2" layer of bark or other material to help maintain moisture. Make sure to keep your mulch 2-3" away from the trunk or stems of your plant.
Follow these steps and you'll have a beautiful tree you'll be able to enjoy for many years to come!


Let Us Do the Planting

Take the hassles out of planting trees, shrubs, perennials & more with our Planting Service.

We'll get your plants into the ground and off to a great start, worry-free. Visit our website to learn more.

Good "Bones" for the Garden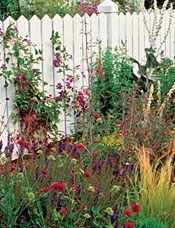 When summer is here and our gardens are full of color, it's hard to remember the cold, dreary days of winter.

But let's face it, we live in Maine and more than half of our year is winter. So how do we maintain interest in the garden all year? Simple - create a landscape with good "bones".

The bones are the structure of the garden, the elements that remain after the flowers are spent and the leaves are gone – paths, walks, trees, shrubs, benches, rocks, patios, ponds and sculpture.

The Importance of Structure

Most of us become preoccupied with favorite plants or the ones we fell in love with at the garden center. We hope that all the wonderful plants we bring home, placed together, will make a beautiful whole. Unfortunately, what we often end up with is disorganized and lacks unity.

By adding structure, a garden becomes solid and grounded in all seasons and creates a backdrop for those interesting plants. In fact, the most ordinary plants arranged within a well structured landscape can make a striking garden.

Structural Elements and their Uses

When coordinating the bones of your garden, take these elements into consideration:
Paths connect different parts of the garden and direct traffic
Walls, fences and trellises create a sense of enclosure and security
Boulders and rocks add visual focal points and can anchor plants
Evergreen trees are perfect for framing a view, while deciduous trees grouped together can create a canopy of green
Flower beds direct the viewer's eye and add seasonal color and interest
Water features create sanctuary, sooth street noise and create a focal point

Like Us!

Follow Us!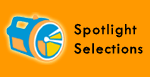 Save big during our Summer Sale! The following items are now BUY 1, GET 1 FREE!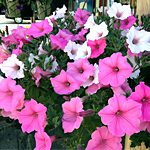 Hanging Baskets



Rhododendrons



Most Hostas



Lilacs



5th Annual MELNA Golf Tournament

August 18th

Learn More...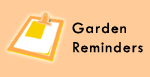 The most important thing you can do for your garden during the summer is give it plenty of water. We recommened 2-3 deep waterings every week even when it rains.

Make sure your plants aren't infested with insects or disease by checking on them regularly. If you have any questions or see signs of damage, feel free to contact us.



From the ultimate garden solution to perfect gifts, you're sure to find something great in our garden emporium!



Is Powdery Mildew affecting your phlox? Treat them with Fung-onil, an all-purpose solution that will also tackle other diseases.



Wet weather means slugs; reclaim your garden with Sluggo.