Inspect Your Evergreens for Summer Pests

As the heat and humidity of summer increases, so do the chances of infestations in the garden. Evergreens are especially susceptible during the summer months. We recommend that you keep close tabs on your evergreens for the following troublemakers and contact us immediately for treatment solutions if you see signs of damage.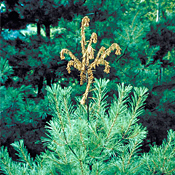 White Pine Weevil

This insect attacks the tops of conifers and is the most serious white pine pest in Maine. However, it's not limited to just white pine - white pine weevil will also attack jack pine, red pine and Scotch pine, as well as several varieties of spruce.

Infested trees will show signs of wilting and browning, usually by July, and although they rarely kill the trees outright, they often cause unsightly damage that will limit their ornamental appeal.

The prompt removal (and burning) of infested areas of the trees is recommended at the first signs of damage. However, don't hesitate to contact us for personalized treatment solutions.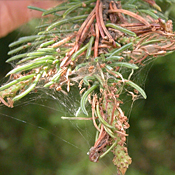 Spruce Budworm

This native insect eats the needles of fir and spruce trees and is considered one of the most dangerous insects to Maine's forests. In fact, Spruce Budworm destroyed an estimated 20 percent of Maine's fir trees during an outbreak from 1970 to 1985. With recent outbreaks in Canada and sitings in Northern Maine forests, Maine Forestry officials are preparing for another large scale attack.

Unfotunately, early detection of this pest is often difficult for the home gardener. The larva is very small and will bore into and feed on the needles or expanding buds. As the larva grows, the needles are severed and left hanging in a silky web. The needles then turn brown and give the entire tree a scorched appearance, usually sometime between mid-June to August.

If you see any signs of this kind of damage to your fir or spruce trees, please contact us for treatment options.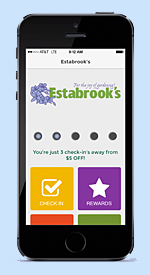 Save Big with Our Mobile App

Have you checked out the new version of our mobile app?

Download it today from the App Store or Google Play and take advantage of these special offers this week:

$1 OFF Benson Farm Surf & Turf Compost (1 cu ft bags)
FREE Plant Delivery (with qualifying purchase)
FREE Bulk Product Delivery (with qualifying purchase)
Check out the app for full details or click here to view and print your coupons. Some exceptions may apply; see store for details.
Protect Your Plants From Japanese Beetles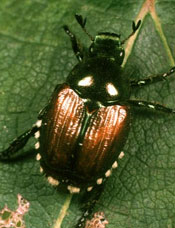 Japanese Beetles are devastating pests that feed on nearly 300 different species of landscape plants, usually starting at the top of the plant and working their way downward. A single beetle is usually not a cause for concern, but a large group can cause considerable damage to your plants. Adult beetles will chew the tissue between veins of foliage, giving your plants a hollow, unsightly appearance and making them more susceptible to other diseases.

You can identify Japanese Beetles by their hard, copper colored wing covers. Measuring nearly half an inch in length, these beetles will also display small white tufts under the wing covers on each side, with an additional pair at the tip of the abdomen.

Natural Controls

When possible, we always stress natural solutions to insect problems. Unfortunately, the hard body of the Japanese Beetle make them unattractive to most predators such as birds. There are a few species of parasitic flies that have shown the ability to control the beetle (especially here in the Northeast) by laying eggs that attach to the back of the beetles, but since this treatment method can take time to develop, this strategy is generally best for small infestations that will allow the larvae time to hatch while damage levels remain low.

Collecting Beetles

Another alternative for low levels of activity is hand collecting. Since the presence of beetles on a plant attracts more beetles, by removing beetles daily by hand from a plant you can stop the proliferation of these pests. The easiest way to remove beetles from small plants is to shake the plants early in the morning (about 7 a.m.) when temperatures are low and the beetles are sluggish. The beetles may be killed by shaking them into a bucket of soapy water.

Trapping Beetles

Japanese Beetle traps attract the beetles with two types of baits. One mimics the scent of female beetles and is highly attractive to males. The other bait is a sweet-smelling food-type lure that attracts both sexes. This combination of ingredients is such a powerful attractant that traps can draw in thousands of beetles in a day.

Since these traps can often be too effective and end up drawing even more beetles to the area, strategic site placement is critical to the success of this method. Place your traps away from your landscape on the outskirts of your property in an attempt to not only catch these critters, but also to lead them away from your plants in general.

Insecticides

If a problem is more severe and natural methods of collecting or trapping beetles simply won't work, an approved insecticide is usually the next course of action. Since garden environments and the level of the problem dictate the best chemical treatment, we recommend that you contact us here at Estabrook's and speak with one of our garden professionals about the best treatment method.



Like Us!

Follow Us!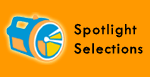 Save 40% on these plants during our Summer Sale



Hostas (Most 9" &
1 Gallon Varieties)



Rhododendrons



Forsythia



Azaleas



Lilacs



Mountain Laurel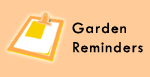 Keep an eye on your vegetable garden for signs of tomato horn worm, powdery mildew, aphids and other summer diseases and pests. Our plant pharmacy has everything you need to fight back!

Summer is here and your plants need water. We recommend 2-3 deep waterings per week, even when it rains (your plants will shed rain like an umbrella).



From the ultimate garden solution to perfect gifts, you're sure to find something great in our garden emporium!



Make watering fun with an assortment of colorful sprinklers, nozzles and watering wands from Dramm



Funny name, serious results! Captain Jack's Dead Bug Brew eliminates a wide variety of garden pests naturally.