Planting a Shade Garden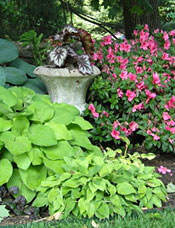 Summer temperatures can make gardening into a chore, so why not beat the heat by planting a shade garden!

Many plants thrive under shady conditions and can quickly transform your landscape into a lush garden oasis. Plus, because shade gardens require less maintenance than sunny ones, you'll have more time to enjoy the fruits of your labor.

Choosing Your Site

The first step in establishing a shade garden is deciding where to place it. Do you want an intimate setting in the corner of your yard or would you like it featured along a walkway? Before selecting a site you should keep in mind the many elements that will affect your shade garden, including soil quality, drainage, existing structures, and trees or hedges that may battle your new plants for water and nutrients.

Types of Shade

Light is critical to the health of any plant and even shade garden plants will generally require at least some type of sunlight during the day (usually in the morning). Shady spots can be divided into five different levels of shade:

Light Shade - Bright, open shade that offers indirect light in addition to direct sun.
Partial Shade - Shade is present during part of the day but the area generally receives two to six hours of direct sun.
Dappled Shade - Sunlight filtering through trees creates dappled shade and may change over the course of the day.
Heavy Shade - Solid shade created by tall buildings or large evergreens. Evergreens can be trimmed to allow more sunlight here.
Dense Shade - Constant shade with no direct sun at all and no reflected light. Plant selection will be limited under these conditions.
Improving Your Soil

If your property is wooded, your soil is probably rich in organic matter created by tree trunks and fallen leaves or branches. However, areas under trees can have lifeless soil, particularly if the soil is root infested or the ground is covered with pine needles.

To improve the soil, add two parts humus (compost, leaf mold, or peat moss) to one part sand and one part clay soil. Thoroughly work the mixture into the soil with a sharp spade. The humus will make the soil light and porous, the coarse sand helps to ensure good drainage, and the clay will provide necessary nutrients.

Selecting Plants

Since a limited number of shade plants flower, the focus should be on foliage. Instead of blooms, you should plan your garden around contrasting foliage and textures. If one of your goals is to brighten up the space, look for plants with variegated foliage.

Due to the wide variety of colors, forms and textures, perennials are a popular choice for shady areas. While Ferns and Hostas remain the kings of the perennial shade garden, many varieties of Astilbe will provide brilliant blooms and thrive in the shade.

By following these simple steps, you'll have a beautiful new garden that you can enjoy all season long while lounging in the summer shade!


Let Us Do the Planting

Take the hassles out of planting trees, shrubs, perennials & more with our Planting Service.

We'll get your plants into the ground and off to a great start, worry-free. Visit our website to learn more.

Lawn Watering Guide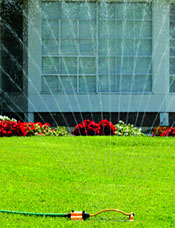 Extended periods of hot weather during the summer can take a toll on your lawn, especially areas that are fully exposed during the day. Without the benefit of an adequate supply of water, your lawn can endure severe stress, making it more susceptible to insects, disease and unsightly browning. A regular watering regimen will solve this problem.

When to Water

Watering your lawn first thing in the morning (even before sunrise) is generally considered the best time to water. By doing so, you'll give the water an opportunity to soak in before it has a chance to evaporate, and any moisture that doesn't take to the soil will be gobbled up by the hot summer sun. If you water in the evening, you run the risk of any excess water sitting on your lawn and fostering fungal damage.

How to Water

Your lawn's roots will only travel as far as the water does, so light watering will result in roots that stay near the surface. Deep watering will therefore encourage deep root growth, so it's extremely important to provide the right amount of water to your lawn. It also means less frequent watering because it will take longer for the soil to dry out.

We generally recommend a 1-2 inch application twice a week by watering for 5 minutes, then allowing the water to soak in for 15 minutes, and repeating until the desired amount has been applied. This will not only conserve water, but also reduce runoff.

Watering Devices

If set-up and placed correctly, a sprinkler system will consistently cover your entire lawn and can be programmed to water as frequently as you need it. Just remember that water tends to pool around the base of sprinklers, so rotating their locations even on small lawns is a good idea. If your lawn is too large to be covered by your present amount of sprinklers, either purchase more to ensure total coverage or move them to dry areas after one area has received an appropriate amount of saturation.

Too Much Water

Many people feel that if a little water is good, then more of it must be better. This is not the case when it comes to watering your lawn. In fact, more problems occur from over-watering than under-watering. By applying too much water to your lawn, you can wash away essential nutrients from your lawn and leave pools of unabsorbed water that will encourage fungal spores and disease.



Like Us!

Follow Us!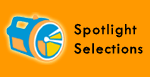 Save big on these popular plants and many more during our Summer Sale.



Lilacs
NOW 30% OFF



Rhododendrons
NOW 30% OFF



'Endless Summer' Hydrangea
NOW 25% OFF



Fruit Trees
NOW 30% OFF



Magnolias
NOW 30% OFF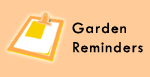 We're heading into Japanese beetle season. Is your garden prepared? We have everything you need to keep it safe.

Don't forget about your feathered friends! Make sure your feeders are filled with seed and your bird baths have plenty of water.

Summer is officially here! The most important thing you can do for your garden is to make sure your plants are getting plenty of water. We recommend 2-3 deep waterings a week even when it rains.



From the ultimate garden solution to perfect gifts, you're sure to find something great in our garden emporium!



Make watering fun and easy with brightly colored rain wands, sprinklers, nozzles and more from Dramm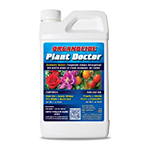 Prevent and cure many plant diseases (including Tomato Blight) with Plant Doctor, an all-new earth-friendly systemic fungicide.