Creating an Island Bed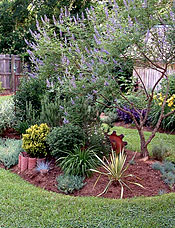 Island beds are freestanding beds, usually surrounded by lawn. By installing an island bed you can take a bare, uninteresting area and turn it into an attractive, eye-catching landscape feature. Use island beds to create a focal point, screen unattractive features, create privacy and reduce noise and lawn size.

Don't Skimp on Size

Island beds need to be large enough to accommodate your plants' growth in the coming years (look for this information on the plant tag or in our online plant catalog).

If you are planning on putting trees and shrubs in your island bed, design a bed that is at least 8 feet wide. This width allows you to maintain your bed easily from the edge. If you design a wider bed, leave room for stepping stones to access your bed to weed and groom.

Create a Pleasing Shape

The shape is best determined by the area you have to work within. In general, a gently curving line is best. Curves are not only calming, but also make mowing and edging easier.

To help create your shape, lay a garden hose on the ground to represent the future shape of your bed. Arrange and adjust the hose until you like the shape.

Select Plants That Fit Your Conditions

One of the great advantages of island beds is that you can easily group plants that require the same growing conditions together. For example, a bed located in a front yard that is hot and dry with full sun needs plants that thrive in those conditions: some Maples, Hawthorn, White Pine, Juniper, Quince, Potentilla, Sand Cherry or Bayberry to name a few.

If perennials interest you, there are many choices that thrive in hot, dry conditions. Although a plant might thrive in dry conditions, all plants must be watered while getting established.

Island beds are a great, manageable way to add interest and beauty to your yard. So go ahead and get your hands dirty!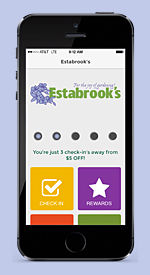 Save Big with Our Mobile App

Have you checked out the new version of our mobile app?

Download it today from the App Store or Google Play and take advantage of these special offers this week:

20% OFF All Pottery
FREE Delivery of 6+ Yards
20% OFF 'Endless Summer' Hydrangea (7 Gallon)
$3 OFF Tomatoes (1 Gallon)
Plus six more!
Check out the app for full details or click here to view and print your coupons. Some exceptions may apply; see store for details.
Let Us Do the Work with Our Planting Service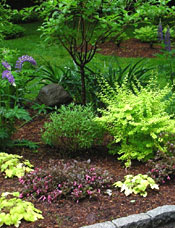 Do you want to spend more time enjoying your garden and less time "dealing" with it? Take the hassles out of planting trees, shrubs and more with our Planting Service.

Here are some answers to a few frequently asked questions about the service:

Is Planting Available in My Town?

Our planting area is the same as our delivery area. Please use the following zones when determining price:

ZONE 1: Yarmouth

ZONE 2: Cumberland, Falmouth, Freeport, North Yarmouth

ZONE 3: Bath, Brunswick, Cape Elizabeth, Durham, Gray, New Gloucester, Portland, Pownal, Scarborough, South Portland, Topsham, West Falmouth, Westbrook, Windham

ZONE 4: Arundel, Bailey Island, Biddeford, Dresden, Gorham, Harpswell, Kennebunk, Kennebunkport, Old Orchard Beach, Orr's Island, Saco, Wells, Wiscasset

Don't see your town? Give us a call! We'll plant throughout Southern Maine.

Which Plants are Eligible?

ANY of our plants are eligible for our Planting Service. There is no restriction on numbers or price.

How Does It Work?

Simply pick out your favorite plants at either of our locations in Yarmouth, Scarborough or Kennebunk, and ask for our planting service at the register. We'll do the rest!

Who Will Be Planting?

The team at M. J. Storey Landscape Construction Inc. will do all the planting. They have been providing professional landscape services to Southern Maine for a decade.

How Much Does This Cost?

For a full list of pricing, please visit our website.



Like Us!

Follow Us!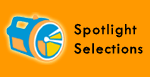 June is Perennials Month at Estabrook's! Save 20% on these perennials and many more during our Perennials Sale.



Astilbe



Foxglove



Catmint



Hosta



Lupine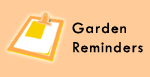 Add instant color nearly anywhere! 12" patio pots filled with colorful annuals are now just $25 each when you purchase 2 or more!

Does Dad have a green thumb? Treat him to an Estabrook's Gift Card for Father's Day on Sunday, June 21st. Order online or visit one of our locations.



From the ultimate garden solution to perfect gifts, you're sure to find something great in our garden emporium!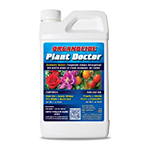 Prevent and cure many plant diseases (including Tomato Blight) with Plant Doctor, an all-new earth-friendly systemic fungicide.



Hot summer weather is on its way back; make sure your plants are getting plenty of water with hoses, sprinklers, watering wands and more