Improve Your Landscape with Nutri-Mulch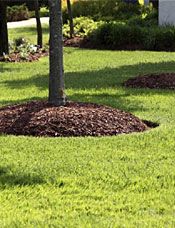 Nothing makes a garden stand out more than a fresh layer of mulch. If you're looking for a mulch that will provide form AND function, look no further than Nutri-Mulch, now available at Estabrook's for pick-up or delivery.

A Superior Mulch

Nutri-Mulch is a superior mulch for improving any landscape. Manufactured from aged native Maine bark and compost, its dark color and rich texture are ideal for perennials, ornamentals, and around trees and shrubs.

What makes Nutri-Mulch special is the fact that it is nutrient stabilized with compost so the bark no longer competes with plants for nutrients. Unlike conventional bark mulches, there is no need to remove Nutri-Mulch prior to the next application - simply rake into the soil and re-mulch.

How to Apply

Apply an even layer approximately 2-4" deep. When applied at this average thickness, 1 cubic yard of mulch will cover approximately 100 square feet. Like any mulch, it should be applied up to, but not touching the stems or stalks of plantings. For additional weed suppression, apply landscape fabric prior to mulching.

Take your garden to the next level with Nutri-Mulch. Visit the delivery section of our website for complete pricing, a coverage calculator and even place your order online using our online delivery order form.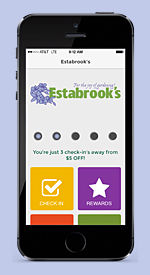 Save Big with Our Mobile App

Have you checked out the new version of our mobile app?

Download it today from the App Store or Google Play and take advantage of these offers this week:

$24.99 Tray of Pansies (48 plants)
$4.99 ea 10+ Bags of Dark Bark Mulch (2 cu ft)
Check out the app for full details or click here to view and print your coupons. Some exceptions may apply; see store for details.


Spring Fertilizing Guide

Now is a great time to prepare your garden beds, bulbs, vegetables, trees and shrubs with fertilizer to create optimum growing conditions. Plus, don't forget that winter damaged plants can especially use a boost this time of year.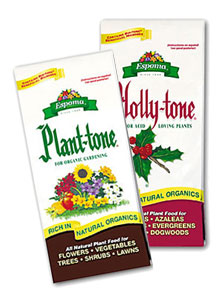 Plant-tone and Holly-tone will serve the majority of your needs.

These two all-purpose plant foods will provide your garden with all the essential nutrients and by following these simple directions, you're sure to notice the difference once spring is in full swing!

Plant-tone

For flower beds, mix Plant-tone into the top four or five inches of soil at a rate of 4 lbs per 100 square feet (or 1/2 cup per plant). An additional feeding of 1/4 cup can be made once a month after plants are well established.

When preparing your vegetable garden, apply 40 lbs of Plant-tone per 1,000 square feet and work into the top 4 to 5 inches of soil (or 1 cup per 10 sq ft). For individual plantings, add 2 tablespoons per vegetable. Apply at the same rate once a month during growing season.

Holly-tone

Trees will benefit from 1 lb (or 3 cups) of Holly-tone per inch of trunk diameter. Triple the quantity for diameters 3 inches and over.

As for shrubs, 1 cupful of Holly-tone per foot of branch spread is optimal. You can double the quantity if the branch spread is 3 feet or larger.



Like Us!

Follow Us!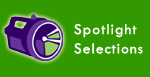 Save 20% on these plants and more during our Spring Nursery Sale



Perennial Primrose



Forsythia



Fruit Trees



Magnolia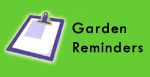 Perennials are now available and ready to plant. Reconnect with old favorites or discover tons of new varieties that will star in your garden for many years to come.

It's a great time to plant and protect your vegetable seeds like peas, spinach, radish, lettuce, beets, peppers and tomatoes for a summer harvest.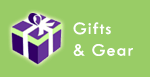 From the ultimate garden solution to perfect gifts, you're sure to find something great in our emporium!




Get your garden off to a great start with organic soils and mulches from Coast of Maine. Learn more with their fantastic instructional videos!