Issue #504 - February 5, 2015
Our retail stores are now closed for the season. We will re-open in Yarmouth during March. Our office in Yarmouth will remain open during this period from 9am to 5pm Monday thru Friday (weather permitting) to provide customer service.
Houseplant Care Guide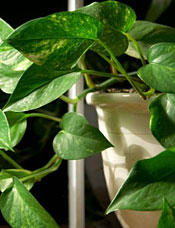 Apart from regular watering and feeding, houseplants require very little care. However, there are some considerations to think about when placing them inside your home or office. Follow these guidelines to keep them looking their best!

Light

A moderate amount of bright, filtered light is best for most plants. Low light levels can lead to a decline in health as insufficient food is produced to replace older leaves as they die, leaving pale stunted plants. On the other hand, too much light can lead to scorching of the foliage with many tropical houseplants.

Temperature

Although many houseplants require warm rooms, they generally prefer an even temperature. In winter this becomes a problem when central heating creates large fluctuations between day and night temperatures. Avoid placing plants near radiators, in draughts, or on windowsills at night.

Water

Indoor plants more commonly die of over-watering than from drought. Overwatering eventually leads to root death and collapse of the plant. Try to keep your plants moist and avoid letting the compost dry out completely. Water from below allowing the plant to take up water as it is needed, but allow excess to drain away.

Feeding

Liquid feeds are generally the best for houseplants. Choose one high in potash for flowering pot plants, a more balanced one for foliage plants, and use a special fertilizer for certain groups of plants such as orchids.

Repotting

After a year or two, plants may need repotting into a larger container to maintain healthy growth. Choose a clean pot one or two sizes larger than the old one, then water the plant before potting and allow it to drain. Repot using a similar type of compost to the old one.


Estabrook's - (207) 846-4398 - www.estabrooksonline.com