If you're having trouble viewing this email, please
click here
for the online version.
To ensure our email is delivered, please add
[email protected]
to your address book.
Issue #500 - January 8, 2015
Our retail stores are now closed for the season. We will re-open in Yarmouth during March. Our office in Yarmouth will remain open during this period from 9am to 5pm Monday thru Friday (weather permitting) to provide customer service.
Winter Gardening Projects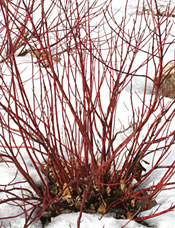 With sub-zero temperatures outside, spring may seem like a long ways away, but it's actually just 71 days until it's officially here.

Make the most of the winter inside and out with these projects you can do during the "off-season":

The Inside Garden

Check houseplants for signs of cold damage from drafty windows. Redistribute plants or think about using a small heating mat if the situation warrants it.


With daylight lengthening, some houseplants can be flushed with new growth right now. Check for insects everywhere, but especially on new, tender growth, and avoid fertilizing until mid March.


Water houseplants carefully so as not to splash too much water on leaves and crowns of plants - this can cause fungus and disease problems in colder living areas.


For most plants in clay pots, a good method of determining if they need water is to touch the pot with the palm of your hand. If the pot is cooler to the touch than room temperature, then no water needed. If it's room temperature, a drink may be required.
The Outside Garden
If you didn't get to covering last season's newly planted plants, consider doing so now. A thick blanket of straw or a shrub guard for a free-standing shrub may be what's in order.


Take this opportunity to view your garden and envision what you want to change this coming season.


Make a garden record either by drawing a simple map, organizing receipts and plant tags, or both. This information is very helpful to our employees for diagnosing plant problems and specific plant location concerns.
Estabrook's - (207) 846-4398 - www.estabrooksonline.com