Final Fall Clearance
As October draws to a close, so does our Fall Clearance Sale.

We'll be putting away the last of our plant material starting this Monday, so this weekend is your last chance to visit Estabrook's and get some great deals on trees, shrubs, roses and more.

The following special pricing is available now until the end of the day on Sunday, November 2nd in Yarmouth while supplies last.


75% OFF Balled & Burlap Shade, Flowering & Evergreen Trees

Add stately elegance, create some natural privacy or simply enjoy spring blooms with a new tree for your yard. Choose from many popular varieties.
60% OFF Container Trees, Shrubs, Vines & Roses

Trees, shrubs and roses are the backbone of a great landscape. Whether you're planting a new garden or refreshing the one you already have, you'll find plenty of great choices still available in our nursery.
50% OFF Limited Selection of Perennials, Grasses and Groundcovers

Many of our perennials, grasses and groundcovers have been put away for the season, but you can still score some great deals on a limited selection of plants. Visit us to see what's still available!

Plus, purchase $600 or more and we'll deliver everything for FREE within our delivery zones. If you can still work the soil, it's not too late to plant, so get a head start on next spring and save big at Estabrook's.



Join Us For An Evening with Estabrook's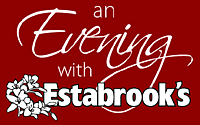 Make plans to join us at Estabrook's in Yarmouth on Thursday, November 13th for An Evening with Estabrook's.

Enjoy complimentary food and beverages, browse artisan vendors and start your holiday shopping at this special after hours event from 5-7pm. We'll have more details soon!
Pumpkin Carving Tips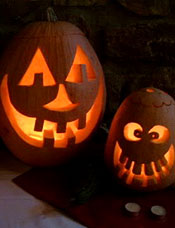 Halloween is tomorrow! If you haven't carved this year's pumpkins, tonight is your last chance. Here are a few tips to make that jack-o-lantern truly special and help it last just a little longer:

Pumpkin Preservation

There are many effective ways to preserve your jack-o-lanterns. We recommend the following preservation techniques:

Prevent your pumpkin from drying out by placing petroleum jelly on the cut edges of your carving.
To help prevent premature decomposition, spray your pumpkin with water, cover it with plastic wrap then store it in the refrigerator when it's not on display.
Soak or spray the pumpkin with water mixed with a little bit of bleach. This will help ward off mold and kill insects for a longer preservation.
Illumination

No matter how great your design is, your masterpiece will only truly shine once the sun goes down. Here are a few tips for lighting up your jack-o-lantern this Halloween:

When using a candle, cut a hole on the upper, back part of the pumpkin. The hole will work like a chimney by allowing the candle's heat to escape.
Try creating the opening from the bottom of the pumpkin instead of the top - you can attach the light source to the bottom lid and place the pumpkin over it.
For a multicolor display, use a battery-operated light with LED bulbs. A flashing light is ideal for spooky pumpkin carvings.
Happy Halloween from Estabrook's!



Like Us!

Follow Us!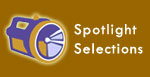 Fall plants are now 50% OFF! Celebrate autumn by decorating your steps, porch or walkway today.




Garden Mums




Cabbage & Kale



Purple Fountain Grass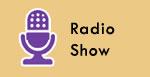 #91 - Goodbye For Now
Tom bids goodbye (for now) as this version of the Estabrook's radio show comes to a close. He takes a look back at the history of the show and answers a few final questions. Thank you to everyone for listening!

Listen Now...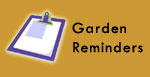 New operating hours start this Monday in Yarmouth. We'll be open from 9am to 5pm seven days a week.

Amaryllis and paperwhite bulbs are now available in Yarmouth, including all-in-one kits that make a great gift.



From the ultimate garden solution to perfect gifts, you're sure to find something great in our emporium!



It's time to clean-up and protect your garden for winter. We have everything you need, including shrub covers, burlap, stakes, containers and more.