Choosing the Perfect Pumpkin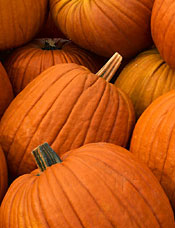 We're just eight days away from Halloween, so if you haven't picked out your pumpkins yet, this weekend is a great time to do it.

Whether you're looking to carve the ultimate Jack-O-Lantern or simply dress up your front steps, you'll want to select the very best.

Here are a few tips to help you choose your pumpkin and keep it fresh until Halloween:

Select pumpkins that are fresh and firm. Avoid choosing a pumpkin that has bruised or soft areas, cuts or other visible blemishes.


Store both cut or uncut pumpkins in a cool, dry place to keep them fresh longer. A cool basement will work well.


Remember that warm weather and hot sunlight can speed decay in a pumpkin. Don't leave your pumpkins out on your door step during unseasonably warm weather.


Once a pumpkin is carved, cover it with plastic for a day or two to help keep moisture in it.


Smaller cut pumpkins can be wrapped in plastic and stored inside the refrigerator for a few days before Halloween. This is especially helpful if you are having a party and need to carve them ahead of time.


If your cut pumpkin begins to shrivel, it can sometimes be revived temporarily by soaking it in a bucket of cool water for several hours, and then draining thoroughly.


Cover all cut edges of a pumpkin, as well as the entire interior, with petroleum jelly. This is the best way to reduce moisture loss and keep a pumpkin looking fresh longer.


Heat from electric light bulbs and candles can also contribute to the early demise of a pumpkin. Try cutting a hole in the top of the pumpkin to allow heat to escape.


Preparing Your Garden for Winter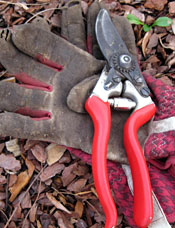 October is drawing to a close, so it's time to start thinking about putting your garden to bed and preparing it for the tough winter months ahead.

Among the tasks that should be considered include:

Cutting Back Perennials

This will not only neaten the appearance of your garden, but also protect your plants from winter exposure while promoting lush new growth in the spring.

Weeding

Prevent harmful weeds from spreading while your garden is dormant by removing them this fall. It will make your job next spring that much easier!

Shrub Protection

If any of your shrubs are in an area that will incur a large snow load (such as areas under pitched roofs), erecting a shrub guard can allieve future breaking and snapping from these unexpected "drop-ins".

Mulch

While shrub guards will protect your plants from attacks above, a layer of bark mulch in your garden will protect your garden's root system.

One of the most dangerous winter effects to any landscape are frost heaves, which are caused by a fluctuation in winter temperatures that cause the ground to freeze, then thaw, then freeze again. By laying down a layer of mulch in your garden, you create an insulation that will keep your ground at a constant temperature, which your garden's root system will appreciate.



Like Us!

Follow Us!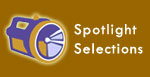 Fall plants are now 50% OFF! Celebrate autumn by decorating your steps, porch or walkway today.




Garden Mums




Cabbage & Kale



Purple Fountain Grass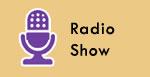 #90 - Fall Mailbag
Tom catches up with the questions you've been submitting on this week's show. Topics include planning a landscape, moving shrubs around, growing vines on a trellis and much more.

Listen Now...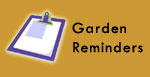 Want to enjoy backyard birds this winter? Fill your feeders with gourmet seed from Estabrook's this fall and convince them to stay when the snow starts falling.



From the ultimate garden solution to perfect gifts, you're sure to find something great in our emporium!



Orange starlight spheres make a great Halloween decoration and are now available. We also have purple ones too!