Save Big on Fresh Plants

Tons of fresh, brand new plants have been arriving this week in Yarmouth and Kennebunk!

Choose from more than 100 different varieties of plants, including hydrangea, coral bells, rose of sharon, ornamental grasses, roses, blueberries and many more. They all look fantastic and best of all, they're available at Summer Sale prices: 30% OFF!

Here are a few special varieties to keep an eye out for:


'Little Zebra' Maiden Grass

'Little Zebra' is one of many ornamental grasses that have recently arrived. Offering tons of texture and resiliance that will last right up until winter, grasses are a fantastic way to add interest to any late season garden.
'Incrediball' Hydrangea

'Incrediball' produces enormous flowers held on self-supporting stems from early July thru fall. As the summer progresses, the white flowers change to a lovely soft green and dry very well.
'Goldsturm' Rudbeckia

A garden favorite! The deep green, disease resistant foliage of 'Goldstrum' gives rise to vibrant, orange-yellow flowers with prominent brown "eyes" that will bloom from mid August until fall.

You'l find these and lots more right now at Estabrook's!


Let Us Do the Planting

Take the hassles out of planting trees, shrubs, perennials & more with our Planting Service.

For as little as $45 per plant, we'll get your plants into the ground and off to a great start. Visit our website to learn more.

Stock Up and Save on Outdoor Pottery
Sometimes the plant is only part of the solution.

The perfect piece of pottery can showcase colorful blooms, add stately elegance and provide a canvas for years of creative combinations.

Outdoor pottery is now 40% OFF during our Summer Sale, so it's a great time to stock up and save big!

To get you started, here are a few tips to keep in mind when selecting your pottery:

Accessorizing with Texture and Shape

By using the variety of shapes and textures that pottery offers, you can tie your plants together with the style of your home quite easily. For example, if you have a tall, columnar plant, accent its height by placing it in a high, narrow pot that sports a simple motif. On the other hand, if you want to add some additional style to an unusual plant, choose one of the smooth, glazed asymmetrical bowls.

Don't Forget Color!

Understanding a little color theory will go a long way in helping you make the perfect selection. By grouping appropriate colors together, you can really give your plants and decor an added punch.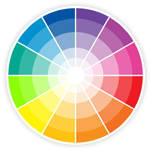 Complimentary colors (those opposite on the color wheel) are all the rage these days. Pairing deep reds and bright greens together is very eye-catching, while other favorites include blue with orange or its variant, purple with orange. As an example, a cluster of bright green plants will look stunning planted in a wine red pot, while darker-leafed varieties will stand out in white pottery.

Not to be outdone, analogous colors (those next to each other on the color wheel) look amazing together too. Plant purple blooms in a blue pot or bright red annuals in an orange pot. Groupings of multiple pots of the same color make an even more beautiful display.



Like Us!

Follow Us!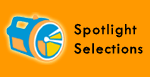 Add instant color or fragrance to your garden, window boxes or containers! All annuals and herbs are now 50% OFF.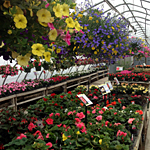 Individual Annuals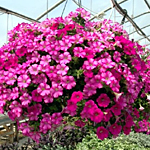 Hanging Baskets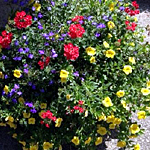 Patio Pots




Herbs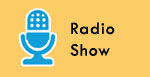 #81 - Looking Forward to Fall
Believe it or not, but fall is only weeks away. Tom talks about a few things you can start doing in your garden to get ready, including planting mums, taming crabgrass and more.

Listen Now...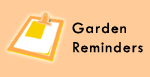 Fall garden mums and asters are now available! Plant them now and enjoy their beautiful blooms all autumn long.



From the ultimate garden solution to perfect gifts, you're sure to find something great in our emporium!



Right now is a great time to overseed your lawn. We have all the seed, fertilizer and tools you need.