Recipe of the Month: Cream-less Cauliflower Soup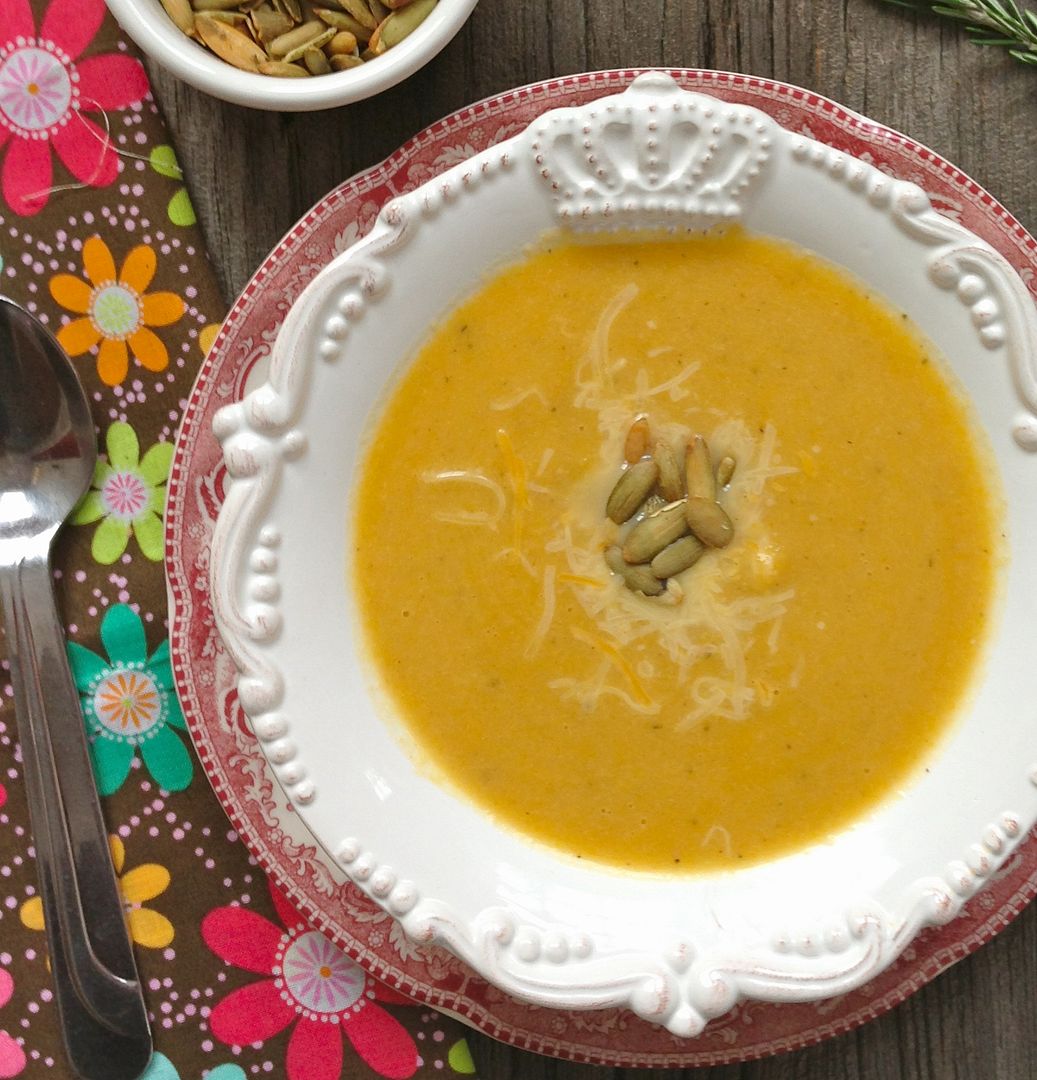 Makes 6 Servings


1 leek, white and light green part only, cut into ½-inch-thick rounds

1 small head cauliflower, trimmed, cored, and cut into 1-inch florets

8 ounces peeled butternut squash, cut
i
nto ½-inch dice
3 tablespoons extra virgin olive oil, divided

2 teaspoons chopped fr
esh rosemary
1/2 teaspoon kosher salt

1/4 teaspoon black pepper

1 clove garlic, minced

One 32-ounce carton all-natural vegetable broth

1/2 cup 1% low-fat milk

Optional garnish: Shredded, reduced-fat Cheddar cheese, toasted pumpkin seeds


Preheat the oven to 425°F.

Break the leek rounds apart into little rings, place in a bowl of cold water, and swoosh around to remove any

d
irt trapped between the layers. Drain well in a colander.
Place the leeks, cauliflower florets, squash, 2 tablespoons of the oil, rosemary, salt, and p

epper in a large bowl and toss to coat evenly with the oil. Transfe
r to a large rimmed baking sheet. Bake until the vegetables are golden and the leek rings become crispy, 25 to 30 minutes. Stir well every 10 minutes to ensure even baking.
Heat the remaining 1 tablespoon of oil in a large Dutch oven or saucepan over low heat. Add the garlic and cook, stirring frequently, until golden, 30 to 60 seconds. Stir in the cooked vegetables and the broth.
Cover, raise the heat to high, and bring to a low boil. Simmer for 5 minutes. Remove from heat, stir in the milk, and let cool slightly.
Transfer to a blender and puree in batches until ver
y smooth and creamy. You could also use an immersion blender to puree the soup. Season with salt and pepper to taste and serve with optional toppings.
Nutrition Information per Serving (1 1/3 cups): 130 calories, 8g fat (1g saturated), 480 mg sodium, 13g carbohydrate, 4g fiber, 3g protein, 120% vitamin C, 80% vitamin A