Resources for Teaching Black History
All Year Long


Support Teaching Black History All Year Long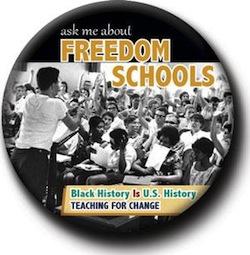 We are promoting the importance of teaching Black History all year with
Ask me about: Freedom Schools
commemorative buttons.
Why Freedom Schools? Because they reflect the type of learning and pedagogy we believe in.
Why the buttons?
Because Black History is U.S. History and should not be reduced to the few names and events that are recycled in classrooms and the media every year during Black History Month.
Make a donation to
Teaching for Change
and receive this one-of-a-kind button commemorating Freedom Schools and the importance of teaching Black History all year long.
Your gift* will help us give teachers and parents the tools to teach Black History and multicultural education every month of the year.
We are not here to teach you.
We are here to help you learn and to learn together.
We'll also ask some questions and
try to find some answers.
The first thing is to look around, right here,
and see how we live in Mississippi."
----From Introduction to Unit I of the Citizenship Curriculum,
Give Today and Get Your Button!
*Make a donation of $10 or more and receive your very own
Your donation to Teaching for Change helps provide teachers and parents
with publications, professional development, resource lists,
and lessons on Black History all year long.
Upcoming D.C. Area Events