Greetings!
Photo by Declan Haun,
Black Star, 8/28/1963. © W. Reuther Library
As we approach the 50th
anniversary of the March on Washington for Jobs and Freedom, we are pleased to see a growing interest in going beyond the traditional narrative of this milestone event.
However, the focus is still on the leaders, the stage, and the event itself.
Missing from the textbooks and mainstream media are the real leaders and movement makers: "the sharecroppers, domestics, high school students, beauticians, independent farmers-committed to organizing the civil rights struggle house by house, block by block, relationship by relationship."
And as Bill Fletcher, Jr. explained in our
Zinn Education Project column
, the central role of African American labor in the march has been eclipsed by textbooks and the commemorative events.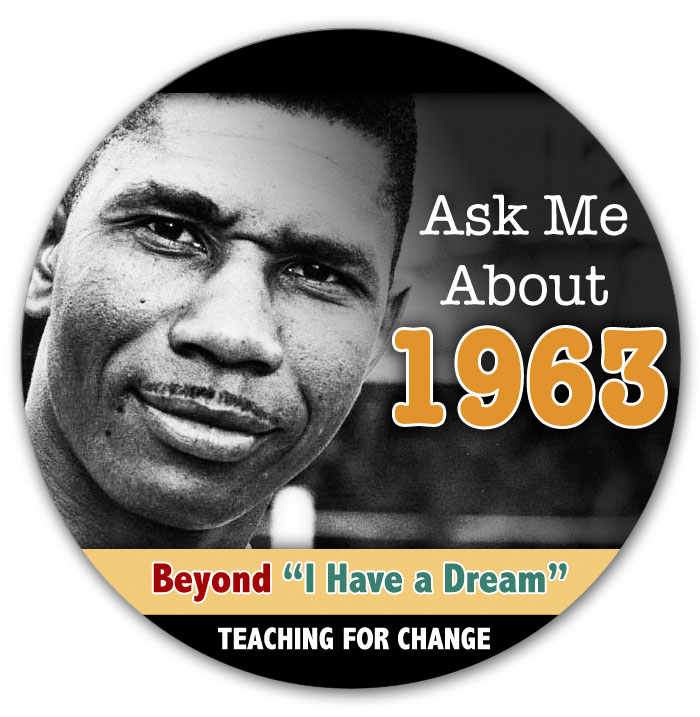 Please
join us in elevating the people's history of the Civil Rights Movement
in honor of the 50th anniversary of the March on Washington and many other key events in Civil Rights Movement history. Here are three options for action to teach beyond "I Have a Dream."
Deborah Menkart
Executive Director
This 15-question quiz is designed to challenge assumptions and inspire further learning about the hidden history of the March on Washington for Jobs and Freedom.
How many of the March on Washington list of ten demands were about labor issues?
A. One
B. Three
C. Five
D. Eight
Daisy Bates was one of two women to speak on the microphone at the 1963 March on Washington. Who was the other woman?


A.
Diane Nash, Student Nonviolent Coordinating Committee.
B.
Myrlie Evers, activist and wife of Medgar Evers.
C.
Angela Davis, Black Panther and noted political prisoner.
D.
Josephine Baker, singer, dancer, and member of the French Resistance.
Textbooks describe 1963 as the year of the "I Have a Dream" speech.
Yet is was also a pivotal year full of direct action, voter registration, violent repression, and shifts in strategy.
Your donation allows us to develop and share resources for teaching the more complete history of the Civil Rights Movement.
Wear the button and invite conversations about 1963 beyond "I Have a Dream."