Subsidized On-the-Job Training a Win-Win
Tejas Patel
, President of Laksh, Inc., recently received the 2015 Champion for Prosperity Award for upgrading the skills of seven job seekers through the WDB-funded On-the-Job Training Program (OJT). According to Mr. Patel, OJT allows him to pay an honorable wage to workers as they go through a six- to seven-month orientation period to learn the systems at his freight transportation company. In addition to enabling a company to get to know a worker to see if the fit is right (and vice-versa), OJT helps to reduce employee onboarding costs. Those OJT savings enable an employer to invest the money elsewhere-to expand the business and hire more people down the road. At the same time, job seekers receive the instruction and support they need to transition from a previous career and acquire new skills. Hear more about OJT from Mr. Patel and
Teresa Johnson
, Ventura Adult and Continuing Education, on the
September edition of Workforce Wednesday
. Or call 866-904-9362 to learn about OJT.
Manufacturers Open Doors to Careers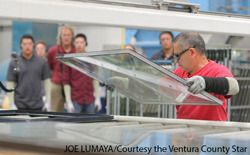 More than 300 Ventura County students and teachers from seven high schools had an up-close look at the dynamic world of high-tech manufacturing as part of National Manufacturing Day on October 2. Emphasizing the importance of math skills and hands-on learning experience in preparing for manufacturing jobs, representatives from
Alcoa, Amgen, Applied Powdercoat, Dynamic Automation, Haas Automation, Milgard Manufacturing
, and industrial programs at
Ventura College
conducted site tours and responded to questions. The Manufacturing Roundtable of Ventura County partnered with the Workforce Development Board and the Ventura County of Office of Education to participate in a nation-wide effort to address a serious, growing shortage of skilled labor in manufacturing and to stimulate interest in preparing for high-paying manufacturing jobs and rewarding careers.
Read more on Manufacturing Day
in this Simi Valley Acorn article. See more
tour highlights
in the Ventura County Star.