Partner Focus: Paving the Way to Growth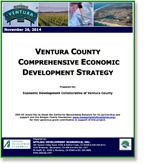 The Comprehensive Economic Development Strategy (CEDS) is a regional look at Ventura County's economic development activities to help identify ways to create more jobs, retain existing businesses, and identify what needs to be in place to achieve those goals. The recently updated report, commissioned by the Economic Development Collaborative-Ventura County (EDC-VC), includes components of the Workforce Investment Board (WIB) regional strategic plan and also information required for the CEDS by the Economic Development Administration of the U.S. Department of Commerce. The CEDS will help to pave the way for certain federal grants to benefit the Ventura County economy.
The opportunities and challenges identified in the CEDS report include indicators that half of our workforce commutes out of the county for work, and that Ventura County generates the lowest share of jobs per worker in comparison to surrounding counties.
The complete CEDS report may be viewed online here
.
Helping Youth Look Ahead
Both employers and parents want young people to look ahead

----

to think about what they want to do with their lives, make plans, and stay in school. Job shadowing, worksite visits, internships, and hands-on learning all help to make that happen.

In addition, there is a website, VCJobswithaFuture.org, designed for Ventura County youth and the adults who care about them. It is a great place for kids to explore what they can do to get ready for the future, check out salaries and education paths for the hottest jobs, find college and scholarship information, and more. Youth also may join the conversation on Twitter @VCJobsFuture. Be sure to take a look and spread the word!


Businesses Need Local Talent
Local employers find a real competitive advantage in being able to hire (and retain) skilled workers who already live in the Ventura County region. To help support those employers, WIB business sector committees collaborate with education, labor, and other groups to strengthen workforce development pipelines. Below are examples of work currently in progress to address some of our local needs:
WIB Clean/Green Committee: conducting an environmental scan of water/wastewater occupations, in partnership with the South Central Coast Region of Community Colleges, to determine employer demand and opportunities for education/training
WIB Healthcare Committee: working with local hospitals and educational institutions on ways to maintain the skill levels of future employees during time gaps between education and employment (e.g., registered nurse; respiratory therapist; radiological technician)
WIB Manufacturing Committee: partnering with employers and educators to determine the education/training available and needed to meet increasing employer demands for local expertise in mechatronics
WIB committee meetings are open to the public. For meeting dates and other information, go to www.wib.ventura.org.
VenturaCountyGrowsBusiness Speakers Bureau
Brian Lee, president of PBS Biotech in Camarillo, was "pleasantly surprised to find there were services available that were very low cost or free." Watch his video, along with other testimonials from Ventura County employers, to learn about the opportunities and benefits of WIB business services.
If your company or service group would like to hear more about VenturaCountyGrowsBusiness, please contact
Karen Blufer
to schedule a WIB member as guest speaker. The short presentation will introduce local no-cost and low-cost business services, including information for startups, manufacturing consulting, loans/funding, employee recruitment and training.
Welcome New Board Member: Patricia Schulz
Patricia Schulz, Chief Operating Officer for The Arc of Ventura County, has been appointed by the Ventura County Board of Supervisors to a three-year term on the Workforce Investment Board of Ventura County (WIB). With more than 17 years of experience in a non-profit management environment, Patricia serves on the Executive Council of the Arc/UCP Collaboration, The Arc's National and California Councils of Executives, and the California Disability Services Association.
Patricia looks forward to partnering with other WIB members and says, "We need to get people to work together, as a regional community, to offer work opportunities and improve the quality of life for individuals with intellectual and developmental disabilities."

Workforce Update
is brought to you by the Workforce Investment Board of Ventura County (WIB).The Workforce Investment Board administers federal funds that help to support America's Job Center of California locations and other free adult, youth, and employer programs and services in Ventura County. For more information, call 800-500-7705 or visit
www.wib.ventura.org
.