Benefits of an Older Workforce

Results-driven, hard-working, reliable and loyal are the work characteristics that define the baby boomer generation. In addition, boomers tend to focus on doing what it takes to complete a job well, and they are experienced at teamwork and communication.
A Bureau of Labor Statistics survey found that nearly 55.2 percent of workers, 55 to 64 years of age, have been working for the same employer for 10 years or more. Compare that with 42.7 percent of workers, ages 25 to 34 years, who stay in their jobs for two years or less. For employers, these statistics are especially important when considering the high costs associated with recruiting, training and turnover. Retaining older workers and providing supplemental training to augment their current skills can be cost-effective.
By 2016, one-third of the total U.S. workforce will be over 50. Smart employers will need to offer training to their employees (no matter the age) because a well-trained workforce is a more productive workforce. Mature workers will need to take advantage of training and new work experiences to keep their skills and knowledge up-to-date.
Information about opportunities for employer and job seeker training support can be found through program listings on CalJOBS (
www.caljobs.ca.gov
) and is available through Workforce Investment Board funding at the America's Job Center of California (AJCC) locations in Ventura County (
www.wib.ventura.org
).
Manufacturing Apprenticeship Playbook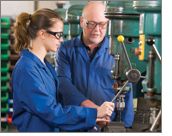 Manufacturers are focusing on a critical business need to build a strong pipeline of talent that will ensure a skilled and competitive workforce, both now and in the future. In support of education and training for the next generation of manufacturing workers, the Manufacturing Institute has released an Apprenticeship Playbook. Created in partnership with international manufacturers Alcoa, Dow, and Siemens, the playbook highlights topics such as workforce planning, public-private partnerships, and marketing. Steps to develop registered and unregistered apprenticeship "earn and learn" training programs also are provided. Click here to access the

Apprenticeship Playbook

online.


WIB Exceeds Federally Mandated Goals
Measured by our ability to achieve specific performance levels to benefit job seekers and youth enrolled in Workforce Investment Act (WIA) programs, the WIB must attain 80 percent of goals in nine categories required by the federal government. The 2013-2014 WIB Annual Report, recently presented to the Ventura County Board of Supervisors, confirmed last year's success rates of more than 100 percent in all nine categories. Examples of performance levels included Youth Attainment of Degree or Certificate of 135 percent, Dislocated Workers Employment Retention Rate of 110 percent and Adults Entered Employment Rate of 110 percent. The WIB thanks our WIA program providers and partners for their skilled, professional support of job seekers and youth in Ventura County. To see the full 2013-2014 WIB Annual Report, go to wib.ventura.org.


Nominations Open for 2015 WIB Awards
Do you know an individual, employer, organization or partnership whose extraordinary work or volunteer efforts have helped to build a strong workforce in Ventura County? Let us know with a 2015 WIB Award nomination. At our June 18th WIB Annual Meeting, we will honor exceptional members of the Ventura County community with WIB Awards in these four categories: WIB Youth Opportunity Award, WIB Collaborative Action Award, WIB Champion for Prosperity Award, and WIB Leadership Award.
Our congratulations again to the recipients of last year's 2014 WIB Awards: Santa Clara Valley Wellness Foundation (WIB Youth Opportunity Award), OmniUpdate, Inc. (WIB Youth Opportunity Award), Rotary Club of Simi Sunrise (WIB Collaborative Action Award), Simi Valley Chamber of Commerce (WIB Collaborative Action Award), Society of Hispanic Professional Engineers, Ventura County Chapter (WIB Collaborative Action Award), VSolvit (WIB Champion for Prosperity Award) and Lilly Rudolph, senior planner, City of Ventura (WIB Champion for Prosperity Award).
Nominations for the 2015 WIB Awards are due by March 13th. Details and nomination forms are available on the
WIB website
.
Meet the Board: Victor Dollar

Victor Dollar is Vice President of Brighton Management, which operates seven hotels and employs more than 450 people in Ventura County. Joining the WIB at the height of the recession in 2008, Victor was motivated by the challenge of finding qualified people who would choose hospitality as a career. He says that "being on the WIB has opened my eyes to the workforce needs in many other industries, like water purification and water management
-
-a high-paying career that can start with a certificate." Currently Chair of the WIB Clean/Green Committee, Victor is supportive of the Career Pathways Trust Grant initiatives in Ventura County that are reaching out to middle and high school youth and connecting them with employers and the world of work. As the devoted grandfather of four grandchildren, ages 10-18, Victor understands the importance of introducing career opportunities to young people.

Workforce Update
is brought to you by the Workforce Investment Board of Ventura County (WIB).The Workforce Investment Board administers federal funds that help to support America's Job Center of California locations and other free adult, youth, and employer programs and services in Ventura County. For more information, call 800-500-7705 or visit
www.wib.ventura.org
.