Student Life Activities & Events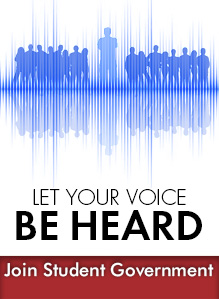 LMC Student Government - get involved!
Los Medanos College Associated Students (LMCAS) has positions open for student government senators and representatives. Join LMC's student government and help plan fun events, provide valuable services to students, and most importantly, be the "voice" of your student body. Weekly meetings are held on Mondays from 1:00 to 3:00 p.m. in L105. Application deadline: Monday, September 22, at 5:00 p.m.
Applications
for fall semester are now available online.
Inter-Club Council meetings
ICC is the coordinating body for all clubs and organizations on campus and meets every Monday from 3:00 to 4:00 p.m. in L-106. Each club can be represented on ICC, which promotes engagement in community college activities.
Student Union Presentation
Student Life and LPA Architects will be hosting a presentation and discussion on the future of the Student Union Building on Monday, September 22 from 2:00 to 3:00 p.m. and again form 3:00 to 4:00 p.m. in the Student Life Office (GA Building). Let your voice be heard! Learn what is being planned for the student union and share your ideas. All students are encouraged to attend.
Kaiser Permanente Healthy Living Event
Join us for a fun and informative event designed especially for LMC on Tuesday, September 30 from 10:00 a.m. to 1:00 p.m. in the outdoor quad. Free health screenings and chair massage. Booths include cooking demos, sexual health, and vision essentials. For more information, see the Student Life Health and Wellness webpage.
Catch Pink football game
LMC Football, LMCAS and the Student Life Office present "Catch Pink" spirit event on Saturday, October 4 from 11:30 a.m. to 1:00 p.m. in Parking Lot B. This is our homecoming game! Watch the Mustangs crush the Contra Costa Comets. There will be music, games, food and prizes.
IMPACT Student Leadership Retreat
The IMPACT retreat is an annual leadership development event open to all LMC students. Through workshops, speakers and fun activities, students gain insight into their personal leadership styles, meet and connect with other LMC student leaders and gain essential tools to be leaders in their clubs, programs and communities.
IMPACT is free and includes all of your retreat materials and lunch. However, space is limited, and you must register in advance. Submit the registration form online or in person at the Office of Student Life by Thursday, October 2 at 5:00 p.m. For more information visit the Student Life page.