Student Life Activities & Events
Mustang Madness is Coming!
Join Maurice the Mustang from Friday, August 16 through Friday, August 29 for festive activities to welcome you to -- or back to -- LMC! Our main event will be Mustang Day on Tuesday, August 19 in the outdoor quad from 10:00 a.m. to 2:00 p.m. There will be free hot dogs, games and prizes, along with valuable information from LMC Student Services departments, academic programs, student clubs and a variety of Colleges. Brentwood Center will hold its own Mustang Day on Wednesday, August 27 from 9:00 a.m. to 12:00 noon. Check out the Student Life Activities and Events page for the Mustang Madness schedule of events.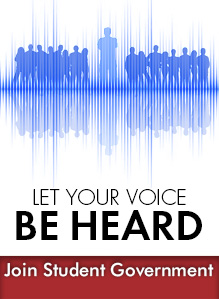 LMC Student Government - Get Involved!
Los Medanos College Associated Students (LMCAS) has positions open for student government senators and representatives. Join LMC's student government and help plan fun events, provide valuable services to students, and most importantly, be the "voice" of your student body. Weekly meetings are held on Mondays from 1:00 to 3:00 p.m. in L105. Application deadline: Monday, September 22, at 5:00 p.m.
Applications
for fall semester are now available online.
Inter Club Council Meetings
ICC is the coordinating body for all clubs and organizations on campus. Each club can be represented on ICC, which promotes engagement in community college activities. The first ICC meeting of the spring semester is Monday, August 25 from 3:00 to 4:00 p.m. in L-106.

Elevating Diversity Conference: Gender & Sexual Identity
Join us Saturday, September 13 for "The Elevating Diversity Conference: Gender and Sexual Identity". The Elevating Diversity Conference seeks to bring together students, faculty, staff, and community members for a day of appreciation and learning around the importance of diversity in education, the workforce and the community. We will conclude with a discussion featuring New York Times bestselling author Janet Mock. This conference will provide a "safe space" for collaboration, learning, and examining our unconscious biases to gain a deeper understanding of the various issues facing the LGBTQAI Community.
For more information or to purchase tickets, go to http://www.losmedanos.edu/Groups/lmcas/act.asp.
Blood Drive
Student Life and Blood Centers of the Pacific will host a blood drive on campus Tuesday, September 16 from 10:00 a.m. to 2:00 p.m. in L109. For more information or to schedule your donation appointment, contact the Student Life Office at (925) 473-7554 or sign up on line at www.bloodheroes.com, click on "Donate Blood" and enter sponsor code = losMC.