Greetings!
Now that you're settled into your classes, your mind may be turning to transfer plans, scholarships for next year, or something fun or interesting to do outside of class. This month's issue provides information to help you with all that and more!
Plenty of Short-Term Classes!

Need another class to fill out your schedule? Check out LMC's late-start short-term classes. Short-term class schedule.


Graduation News
Graduating Fall 2013
Finishing up your graduation requirements this semester? October 1 is the last day to apply for Fall 2013 graduation. If you are applying to graduate in the fall, you can expect to receive email notification of your status to your InSite account by November 15. Students who are denied for fall may re-apply for graduation in Spring 2014. Please see Graduation Policies on the website for more information.
Diploma Update
If you applied and qualified for Summer 2013 graduation, your diploma will be mailed by September 20 to the address you have on file in WebAdvisor. If you have any doubt as to whether that address is correct, please log into WebAdvisor now and make any necessary corrections.
University tours
Looking to visit a local university for
f
ree? The Transfer Center will be leading tours to the following schools this semester:
| | |
| --- | --- |
| San Jose State University | September 20 |
| Saint Mary's College | October 12 |
| Mills College | October 18 |
| UCLA (TAP Conference) | November 8 |
| San Francisco State University | November 15 |
| UC Santa Cruz | November 22 |
Stop by the Transfer Center or visit the University Tours web page for more information and registration forms.
Meet with a university representative
Did you know that admissions representatives from all over California come to LMC to help students like you transfer? Schools represented include UC Davis, UC San Diego, UC Santa Barbara, CSU East Bay, Sacramento State, Mills College and many more. Stop by the Transfer Center, CC2-225, or call (925) 439-2181, ext. 3124 to make an appointment with a representative today.
TAG you're in!
Your key to guaranteed UC admission!
The Transfer Center provides information about the TAG (Transfer Admission Guarantee) program, a University of California process that, if followed correctly, guarantees your admission to a UC system school. September is TAG month, so don't delay! Call or stop by the Transfer Center to learn more. More information about TAG
Questions about transferring?
The Transfer Center conducts a series of workshops each semester on the following topics: the Transfer Admission Guarantee process (TAG), how to apply to the CSU and UC systems, and how to write a personal statement for your university applications. Workshops are held at both the Pittsburg and Brentwood campuses. Fall 2013 transfer workshops schedule
To sign up for a workshop, visit the Transfer Center, CC2-225, or call (925) 439-2181, ext. 3124.
Scholarship News
2013 CCCSFAAA Scholarship Program
The California Community Colleges Student Financial Aid Administrators Association is sponsoring a total of twenty $500 student scholarships. Deadline to apply: October 4. Application
Jack Kent Cooke Foundation Scholarship Program
The Jack Kent Cooke Foundation Undergraduate Transfer Scholarship Program honors excellence by supporting outstanding community college students with financial need as they transfer to and complete their bachelor's degrees at the nation's top four-year colleges and universities. The foundation selects up to 75 community college transfer students each year and awards each scholar up to $30,000 annually. Apply online by November 7. How to apply
Pan-American Round Table Scholarship
Pan American Round Table of Contra Costa & Alameda, an educational organization with a primary focus on cultural and ethnic awareness programs, offers scholarships in various amounts.
Criteria:
One of the applicant's parents must have been born in a Latin country. Ability to speak the Spanish language is preferred, but not a requirement.
The applicant must be a college or university student from Contra Costa or Alameda County.
The application must be accompanied by an essay (250-500 words) discussing your educational objectives and future plans. Limit your essay to one single-spaced typewritten page.
Provide any other information that would assist us in your evaluation, such as:
Community activities and leadership positions: club memberships, offices held, volunteer work. If you have done significant community service and want this to be considered, please include a recommendation or verification. (Note: The recommendation letter should be written on official letterhead stationery.)
List of awards and honors you have received in high school or college.
Recommendations from a professor.
Enclose the official transcripts of your college grades.
Your completed application package must be received by Thursday, October 31 at 5:00 p.m.
Student Life Events
IMPACT Student Leadership Retreat
The IMPACT Retreat is an annual leadership development event open to all students on the LMC campus. Through workshops, speakers and fun activities, students gain insight into their personal leadership styles, meet and connect with other LMC student leaders and gain essential tools to be leaders in their clubs, programs and communities.
The retreat is free and includes all of your retreat materials and lunch. However, space is limited, and you must register in advance by completing the registration form. Submit the form online or turn it into the Office of Student Life by Thursday, September 26 at 5:00 p.m. More information; IMPACT Online Application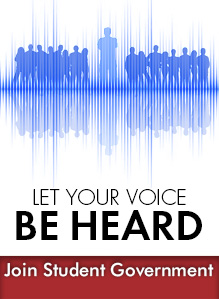 Join the LMC Student Government!
Los Medanos College Associated Students (LMCAS) has positions open for student government senators and representatives. Join LMC's student government and help plan fun events, provide valuable services to students, and most importantly, be the "voice" of your student body. The fall application deadline is Monday, September 30, at 5:00 p.m. Weekly meetings are held on Mondays from 1:00 to 3:00 p.m. in L105. Application
Inter-Club Council Meetings
Inter-Club Council (ICC) meetings are held on Mondays from 3:00 to 4:00 p.m. in L-106. ICC is the coordinating body for all clubs and organizations on campus. Each club may be represented on ICC, which promotes engagement in community college activities. If your club is a member of ICC, it is imperative that your ICC Representative attend the meetings on a regular basis.
Student Club Chartering Deadline
The deadline to complete the club charter process is Friday, October 11. Club chartering packet
Kaiser Permanente Healthy Living Event
Join us for a fun and informative event designed specifically for LMC on Wednesday, September 25 from 10:00 a.m. to 1:00 p.m. in the outdoor quad. Free health screenings and chair massage. Booths include cooking demos, sexual health, and vision essentials. For more information see the Student Life Health and Wellness page.
Safety Reminder

Every day at LMC, items are lost. Most items are simply misplaced and may be found again later, but with thousands of people on campus, some thefts are bound to occur. Therefore, we'd like to remind you to take care to secure your personal property. Please take the time to consider the following safety tips while going about your daily routine:
Never leave any items of value in your car or otherwise unattended on campus.
If you need to leave a room, office, or classroom, take your belongings with you or ask a friend or colleague to hold or watch them for you, even if you are only going to be gone for a minute.
Do not leave items of value out in plain view. This includes items such as bags, purses, laptops, wallets, etc. Whether in your vehicle, the library, a classroom, the cafeteria or a lab area, secure items of value so they are not left out in the open.
Always be aware of your surroundings. If you notice anything or anyone suspicious, contact Police Services for assistance at 925-439-2181, ext. 3333 (emergency) or ext. 3228 (non-emergency).
Even taking all these precautions, you may inadvertently leave your phone on an office counter or your jacket in a classroom. If you lose something, be sure to check Lost and Found, located in Police Services, CC1-132, or call (925) 439-2181, ext. 3228.