Greetings!
Finally, Spring Semester is winding down and summer is on the
horizon. As busy as you are with final papers and exams, we hope you
can find a few minutes to read about some important news and exciting end-of-year events.
Important Dates
May 2 -- Begin Fall 2013 registration for continuing students by appointment
May 18-24 -- Final exams
May 24 -- Last day of instruction, 2013 Graduation Ceremony
May 27 -- Memorial Day holiday, college closed
May 28 -- Begin open/walk-in Summer 2013 registration for all regular college students
May 31-August 2 -- College closed on Fridays
June 2-August 8 -- Summer sessions beginning and ending during these dates. Check the college website for actual class dates.
July 17-July 25 -- Traditional 6-week summer session
July 1 -- Last day to apply for Summer 2013 graduation
July 4 -- Independence Day, college closed
Admissions Updates
Course Repeatablility Information for Students
Effective Fall 2013, state regulations governing California community colleges will change with respect to repeatable courses. Active participatory courses (such as physical education, visual arts, and performing arts) that are related in content are limited in the number of enrollments. Most individual courses that were previously repeatable no longer are and further restrictions apply to physical education, music, art and drama courses. If a course has substantially the same content as another course in the District, it cannot be repeated at any other college within the District. The new policy extends retroactively to the student's entire history within the Contra Costa Community College District. More information
Continuing Student Registration
Continuing student registration for Fall 2013 classes begins on May 2 and classes fill up quickly. If you don't know your priority registration date, check WebAdvisor today!
Graduation Update
The 2013 Commencement Ceremony will be held on Friday, May 24 at 6:30 p.m. in the LMC football stadium. Everyone is welcome to attend. Come and help us to celebrate our students' success!
If you applied for graduation in Spring 2013, you have been notified of your status. If you qualified, you should have received an email invitation to participate in the commencement ceremony. Students who applied for Summer 2013 and also applied to walk in the commencement ceremony should have received notification of their status by May 1.
Current information can be found on the commencement ceremony web page. As updated information about the ceremony becomes available, it will be posted there.
Scholarship News

LMC Brentwood Center Scholarship
The LMC Brentwood Center Scholarship is a $500 award for a current Brentwood Center student. The deadline to apply is May 10, 2013. More information
Caretenders Scholarship Program
Caretenders Retirement Living is offering a $500 scholarship. To qualify, you must be attending an accredited university, college, trade or technical school in the U.S. or Canada in the fall of 2013. Deadline to apply: May 31, 2013. More information
Black and Lee Scholarship
Two Black and Lee Scholarship awards of $500 will be granted to students between the ages of 15 and 20 who will be attending a post-secondary institution by the fall of 2013. Apply by May 15, 2013
LM Scholarship Program
Leavitt Machinery is offering a $1000 scholarship to be awarded to a student who is currently enrolled or expects to be enrolled in a degree program by September. Apply by May 31, 2013. More information
Sedary & Associates Scholarship
To qualify for the $500 Sedary & Associates Scholarship, you must be between the ages of 16 and 22 on the day the application is due, June 15, 2013. More information
Student Life Events
Advisor Appreciation Ceremony
LMC student clubs will be honoring their advisors at the 3rd Annual Advisor Appreciation Ceremony on Wednesday, May 8 at 2:00 p.m. in the Library Community Room (L109). Advisors will be recognized for their dedication, support and involvement in student clubs, departments, and/or programs during the 2012-2013 academic year. If your club or organization is interested in participating in this event, please contact Ashley Adams at aadams@losmedanos.edu for more information.
S.T.E.L.A.R. Awards Ceremony
The S.T.E.L.A.R. Awards Ceremony will take place on Friday, May 10 at 4:30 p.m. on the patio outside of the cafeteria. This event will recognize outstanding LMC student leaders and clubs. You may nominate other students or even yourself! Student clubs and leaders will be acknowledged and awarded for their positive contribution to LMC through execution of projects and programs, commitment to growth, and their embodiment of the spirit of leadership. Recipients of the annual awards will receive a framed award and have their name engraved on our perpetual plaques. More information; or contact the Office of Student Life at (925) 439-2181, ext. 3266.
BBQ and LMCAS Elections
LMCAS will be hosting a barbecue on Tuesday, May 7th from 12:00 p.m. to 2:00 p.m. on the Student Life patio to promote the LMCAS elections. The elections will take place Monday, May 6 through Friday, May 10 online. Students will be able to vote at the barbecue and receive a FREE hot dog and bottled water! All candidates listed below are qualified to run in the election. Your vote is your VOICE!
President: Brianna Klipp

Vice President: Tyne Shi

Treasurer: Rosanna D. Clark
For more information or to view candidate statements, visit the LMCAS web page or contact the Office of Student Life at (925) 439-2181, ext. 3266.
Breast Cancer Scholarship Fundraiser
LMCAS will be hosting a candy and fabulous nacho sale on May 15, from 11:00 a.m. to 2:00 p.m. Super nachos with chips, meat, cheese, sour cream, guacamole, salsa, olives, and jalapeņos will be on sale for $5.00. Regular chips and cheese nachos will cost $3.00. 100% of the proceeds will be used for two new scholarships, one for an LMC student who is a cancer survivor, and one for a student currently undergoing cancer treatment. Your support in this extraordinary cause is greatly appreciated. For more information, please contact Rosanna Clark at fightbreastcancer@pacbell.net.
Apply Now for Honors Program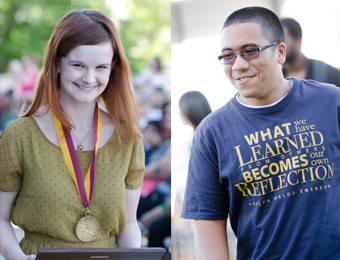 The LMC Honors Program is accepting new student applications! Do you want to transfer to a top university (i.e. CAL, UCLA, etc.) and be prepared to excel once you get there? Do you want to learn in small classes with other intellectually curious and vibrant students? We have partnerships with fine colleges and universities to offer Scholarships to LMC Honors students.
Honors Program members commit to taking advanced honors courses taught by dynamic professors. These courses are more challenging, but provide an enriched experience -- and universities like to see honors courses listed on your transcript! Most honors students take two honors courses per year, which is very manageable.
Honors students enjoy lots of great social and enrichment events, leadership opportunities in the Honors Club and tons of fun! To qualify, you must have an overall college GPA of 3.25 or higher and an A or B grade in English 90, 100, 221 or 230, or assessment placement into English 100. For more information, check out the Honors Program website and come to the Honors Center to talk with students and Honors Co-Directors Jeannine Stein and Jennifer Saito.
Bookstore News
Textbook Buyback - Pittsburg campus only
May 20-23 (Monday - Thursday), 9:00 a.m. - 7:00 p.m.
May 24 (Friday) 9:00 a.m. - 2:00 p.m.
Students should remember to bring all CDs, DVDs and other supplemental materials that were purchased with their textbooks.
Textbook Rental Returns
Spring 2013 Textbook Rentals are due back to the LMC Bookstore no later than 2:00 p.m. on Friday May 24.
Find Us Online
Check the LMC Bookstore Facebook page for information on graduation caps & gowns, summer store hours and other bookstore information. Visit www.lmcbookstore.net to order books online.