8th Annual LMC Academic Competition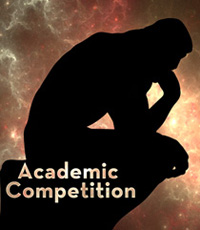 The LMC Academic Competition is a fun and interactive way for students to compete for scholarships and is designed to motivate students to achieve scholarly excellence.This year's Academic Competition will be held on Saturday, April 13 from 8:00 a.m. to 3:00 p.m. in the Library Community Room, L109.
The competition consists of four rounds of multiple-choice test questions. All test questions are provided by LMC professors. Each test round is 60 minutes and test answers are scored immediately after each round. Points are awarded for correct answers and the teams with the most points at the end of all test rounds are the winners. The winners of the competition are announced at the end of the event.
The registration deadline is Thursday, April 4. Applications are available at the Student Life Office and on the LMCAS Activities webpage.
LMC Student Government Meetings
The Los Medanos College Associated Students (LMCAS) is the official student government at LMC. Their primary purpose is to advance the welfare of all students. Weekly meetings are held on Mondays from 1:00 to 3:00 p.m. in L105.
Inter-Club Council Meetings
Inter-Club Council meetings are held on Mondays from 3:00 p.m. to 4:00 p.m. in L106. ICC is the coordinating body for all clubs and organizations on campus. Each club may be represented on ICC, which promotes engagement in community college activities. If your club is a member of ICC, it is imperative that your ICC Representative attend the meetings on a regular basis.
Blood Drive
La Raza and Blood Centers of the Pacific will be hosting a blood drive on Tuesday, April 2 from 10:00 a.m. to 3:00 p.m. in L109. For more information or to schedule your donation appointment, contact the Student Life Office or sign up on line at www.bloodheroes.com, click on "Donate Blood" and enter sponsor code = losMC.
Student Life BBQ Days: Business Leadership Club
Join us on Wednesday, April 3 from 12:00 noon to 2:00 p.m. at the Student Life Office for a barbecue sponsored by the Business Leadership Club. BBQ Days occur on the first Wednesday of each month.