Greetings!
Can you believe Winter Break is only a month away? Tempting as it may be to get caught up in the holiday spirit, your classes, final projects and impending final exams command your attention. If you're wondering when your final exams will be, the Final Exam Schedule can be found online (be sure to confirm your exam dates with your instructors as well). Please read on for more important end-of-semester and Spring 2013 planning information.
Important Dates
November 16

----

Last day to drop a full-length class ("W" will appear on transcript)
November 19

----

Begin Spring 2013 priority registration for EOPS, DSPS, qualified veterans and foster youth

November 21

----

Begin Spring 2013 special registration for DSPS notetakers, early graduation applicants and qualified athletes
November 22

--

24

----

Thanksgiving holiday, college closed
November 26

----

Begin Spring 2013 registration for continuing students by appointment

December 12

----

Begin Spring 2013 registration for returning, matriculating and exempt students
December 11

--

17

----

Final exams
December 17

----

Last day of instruction
December 20

- -

January 1

----

Winter Recess, college closed
Spring 2013 Schedule Available Online
It's time to plan your spring semester classes! The Spring 2013 Schedule of Classes is now available online as a flipbook and as a searchable database. The printed schedule is expected to be available the week of November 26th at the LMC Bookstore, Admissions and Records, and at the Brentwood Center.
Spring registration begins next week, so be sure check your priority registration date on WebAdvisor right away. Classes fill up fast, so you will want to register for classes as soon as you are allowed to do so.
Plan Your Spring Schedule Wisely - Construction May Affect Easy Access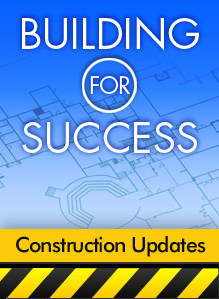 Beginning in late December and continuing for about two years, there will be limited access to the College Complex from the outside quad area due to construction of a new Student Services Center on the third and fourth floors. When planning your spring classes, please keep in mind that passing from a class in the Library, Math Building, Science Building or Physical Education to one in the College Complex may take more than ten minutes. Similarly, you'll want to give special attention to where you park for your first class of the day.
Visit Pathways During Construction for a printable map. You will soon receive a message to your InSite e-mail with more details. Maps and posters will be posted around campus before classes begin in the spring.
Employment Center Updates
Follow Us on Twitter!
In our continuing effort to combine personalized service with cutting-edge social media applications, we are proud announce the establishment of an Employment Center Twitter account. Follow us to keep up with the latest job openings and special announcements. To follow the Employment Center, add "lmcjobs" to your Twitter account.
Log in to CCN via FaceBook
You can now log into your College Central Network (CCN) account via Facebook! Using your existing Facebook credentials means fewer IDs and passwords to remember and easier access to your CCN account. You may link multiple accounts to Facebook and navigate to your student account directly from Facebook itself. Confidential information is not exported to Facebook; your data remains safe with us. We make it simple, automatic, and
secure
!
Transfer Center News
Interested in visiting UC Merced or San Francisco State?
The Transfer Center will be visiting UC Merced on Wednesday, November 28th and San Francisco State on Thursday, November 29th. Space is limited so sign up online or at the Transfer Center today!
Planning to transfer fall 2013?
The Transfer Center staff is here to help with questions about your transfer applications. Stop by any time during our
hours of operation. The CSU/UC application deadline is November 30th.
Remaining fall 2012 campus representative visits
UC Davis, CSU East Bay and St. Mary's College are just a few of the colleges and universities offering appointments during November and December. View the complete list of
upcoming university representative visits on our Transfer Center website. Check back in January for spring 2013 appointments. To make an appointment, stop by or call the Transfer Center at (925) 439-2181, ext. 3124.
Associate Degrees for Transfer
Did you know that Los Medanos College offers Associate Degrees for Transfer that guarantee you admission to a California State University? These degrees are called AA-T's and AS-T's and might be right for you. Meet with a counselor or visit
Associate Degrees for Transfer for more information.
Scholarship News
Apply now for LMC Foundation scholarships!
The 2013-2014 Los Medanos College Foundation Scholarship Application is now available! This application allows LMC students to apply for a variety of scholarships with one convenient application.
To be considered for the LMC Foundation Scholarships a student must:
Be a current LMC student

Have a minimum G.P.A of 2.0 (a higher G.P.A. may be required depending on the scholarship)

Meet the eligibility requirements for each particular scholarship

Submit all of the required documents (application, essay, two letters of recommendation and unofficial transcript)
Visit the Scholarships webpage for the complete list of LMC Foundation scholarships.
ACS Scholars Program awards renewable scholarships to underrepresented minority students who want to pursue a career in chemistry or chemistry-related fields. Awards of up to $5,000 are given to qualified students. African-American, Hispanic, or American Indian high school seniors or college freshman, sophomores, or juniors pursuing a college degree in the chemical sciences or in chemical technology are eligible to apply.
Thermo Scientific Pierce Scholarship
Thermo Fisher Scientific is offering our future science scholars an opportunity to win $10,000 in scholarship funding for the 2012-2013 academic school year. This scholarship was created to help provide educational opportunities for the future generation of scientists. Graduate students or undergraduate students must be enrolled in an accredited college for the 2012-2013 winter/spring semester to qualify for this scholarship. A pre-selected committee will award two $10,000 scholarships and four $5,000 scholarships among the candidates.
Each spring, the Kennedy-King Memorial Scholarship Fund awards a number of two-year scholarships of $4,000 per year to students who transfer from Contra Costa County community colleges to junior standing in four-year accredited institutions in the fall or spring following the award.
There are many more scholarships available now! Check out the complete list and download applications on the Scholarships webpage.
Financial Aid Updates
California Dream Act of 2011
The California Dream Act of 2011 consists of two laws, AB 130 and AB 131, which allow AB 540 eligible students to apply for and receive several types of financial aid, including:
Board of Governors Fee Waivers

State financial aid like Cal Grants and Chafee Grants

Assistance from EOPS, CARE or CalWORKs

Privately-funded scholarships
See the Financial Aid California Dream Act page for more information.
New Financial Aid Regulations
New regulations regarding the Pell Lifetime Eligibility Limit and Ability to Benefit are in effect and may affect you. Details can be found on the Financial Aid home page.
Financial Aid Lab Hours
The Financial Aid Lab, located in the Financial Aid Office, PS2-27, is open:
Tuesdays, 2:30

--

4:30 p.m.
Fridays, 10:00 a.m.

--

12:00 p.m.
At the lab, you can receive assistance with:
Obtaining a PIN
New FAFSA or renewals
New e-mail access
Adding the school code
Web Advisor for financial aid purposes
Cal Grant Update: 2012-13
The state has reduced Cal Grant maximum award amounts by 5% for new and renewal students. For LMC students, the maximum awards for 2012-2013 are:
Cal Grant B

--

$1,473.00
Cal Grant C

--

$547.00
Umoja Scholars Program News
Thanksgiving Basket Giveaway returns!!! The Umoja Scholars Program will once again offer our Annual Thanksgiving Basket Giveaway. Current LMC students interested in receiving a basket can sign up on the sign posted on the Umoja Village door (MA-109). Baskets will be given on a first-come, first-served basis, so please sign up ASAP.
Holistic Wellness in the African American Community: Mind, Body, and Soul Workshop
The Umoja Scholars Program will be hosting a workshop that addresses mental, physical and spiritual health in the African American community on Wednesday, November 21st from 12:00 noon to 2:00 p.m. in the Library Community Room (L109). There will be a panel discussion and breakout sessions. The Umoja Club will be giving out healthy snack samples and selling healthy treats. This event is open to all LMC students, staff and faculty.
For more information, contact the Umoja Village (MA-109), (925) 439-2181, ext. 3432, or visit the Umoja Events web page.
It's not too late!!!
Did you miss your chance to join the Umoja Scholars Program this semester? Good news ---- it's not too late! We have a few spaces available in the following spring classes: Math 12; and English 70, 90, 100 and 221.
Space is limited, so get your applications in NOW! For more information and to print out an application, visit the Umoja website
or contact the Umoja Village (MA-109),

(925) 439-2181,

ext. 3432.