On March 17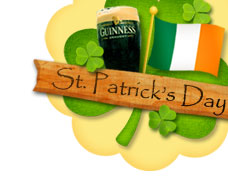 We all Become A Bit of Irish
One Pack Purchases Pratt & Reeves
(Ken Pratt Retires)
For over twenty five years, Ken Pratt has been servicing packaging equipment all over the tri-state area.
His c
raftsmanship
and reputation is
renowned
in our industry and those who've d
one business with Ken will a
gree that his h
andshake was
his word.
In early December Ken experienced a life-altering illness, leaving him unable to continue his career.
As Ken recuperates, he can be at peace knowing that his customers' equipment will be in the good hands of our One Pack repair department.
We wish Ken a speedy recovery
Sometimes You Need To Laugh
"Somebody That I Used to Know" was voted, Record of the Year for 2013.
We have no idea who these kids belong to but they are very talented and fun to watch as they perform their version of this Grammy winning song
Our One Pack Repair Department
Is Always Smiling
We're not sure if it's because they love working for One Pack or because they find satisfaction every time they save our customers money.