Greetings!
Welcome to the January 2013 spotlight on
Handmade Tile Association artists
and tile events from the around the United States. We feature tile artists every month. links and resources (to the right) to many of the tile events, gallery shows, workshops featured around the country.
The 2013 Handmade Tile Association directory is now available! Check out all of the new artists and new work.
Click here to order your copy.
You can also follow regular updates on the the
Handmade Tile Association Facebook page.
Click the link below and become a fan.
Nutmeg Designs
Margaret Almon & Wayne Stratz
From our "one bedroom-two-studio-rowhouse" in the Philadelphia area, we create glass mosaic house numbers
particularly fitting with Bungalow, Arts & Crafts, Mission, or Craftsman homes, as well as Victorian or for anyone looking for a number that is a unified whole,with each number relating to the next, and the background glass flowing in conjunction with the numbers.

We use newly quarried Pennsylvania slate, and an array of art glass and glass tile.
In addition to house numbers, we create house names and custom word signs for home and business. Our motto at Nutmeg Designs is "Catching the Eye. Delighting the Soul," and we work with clients to find the colors and designs that delight them. For more images, check out the p
ortfolio on our website, and to order, go to our Nutmeg Designs Etsy Shop
.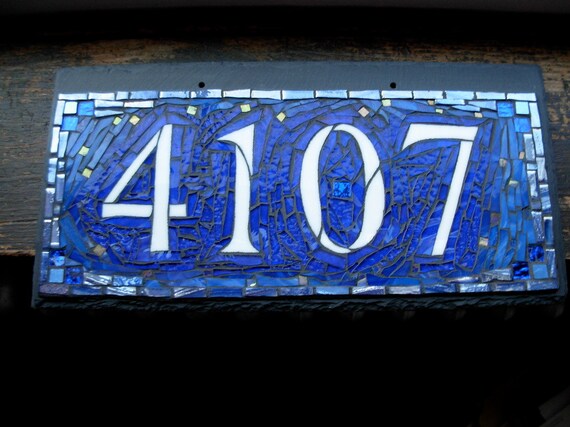 Margaret Almon & Wayne Stratz
House on the Hill
Martha Coursey
Atlanta, Georgia
For twenty years, Martha Coursey and House on the
Hill Studio have been designing and producing hand
painted ceramic tiles. Martha's work is represented in
private homes, resorts, restaurants, hotels and in
over 50 showrooms, throughout the United States plus Canada, the Bahamas, the Virgin Islands and London.
A partial list of Martha's notable work includes the Peter Pan Pavilion, Walt Disney World Resort, Florida, restoration of tile in the Fox Theatre, Atlanta, and the design for fountains in the Egyptian Ballroom in the Fox. Her work has been featured in the Atlanta Decorators Showhouse and the Spotlight on Southeastern Artists.
Martha received a Master in Mosaics from Orsoni Mosaic School. She is a graduate of Emory University where she received a B.A. in Art History and an MLn. She is a member of the Society of American Mosaic Artist,
Handmade Tile Association, Tile Council of America, and the Tile Heritage Foundation. Past affiliations include Society of Glass and Ceramic Decorators and Ceramic Manufacturers of America. She is a long-term supporter of the Brevard Music Center and serves on the board of
the John C. Campbell Folk School.
House on the Hill Studio supplies hand-painted tiles to several regional and national distributors, works closely with architects and interior designers, and kitchen and bath shops. Orders can be produced in specified colors or on stock supplied by you. Custom installations can be designed for specific sites.
Contact information
Artist ßlock·
B.A. Schmidt Enterprises
Barb Schmidt
Chicago,Illinois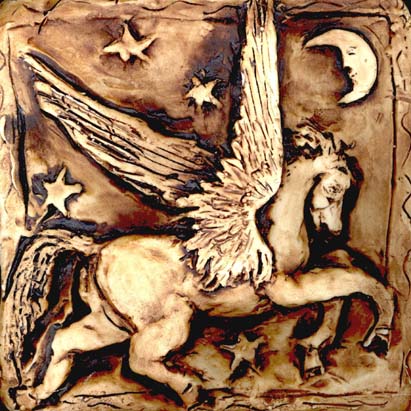 B.A. Schmidt Arts & Enterprises, Inc. located in Highland Park, Illinois, creates unique handmade porcelain tiles inspired by myth, nature and classic children's illustration. Every tile is handcrafted by its president and artist, Barbara Schmidt. The tiles can be used both indoors or out. They are perfect for a kitchen or bath, around a fireplace, on a fountain or in a garden wall. They mix beautifully with a wide variety of stone and commercially available field tiles. The tiles are available at dealers throughout the country. The tiles have been featured in Tile Magazine and Kitchen & Bath Business (KB+B) .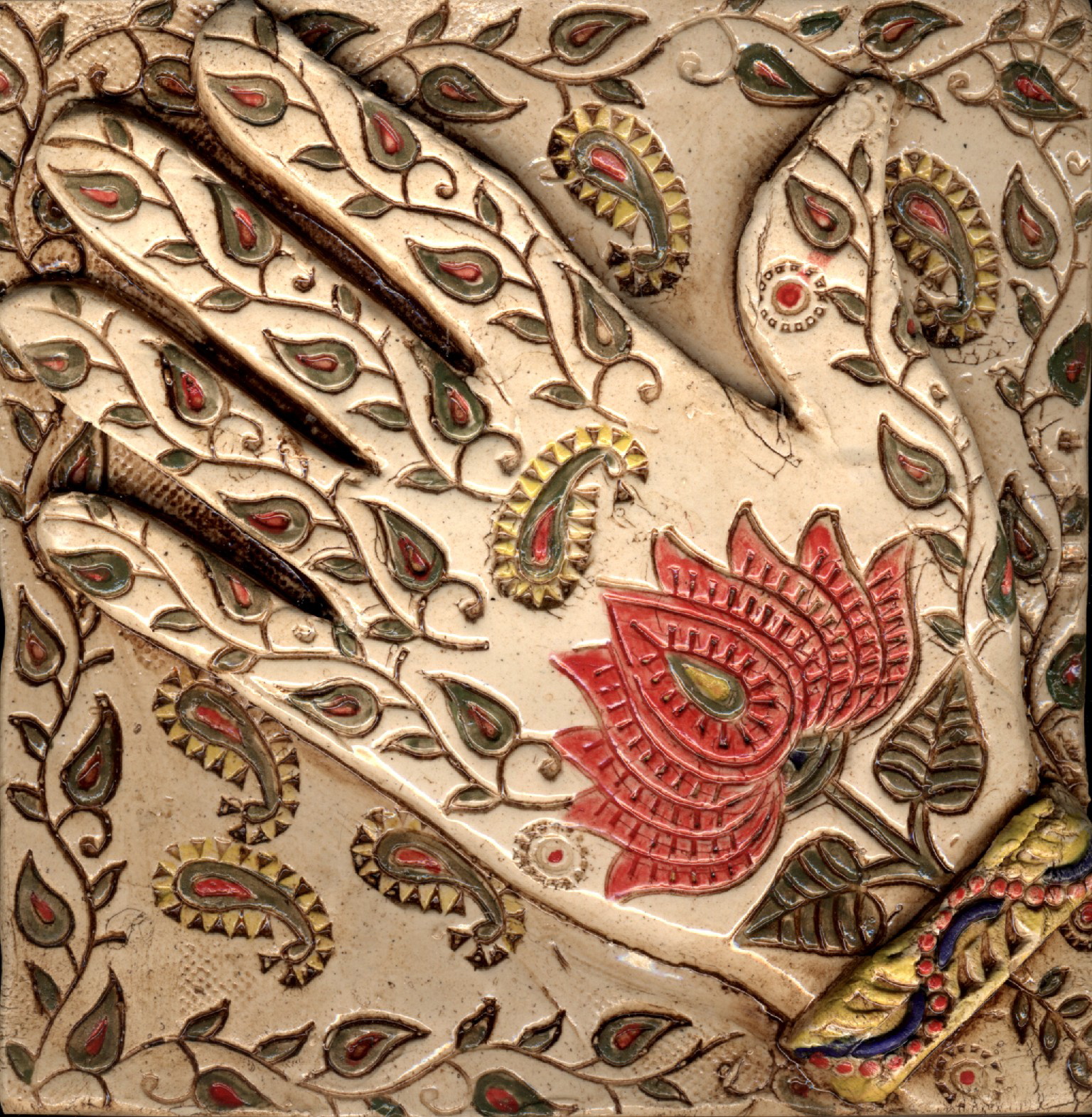 B.A. Schmidt Arts & Enterprises, Inc. is a family business. It
was founded by Barbara Schmidt in 2000. Until that time, Barbara had worked first as a social worker and then for over 20 years as an attorney with the Federal government for both the Securities and Exchange Commission and the Commodity Futures Trading Commission. Although during the day she investigated and litigated securities and commodities fraud, she actively developed her artistic skills in her spare time. She studied painting and drawing at night at Northwestern University and at the School of the Art Institute of Chicago. She filled sketch book after sketch book of portraits of commuters that she drew daily on the train ride into the city. She also took classes at The Art Center of Highland Park in Highland Park, Illinois and the Evanston Art Center in Evanston, Illinois. Barbara has a B.A. from the University of Illinois (Champaign-Urbana), an MSW from the Jane Addams School of Social Work at the University of Illinois (Champaign-Urbana) and a JD from De Paul University College of Law. (Chicago)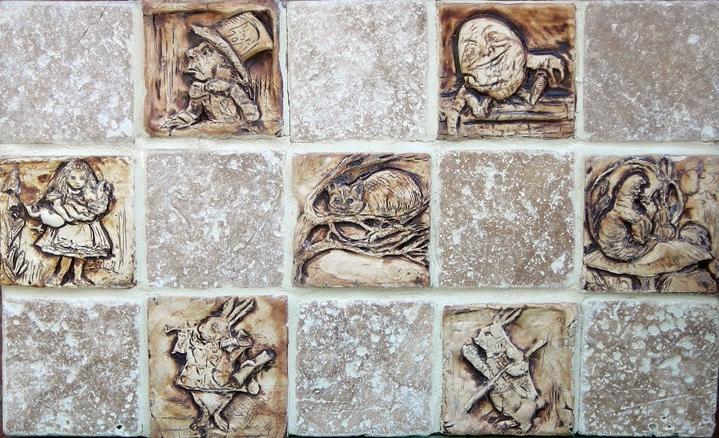 Her interest in tiles started by accident, when during her lunch hour while working at the SEC she came across a book featuring decorative tiles in the New York subway system. She thought that they were extraordinarily beautiful and wanted to learn how to make her own tiles. In 1996, she wandered into a paint your own pottery store, purchased a bisque tile and started painting. Building on her interest in children's illustration, (see
Fairy Tale Tile
page) using underglazes, she painted complicated murals on factory bisque tiles. In 1998 she bought her first kiln. Also in 1998 she began taking tile making and sculpture classes at The Art Center Highland Park. By 2000 she was making relief tiles almost exclusively. She initially sold her tiles at local art fairs. In 2003 she refocused her business to selling them through high end tile stores.
Contact Information
Next Handmade Tile Association Meeting
When - Wednesday January 23rd at 6pm tour of studio
Where - Stone Hollow Tile
Demo of tile hand pressing tile from molds
New 2013 Directories will be available! Get your free stash to hand out.
Discuss the 2013 MN Tile Festival and the call for a coordinator
Set goals for 2013
Show and share new work, projects and ideas.
Sincerely,
Josh Blanc
Handmade Tile Association.LLC
www.handmadetileassociation.org


Order your copy of the 2013 directory


Need a copy of the 2013 Handmade Tile Association directory. Order your free one today. Click here


Join us on Facebook
Daily updates on tile artists, events, gallery shows, tile festivals, opportunities. Don't miss a minute!