Per John Kenneth Galbraith: "
In the choice between changing one's mind and proving there's no need to do so, most people get busy on the proof."
As leaders who bring new ideas and ways of thinking to your businesses and organizations, you're at the very pointy end of the spear of change.
You embrace the change. You immediately see the value and want to push it through. What is the matter with everyone else? Why is it so darned painful to get our teams to accept change? Especially when the change includes a great new vision for the future with improvements planned to make our jobs easier?
The quick, flippant answer is it is because organizations are comprised of people. And people generally do not like change.
Remember that most people are doing the best that they can and they've been doing their work long before you appeared on the scene or became their leader. They may not initially accept that the vision and plans that you're offering will make their work easier or better.
So what are three things to keep in mind when helping people adapt to change?
1. Don't assume that all you have to do is tell someone the benefits of a change and that they'll happily jump on board. Most people are quite reasonable and rational, but they need time to understand and assess the situation before buying into a new way of doing things. You must make them aware of the need for the change and provide lots of information. However that is not enough. You must also give them time to process the changes, try out the new concepts and build their confidence. Remember that all change, good or bad impacts our feelings of: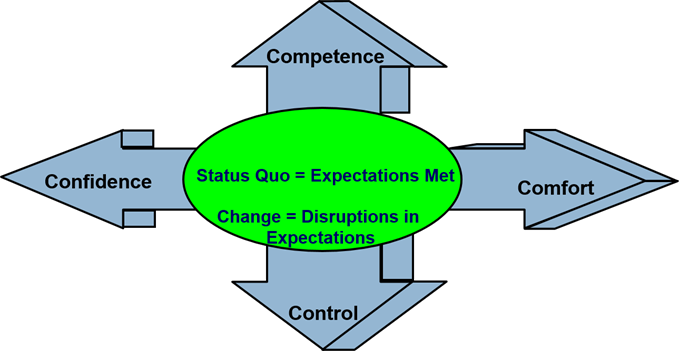 Competence

Confidence

Comfort and

Control
2. Spend time building a relationship with those being impacted by change. Though you may feel that you don't have time for this, you can always make time to listen to their concerns. The old adage says, "No one cares about what you know until they know you care." Though you may have heard their concerns a thousand times, listen to them again. Assure the team that you will be with them all the way. And then; actually be there. Once you get a reputation for being there during the tough days and helping folks through the worst parts of a new initiative, their trust in you will grow and future change will seem a breeze.
3. As opposed to being a "know-it-all expert" with all the answers, be willing to be a bit vulnerable with your team. Show real interest in their perspectives and note the pride that they take in their work and the service they provide to the customers. Don't be afraid to tell them that you can't be successful without their help. (After all, it is not a secret. They already know this.)
As you can see, how you handle and approach change, impacts your ability to help your team accept the changes required for any new change initiative to be successful. It may appear to be a long painful process, but remember that sometimes you have to slow down to go fast.