Greetings!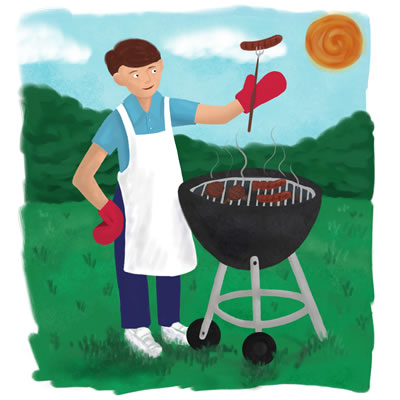 Every Dad is looking forward to a cool Father's Day gift. Ditch the tie and check out our selection of Yeti Coolers, boots, and Silver Stagg Knives.
Bar None Country Store will be closed on Father's Day, June 16th.
Many folks are focusing on their deer and feeders. We carry deer feed 7 corn and offer spin cast and free-choice self feeders from All Seasons Feeder. Wondering what feeder is best? Find out below.
It's BBQ time! Bar None has propane for your gas grills. Stop by to fill up and replace them. Don't forget the BBQ seasonings and sauce! Read about our special seasonings below.
Happy Father's Day,
Bar None Country Store
Give Dad A YETI!
YETI® Coolers specializes in manufacturing the best ice chests available. Whether you are hunting, fishing, camping, boating, tailgating, rafting, or having a barbeque, we have a large cooler range of heavy duty, well insulated, rugged coolers for your outdoor ice retention needs. Stop by Bar None Country Store for your YETI® Cooler!
Read More »
BBQ Seasonings
Looking for a special Father's Day gift? Check out the BBQ seasonings from Special Shit BBQ at Bar None Country Store. The Special Shit family of seasonings are perfect for what you have on the grill. Try them out on meats or in your sauces. Looking for a BBQ sauce or a salsa or dip recipe? We offer individual ...
Read More »
Choosing A High Quality Deer Feeder
Free-choice self-feeders protect Deer Chow pellets and provide them to deer whenever they want to eat. Because deer eat at different times several times a day, professionally made free-choice feeders (or even trough feeders) are the best way to feed your deer for maximum intake and antler growth. Spin feeders toss out grain or Deer Chow® pellets at timed intervals. ...
Read More »
Keep Flies Off Your Cattle
Now is the time to map out your fly control program. Horn flies normally begin showing up in spring when average daily temperatures reach 65º F for a period of two weeks. They remain a nuisance until cool weather in late fall or early winter. Here are four quick tips to help you develop an integrated management program for controlling horn fl ...
Read More »
Miss Me Jeans, Shorts & Tees!
Just in time for the warmer weather, Bar None Country Store has a great selection of new shorts, jeans and summer tees from Miss Me Jeans! Check out our new store items. These make wonderful graduation gifts!
Read More »
Facebook Fan of the Month
We love our Bar None Country Store Facebook followers and want to say THANK YOU for supporting us. If you are chosen as our Facebook Fan of the month, you will receive a $25 gift card to Bar None Country Store! Not a follower yet? Like Bar None Country Store HERE and stay updated on store specials, seasonal lawn & garden a ...
Read More »