Like us on Facebook!
This month in the Britton Gallery
Apple Tree at Goldin's, watercolor, from the current show, Donald Mallow: Watercolors (through July 31)

Nasturtium Journal, by Katie Greene, from the current exhibit, Beyond the Page (Through July 31)
In the Larchwood Children's Cases
Official Bucksport Police Patch from the current exhibit, Heroes, from the collection of Teddy Holcomb (Through August 31)

Pre-school Storytime for kids ages 2 to 5: Tuesdays 10:30 to 11:15
Playgroup for Babies and Toddlers up to age 3: at the town park or if rain, in the Howard Room Wednesdays 10:30 to noon.

LEGO Club for kids 7 to 12:
First Saturday of the month 10:30 AM to noon.

Weekly Book Sales in the Basement "Book Nook": Saturdays through August 22 except July 4th.

Contact Us
5 Parker Point Rd
Blue Hill, Maine 04614
207-374-5515
www.bhpl.net
info@bhpl.net
Welcome
...
to our direct-to-you library events newsletter! Unless otherwise noted these events are free and open to everyone. Many of these free events are made possible by generous funding from the Friends of the Blue Hill Library. If you like what you see, thank a Friend. Or better yet, become one! There are many ways you can help support the Library.


Tuesday, June 30, 2015-- In this issue:
Events This Week...
Lifetime summer resident of Brooksville, Anne Emerson will discuss and read from her new book Letters from Erastus: Field Notes on Grace THIS THURSDAY July 2 at 7:00 PM. More info here.
The Library will be closed this Saturday--Happy July 4th!

Author Event: Homes Down East
Maine coauthors Earle G. Shettleworth, Jr., Christopher Glass, and Scott Hanson will discuss and show photographs from their new book,
Homes Down East: Classic Maine Coastal Cottages and Town Houses
at the Library on
Thursday,
July 9th at 7:00 PM.
For this book the authors have tracked down summer cottages that were built in Maine for seasonal residents after the Civil War, and featured in Scientific American Building Monthly from 1885 to 1905. Scientific American Building Monthly published floor plans, photographs, and descriptions of hundreds of homes around the country -including many in the Shingle Style-to inspire architects, builders, and clients. The authors share gorgeous photography, interesting history and architectural insights for each cottage.


A native of Portland, Earle G. Shettleworth, Jr., cofounded Greater Portland Landmarks in 1964. In 1971 he was appointed to the first board of the Maine Historic Preservation Commission, and has served as director of the commission since 1976 and as Maine State Historian since 2004. Earle has lectured and written extensively on Maine history and architecture.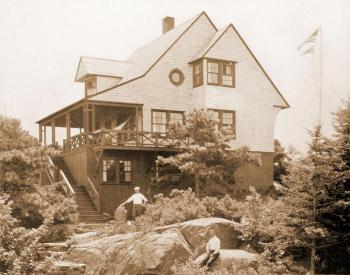 Christopher Glass is an architect practicing in Camden, Maine, since 1974. He taught architectural design at Bowdoin College for twenty years and has lectured widely. He is a former chair of the Maine Historic Preservation Commission, former president of Maine Preservation, and author of two previous books on the architecture of Maine homes.


Scott T. Hanson, an architectural historian with Sutherland Conservation & Consulting in Augusta, has researched and written numerous National Register nominations and Maine Historic Building Record documentation projects. Scott is the author of one previous book and coauthor with Earle G. Shettleworth, Jr.: The Architecture of Cushing's Island (2012).
Books will be available for sale and signing courtesy of Blue Hill Books. This event is sponsored by the Library. There is no charge, and everyone is welcome. For more information, call the Library at 374-5515.

More Images From Donald Mallow: Watercolors
We are thrilled to be hosting Donald Mallow's 11th show at the Library since the 1960's! It includes works from earlier in his career as well as recent ones. The public is invited to a reception for the show on Saturday July 11 from 2:00 to 5:00 PM.
Winter Runoff
Number 5 of the Series, From the Ledge
Blueberry Barrens Mid Summer
Old Sedgwick Cemetery Number 2
Don't hesitate to call us for more information at 207-374-5515.
We are happy to help!