Like us on Facebook!
April is Student Art Month!
Stop by and enjoy the amazing exhibits from local pre-K through grade 12 students. There is artwork all around the Library!
Linoleum print banner by the Sedgwick School 6th grade from the April Student Art Exhibit (through April 30)
Painting by Rylee Dorr, from the April Student Art Show
(through April 30)
Watercolor painting by Claire Ciampa, George Stevens Academy, from the April Student Art Show (through April 30)

Pre-school Storytime for kids up to age 4: Tuesdays, 10:30 to 11:00 AM

Playgroup for Babies and Toddlers up to age 3: Wednesdays 10:30 AM to Noon

Chess Club for kids 7 and up: Fridays 3:00 to 3:45 PM when school is in session.

LEGO Club for kids 7 to 12: Saturdays 10:30 AM to noon.

Beyond Labels Discussion Group:
Mondays, 10:30-12:30 Click
here
for topics.
Book sales in the basement "Book Nook": Every first Saturday of the month, 10:00 AM to 2:00 PM.

Contact Us
5 Parker Point Rd
Blue Hill, Maine 04614
207-374-5515
www.bhpl.net
info@bhpl.net
@Blue Hill Library
Welcome
...
to our direct-to-you library events newsletter! Unless otherwise noted these events are free and open to everyone. Many of these free events are made possible by generous funding from the Friends of the Blue Hill Library. If you like what you see, thank a Friend. Or better yet, become one! There are many ways you can help support the Library.


Tuesday, April 8, 2014-- In this issue:
Many thanks to the residents of Blue Hill for supporting the Library at the Town Meeting on Saturday!
Events This Week...
The Library's special 6 week music and movement program for infants and toddlers continues

TOMORROW! Wednesday April 9 at 10:30 AM

during the first half hour of the Library's "Play Group."

The sessions are led by early childhood music educator Deborah Reinke. Regular Play Group on will start at 11:00. Through April 30.
The Friends of the Library Film Series continues THIS THURSDAY! April 10 at 7:00 PM with Alfred Hitchcock's Shadow of a Doubt, about a child whose uncle is suspected of being a "merry widow killer."
The public is invited to a reception for local area students and their teachers who have participated in the Library's April Student Art Month, THIS FRIDAY April 11 at 4:30 PM. This is an excellent time to view the show and meet some of the artists.
Painting by Max Severnyak, 6th grade, Blue Hill Consolidated School, from the April Student Art Show (through April 30)
Oceanographer/Author Presentation
Maine oceanographer and non-fiction author Mary Cerullo, will do a presentation for all ages at the Library on
Tuesday, April 15 at 4:00 PM
.
Her books and life's work focus on the ocean and she describes herself as a "science interpreter." Mary will share photographs and anecdotes about the subjects of her books and insights into her research process.
Mary Cerullo is the author of 15 books, mostly aimed at kids, including City Fish or Country Fish, Shipwrecks: Exploring Sunken Cities Beneath the Sea, What Dolphins Can Teach Us, Searching for Sea Monsters: Giant Squid, Giant Octopus, and their Kin and Giant Squid: Searching for a Sea Monster which is a Maine Student Book Award nominated book for 2013-14. She is currently the Associate Director of Friends of Casco Bay.
This event is open to the public and is made possible by a grant from the Rose and Samuel Rudman Library Trust through the Maine Community Foundation. All ages are welcome and Mary's books will be available for purchase and signing.
In addition to the Library program, the Rudman grant and contributions from local schools also provide funding for Mary to be the keynote speaker at the "Maine Student Book Award Day" for 140 local fourth to sixth graders from six area schools and a homeschooling group. This event will be hosted by Maine Maritime Academy in Castine and features workshops centered on oceanography and maritime subjects from Mary's nominated book. These workshops will use the academy's world-class facilities including navigation simulators, the training ship State of Maine, and oceanography labs.
Mary will also do a program at the Blue Hill Consolidated where she will engage and inspire the students about the writing and research process for non-fiction. Sedgwick School will take advantage of Mary's visit to the area to host their own author's day. For further information, please call Pat at 374-5515.
Play Reading: Second Shepherd's Play
The public is invited to participate in the Library's Play Reading Group on
Wednesday, April 16 from 6:30 to 9:00 PM
at the Library, and every 3rd Wednesday of the month until next summer.
This month the group will read The
Second Shepherd's Play
from
The Wakefield Mystery Plays.
The
Wakefield Mystery Plays
date from the late-14th to the mid-15th centuries and are a collection of thirty two dramatic works translated from the famous manuscript of Biblical enactments found near the English town of Wakefield. The cycle, which ran from approximately the late 14th to the mid-15th Centuries, is notable for the "T
he Second Shepherd's Play
," which recounts the visiting of the baby Jesus by the shepherds and although the underlying tone is serious, the antics of the shepherds are comical.
The play reading group welcomes inexperienced and experienced readers alike. The only criteria are the love of plays and the joy of reading them aloud among like-minded theater fans. For further information, contact the Library at 374-5515 or Michael Donahue at 374-5248 (or Donahue.mg@gmail.com).
"STAR" Party!
The Library will host a "STAR" (Sharing Telescopes and Astronomical Resources) Party to introduce the public to a new telescope the Library has received to circulate to patrons on
Monday, April 21 at 7:00 PM
, weather permitting.
Alternate dates are Wednesday the 23rd or Thursday the 24th
in case of cloudy weather. If in doubt, library patrons should check the library's Facebook page for rescheduling information.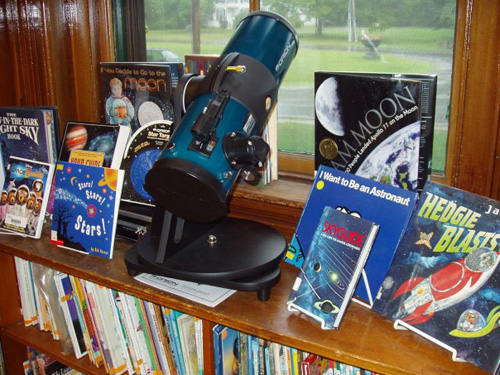 The grant making this possible was funded by the National Science Foundation and administered by Cornerstones of Science and the Maine Mathematics and Science Alliance (MMSA), two non-profits based in Maine. Cornerstones of Science works to "increase scientific literacy by strengthening public libraries' capacities to serve as gathering places for informal scientific discovery." MMSA works to support science, technology, engineering and mathematics education from kindergarten through college in Maine.
Local astronomers will be on hand with telescopes set up on the grounds of the library. While gazing at the stars through a telescope, participants will learn more about our solar system, discover what is currently visible in the sky, including constellations, planets, galaxies and nebulae.
The program is open to all ages and no registration is necessary. Those who attend are advised to dress warmly and bring flashlights for navigating around the library grounds after dark. For more information call Pat at 374-5515 or visit our events calendar at www.bhpl.net.
Live Reptile Program
As part of the Library's Boredom Busters activities for school vacation week, Chewonki Foundation will present a program, "Scales and Tales: Amazing Reptiles!" featuring four live "teaching" reptiles at Library on
Tuesday April 22 at 1:00 PM.
The program is made possible by the generous efforts of Downeast Audubon, whose mission it is to engage and educate the people of Hancock County, focusing on birds, other wildlife and their habitats. The program is geared for all ages.
Many people conjure up images of slimy skin and bloodthirsty monsters when they hear the word "reptile." This hands-on program works to dispel some of those fears by allowing people to see the animals firsthand, and also examine snakeskins, turtle shells, skeletons, and other unique reptilian artifacts that will be part of the program.
Chewonki is an environmental education organization based in Wiscasset, Maine, that teaches appreciation and stewardship of the natural world, through natural history programs like this one and other educational initiatives.
The teaching animals at Chewonki have been rescued and are not releasable-- some had been collected illegally from the wild and confiscated, a few were unwanted pets, and others have permanent injuries that would keep them from surviving in the wild. Chewonki holds special State and Federal permits to possess, exhibit and teach with them.
For more information contact Pat at the Library at 374-5515.
Teacher Art Month: an invitation
CALLING AREA TEACHERS: As you may already know, April is Student Art Month at the Blue Hill Library.
If you have not yet been into the library to check out the WONDERFUL display of art from area students, you should do it today. If you happen to be in an end-of-winter mood, there is nothing like children's artwork to pull you out of a funk.
This year we hope to follow up Student Art Month with TEACHER Art Month-- at least if we can attract enough participants. Teachers of all subjects, active and retired, full or part-time, whether you are an accomplished artist, or a hobbyist who dabbles in your spare time, we hereby invite you to exhibit your work at the Blue Hill Library for the month of May. Please let us know as soon as possible!
The Eyes of Sedgwick, part of a school-wide project of the Sedgwick School
TO SIGN UP: Send an e-mail to: rboulet@BHPL.net, with:
Your name

Where you teach

Title of work(s) to be exhibited

e-mail and phone #
DATES: The show will be hung during the day on Friday, May 1st, so please make sure that you have the piece(s) dropped off April 30 or earlier. Please include a label with the title, your name and the price if any, so we can mount it to the wall next to your piece. Items should be retrieved no later than Saturday, May 30 at 5PM.
WHAT CAN BE SHOWN: This show is primarily intended for framed or flat items that can hang on a wall, such as photography, painting, etc. If you would like to display something else, send us your ideas and we'll see what we can do.
Painting and collage by Frederick Coit, 1st grade, Brooksville Elementary, from the April Student Art Show (through April 30)
Don't hesitate to call us for more information at 207-374-5515.
We are happy to help!