Like us on Facebook!
This month in the Britton Gallery
Recruitment poster from Germany, "Times are hard but victory is certain," from the current exhibit, Posters of the Great War, from the collection of Larry Flood and Tyler Knowles(through April 30)
Maine-themed vintage music cover from the current exhibit, Bagaduce Music Lending Library: 30 Years (through July 31).
In the Larchwood Children's Cases
Drawing of a spider with an egg case, from the current show, The Artwork and Natural Artifacts of Emery Bradshaw Thomas (Through August 31)
Pre-school Storytime: Tuesdays, 10:30 to 11:00 AM for kids up to age 4
Playgroup for Babies and Toddlers up to age 3: Wednesdays 10:30 AM to Noon

Brown Bag Book Club: 1st Thursday of the month noon to 1:00 PM.
Genealogy Group: 2nd Thursday of the month at 6:00 PM-- join or drop in.
Book sales in the basement "Book Nook": Every Saturday, 10:00 AM to 2:00 PM, through September 7.

Contact Us
5 Parker Point Rd
Blue Hill, Maine 04614
207-374-5515
www.bhpl.net
info@bhpl.net
@Blue Hill Library
Welcome
...
to our direct-to-you library events newsletter! Quick Links:
Unless otherwise noted these events are free and open to everyone. Many of these free events are made possible by generous funding from t
he
Friends of the Blue Hill Library.
If you like what you see, thank a Friend. Or better yet,
become one
! There are
many ways
you can help support the Library.
Fresh Paint Auction Fundraiser this Saturday 4:30 to 7:00 PM

Over 70 artists will find their favorite spot on the Peninsula to paint and draw on the morning of Saturday, July 20.
Their work will be exhibited the same day-
this Saturday- in the Library from 4:30-7:00
during a reception and silent auction fundraiser with piano jazz by Scott Cleveland.
From 2012, Blue Hill Village by Beth Lambert
For this year's Paint the Peninsula event we are adding a "Buy it Now" option for the truly passionate art buyers. There is a $10 suggested donation that is deducted from your winning bid-- children and participating artists are free. Proceeds are shared between the artists and the Library. Don't miss this "don't-miss" event!

Other Events This Week...
There is still space available in the kids' workshop: "Dig Into Dirt!"

THIS THURSDAY July 18 at 3:00 PM

. Learn all about soil - what can you really find in it? What exactly is it made of? How do flowers grow in it?

Scientist Dave Hollenberg will present this workshop for kids ages 7 to 12. Registration is required so please sign-up on our

web calendar

or call Pat at 374-5515 to reserve a place.
Author Jennifer Skiff will read from her new book, The Divinity of Dogs, at the Library THIS THURSDAY July 18 at 7:00 PM. Books will be available for sale and signing.
Children's author, Jean Miller, will read from her book, Curious Chucky at the Library on Saturday July 20 at 10:30 AM. Chucky is a precocious little wood chuck. He wonders about the world outside of his burrow. What lies beyond the big round hole he looks through? Books will be available for sale and signing.
Art
Adventures:
Art of Katahdin
As part of the ongoing "Art Adventures" series for adults and teens, author David Little will discuss, show images, and read from his new book,
Art of Katahdin
at the Library on
Thursday July 25 at 7:00 PM.
Katahdin has been called Maine's greatest treasure, and for more than 150 years the mountain has been a magnet for artists. Some of America's most prominent landscape painters, including Frederic Edwin Church, James Fitzgerald, Marsden Hartley, and John Marin, form the backbone of a distinguished line of artists who have been captivated by the mountain and its wilderness surroundings.
Including more than two hundred images of the Katahdin region, many never before published, Art of Katahdin is the first book to celebrate this overlooked aspect of the mountain's rich history. Covering the earliest surveys of the region, book illustrations, work from 19th- and 20th century painters, and contemporary artists, this volume weaves a surprising and stunning tapestry of the area's artistic tradition.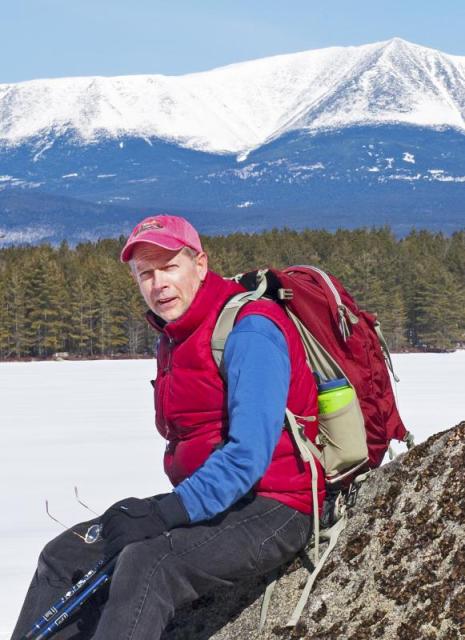 Since first climbing Katahdin in 1978, painter David Little has explored Maine's highest mountain as both a wilderness enthusiast and an artist. He took part in the Trust for Public Land's successful campaign to preserve Katahdin Lake; curated the exhibition "Taking Different Trails: The Artist's Journey to Katahdin Lake" at Bates College in 2007; and has been an active member of the Friends of Baxter State Park. Little attended the Skowhegan School of Painting and Sculpture and has had residencies at the Carina House on Monhegan Island and the Virginia Center for the Creative Arts. His work has been shown at Courthouse Gallery Fine Art, Thos. Moser, Farnsworth Art Museum, and the Center for Maine Contemporary Art. He lives with his wife Mikki in Portland, Maine.
The program is free, thanks to the Friends of the Library. The "Art Adventures" series will continue on the 4th Thursday of most months through September, spotlighting an array of visual and performing arts. For more information, contact the library, 374-5515.
For Kids: "Dig Into Comics"
Cartoonist Jeff Pert will present a cartoon workshop for kids ages 8-13 on
Saturday July 27 from 10:30 AM to 12:30 PM
at the Library. The workshop will focus on creating characters.
Jeff says, "This is a great way to start because it fires up the kids' imaginations. I do a few demonstration drawings to get them laughing and their creative juices flowing." He will help the kids create their own characters and then each will make a cartoon based on his or her character.
A Mainer, as he says, "born and breaded like a clam," Jeff's work appears on merchandise across the US, in Atlantic Canada and the Caribbean. Mostly known by New Englanders for his lobster and moose characters, his cartoons have also appeared in newspapers and magazines such as Down East.
The workshop is free thanks to Friends of the Library but space is limited so registration is required. To register, go to the Library's web calendar at www.bhpl.net or call Pat at 374-5515.
You Asked For It: Extended Hours
The most common suggestion for improvements to library services has been to increase the hours of operation to make visiting the library more convenient for individuals and parents who work.
We are pleased to announce that for the first time in 9 years the Library is extending its hours.
Starting July 27 the Library will be open an additional 3 hours on Saturdays, until 5 PM.
These hours will be in effect until at least the end of 2013 when staff will evaluate patron response to make a decision about making the schedule change permanent.
The new hours will be 10:00 AM to 6:00 PM on Monday, Tuesday, Wednesday and Friday, 10:00 AM to 8:00 PM on Thursday, and 10:00 AM to 5:00 PM on Saturday.
Shells, stones, starfish, etc, from the current exhibit:The Artwork and Natural Artifacts of Emery Bradshaw Thomas (through August 31)
Don't hesitate to call us for more information at 207-374-5515.
We are happy to help!