As I was reconciling one of my clients' bank accounts this morning, I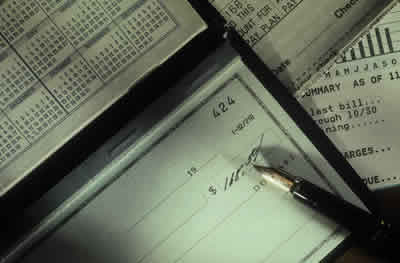 discovered two fraudulent checks had cleared their account. The person who cashed the check had taken a corporate check and logo from one firm, put a random bank and address on it, and used my client's routing and account information. It took several hours to complete but the good news is my client's account will be credited for both amounts. This made me think it might be a good idea to let you know to reconcile your bank statements in a timely manner.

According to the NationalCheckFraudCenter, check fraud is one of the largest challenges facing businesses and financial institutions today. With the advancement of computer technology it is increasingly easy for criminals to manipulate checks so as to deceive innocent victims.

It is estimated that billions of dollars are lost annually due to check fraud and the number continues to grow steadily as criminals seek new ways to earn a living by defrauding others. For the average person, the inconvenience and anxiety caused by resolving problems with the account, local merchants, as well as possible repercussions with credit bureaus, can be considerable.

Due to advances in readily available technology such as personal computers, scanners and color photocopiers, fraud professionals have become increasingly skilled and sophisticated. Criminals today can defraud you or your financial institution quite easily with a blank check taken from your check book, a canceled check found in your garbage, or a check you mailed to pay a bill.

Therefore, it is important to follow a safe approach with the way you use and store your checks.

Some ways to protect yourself from being a victim of check fraud are as follows:
 If possible, do not mail bills from your mailbox. It is a favorite location from which a criminal can gain possession of your check with the intent to defraud you. Criminals will remove a check from your mailbox and either endorse it using bogus identification, photocopy and cash it repeatedly, scan and alter the check, or chemically alter it. The Post Office is the best location from which to send your bill payment.
 Make sure your checks are endorsed by your financial institution and incorporate security features that help combat counterfeiting and alteration.
 Store your checks, deposit slips, bank statements and canceled checks in a secure and locked location. Never leave your checkbook in your vehicle or in the open.
 Reconcile your bank statement within 30 days of receipt in order to detect any irregularities. Otherwise, you may become liable for any losses due to check fraud.
 Never give your account number to people you do not know, especially over the telephone. Be particularly aware of unsolicited phone sales. Fraud artists can use your account without your authorization and you may end up being responsible.
 Unless needed for tax purpose, destroy old canceled checks, account statements, deposit tickets, ATM receipts (they may show your account number or balance). The personal information on it may help someone impersonate you and take money from your account.
 If someone pays you with a cashier's check, have them accompany you to the bank to cash it. If at all possible, only accept a check during normal business hours so you can verify whether it is legitimate. Make sure you obtain identification information from the individual.
 Limit the amount of personal information on your check. For example, do not include your Social Security, driver's license, telephone or credit card numbers on your check. A criminal can use this information to literally steal your identity by applying for a credit card or loan in your name, or even open a new checking account.
 Don't leave blank spaces on the payee and amount lines.
 Don't make a check payable to cash. If lost or stolen, the check can be cashed by anyone.
 Never endorse a check until you are ready to cash or deposit it. The information can be altered if it is lost or stolen.
 The type of pen you use can make a difference. Most ballpoint and marker inks are dye based, meaning that the pigments are dissolved in the ink. But, based on ink security studies, gel pens often use ink that contains tiny particles of color that are trapped into the paper, making check washing a lot more difficult.