Receive

El Sayulero

every week!

Date:
March 22,
2013
Subscribers (emails):
8,547
Frequency:
Emailed every Friday
(biweekly in summer)
Owners/Publishers:
Ian & Kerry Hodge
Editor:
Lindsay Walter
Send NEWS ideas to:
Lindsay@ElSayulero.com
Sales/Advertising:
info@ElSayulero.com
Past Articles:
Posted online at
website
Sponsored, financed,
and supported by:
Unique private villas located just steps from the Sayulita surf. $59-$180 USD/night.
Find a Sayulita Business FAST in the all NEW:


El Sayulero articles you may have missed:


Find a Sayulita Business FAST in the all NEW:

Security Tech
Security Installations
For Sayulita, Mexico

Visit Web Page
Find a Sayulita Business FAST in the all NEW:

Greetings to our 8,547 subscribers
Sunrise over Sayulita
The Semana Santa holidays are approaching which means our town will soon be bustling with national and international tourists. Semana Santa is one of the busiest times of year in Sayulita when our beaches are packed, camp grounds, hotels and rental homes occupied to the max and lines coming out the local store fronts. Traffic and parking will undoubtedly be an issue over the next week so if you can avoid taking a car into town and walk or bike instead you will save yourself the stress of Semana Santa traffic in Sayulita. I hope everyone enjoys the Semana Santa and Spring Break holidays and has a wonderful Easter celebration with friends and family.
Thank you for reading El Sayulero.
Lindsay Walter
Editor, El Sayulero
P.S. If you like what we are doing with this free community newsletter, please consider making a small donation to help keep us funded. We use the money to pay contributors for quality articles as well as translation services. Gracias!
=========================================
Saludos a nuestros 8,547 lectores
Las vacaciones
de Semana Santa
se acercan a
lo que significa
nuestra
ciudad pronto
será
llena de turistas
nacionales e internacionales.
Semana Santa
es uno de los
momentos más intensos del
año en
Sayulita
cuando
las playas
están llenas
,
campings
, hoteles y casas
de alquiler
ocupadas
al máximo y
alineaciones
de salir
de las puertas
delanteras
tiendas
locales
.
Tráfico
y aparcamiento
undoubtebly
será un problema
durante la próxima semana
así que si puedes
evitar tomar
un coche
a la ciudad
y caminar
o andar en bicicleta
en vez
usted se ahorrará
el estrés del
tráfico de
Semana
Santa en
Sayulita.
Espero
que todos disfruten de
la Semana Santa
y
vacaciones de
las vacaciones de primavera
y
tiene una maravillosa
celebración de la Pascua
con sus amigos
y familiares.
Gracias por leer El Sayulero.
Lindsay Walter
Editora: El Sayulero

Sayulita Can You See This?
If not, it's time for a free eye exam! Last Monday, the government program, Optima, began in the gazebo in the plaza. For the next three months, from 10 am to 2 pm every Monday, Optima will be set up in the plaza to offer free eye exams and prescriptions to anyone. The doctors are based out of Guadalajara and are working every town throughout the Bahia de Banderas for three months in each pueblo all the way through the colonials of Puerto Vallarta.
More
Es la hora de un examen de la vista gratis! El lunes pasado, el programa de gobierno, Optima, se inició en el centro
de la plaza. Durante los próximos tres meses, 10 a.m.-2 p.m. todos los lunes, Optima, está en la plaza para ofrecer exámenes de la vista gratis y recetas a todos. Los médicos son de Guadalajara y están trabajando en todos los pueblos de la Bahía de Banderas para tres meses en cada pueblo y todas las colonias de Puerto Vallarta.
Mas
Sayulita Is for Everybody:

Interview with Sergio Gonzalez
Good morning from Sayulita one more time. Today, I want to share with you the story of a friend I met a few years back when I first visited Sayulita with my "Mexican Brother", Efrin Garcia. This is a story of a young man with very large dreams and very little to start with other than a very big heart. Sergio Enrique Gonzales was born 27 years ago, and has lived almost all of those years here in Sayulita. While he started out with little more than a motorcycle and a dream, Sergio has come to be an example of what makes our enchanted pueblo home to almost anyone.
Read entire interview
Buenos días desde Sayulita una vez más. Hoy quiero compartir con ustedes la historia de un amigo que conocí hace unos años cuando visité por primera vez Sayulita con mi "hermano mexicano", Efrin García. Esta es la historia de un joven con sueños muy grandes, y muy poco para empezar que no sea un corazón muy grande. Sergio Enrique Gonzales nació hace 27 años y ha vivido casi todos esos años aquí en Sayulita. Mientras que él comenzó con poco más que una motocicleta y un sueño, Sergio ha llegado a ser un ejemplo de lo que hace nuestra casa encantada pueblo a casi nadie.
Leer toda la entrevista
Property Regularization in Sayulita
As a follow up to last week's regularization of land in Sayulita, specifically on the Nanzal hill there will be a meeting held on Friday April 5th at 11:00 AM at the Ejido office located on Calle Revolucion just across the street and down from the OXXO store. The meeting will inform property owners of the process to title land and the requirements needed to begin the process. Ejido officials will be present along with representatives of JH Constructores, the independent company regularizing the land. Homeowners are encouraged to bring their lawyers and/or prestanombres on their Ejido documents. To read last week's full article on the regularization of land project
click here
.
Como seguimiento del articulo de la semana pasada sobre la regularizacion de terrenos en Sayulita, especificamente los terrenos en Nanzal habra una junta el viernes 05 de abril a las 11:00 AM en el edificio comisariado en calle revolucion en frente el OXXO. La justa es para informar a los propietarios el procedimiento para regularizar sus terrenos y los requisitos que se necesitan. Habra oficiales del ejido presentes y la representante de JH Constructores, una compania independiente que regulariza terrenos. Se animan a los propietarios que inviten a sus abogados y prestanombres a la junta. Para leer el articulos de la semana pasada sobre el proyecto de regularizar los terrenos haz
clic aqui
.
Casa de Risa For Sale By Owner
End of Season Price Reduction: $188,750.00 USD
Best priced casa in Sayulita final price reduction to
$188,750.00 USD
Casa De Risa is a 2 bedroom, 1 bathroom property in immaculate condition located on the quiet south end of Sayulita. Casa de Risa is move-in ready and fully furnished. This well-maintained property is a great family home due to it's great location, fabulous outdoor living space and open-floor plan.
Casa De Risa in Sayulita is newly renovated, boasts great outdoor lighting, wrap-around pillow-loaded seating, natural stone and stained concrete bathroom with walk-in shower, king size bed in master bedroom with twin beds in the second bedroom. You will love this property for the hammock filled front porch and native vegetation. New appliances and an outdoor grill complete the home. It is completely gated and private, including an enclosed parking space.
More photos and seller's contact information
Spring Brings the King and Queen of Sayulita
If you were one of the lucky ones to have seen this precious tradition in Sayulita, you already know that spring is issued in on March 21

st

by appointing a child prince, princess, king, and queen.

Many of you have thrown your coins in the boxes placed around town with a picture of a beautiful little girl or boy.

Those children were this year's candidates.

More
Si usted fue uno de los afortunados que han visto esta preciosa tradición en Sayulita, usted ya sabe que la primavera se publica en el 21 de marzo por el que se nombra un niño príncipe, princesa, rey, y la reina. Muchos de ustedes han lanzado sus monedas en las cajas colocadas alrededor de la ciudad con una foto de una hermosa niña o niño. Esos niños eran candidatos de este año.
Mas
Bite This: The Pad Thai at Don Chow
The chef at Don Chow didn't popularize Pad Thai. That honor goes to Luang Phibunsongkhram, the prime minister of Vietnam during the 1930s and 40s as part of a campaign to promote Thai nationalism and save on rice, which was the country's big export item. You see, this column isn't just all food opinion, we want to give you a taste of history, too. More
El chef de Don Chow no popularizo Pad Thai. Ese honor le corresponde a Luang Phibunsongkhram, el primer ministro de Vietnam durante los años 1930 y 40, como parte de una campaña para promover el nacionalismo tailandés y ahorrar en el arroz, que fue objeto de exportación del país grande. Usted ve, esta columna no es sólo toda la opinión comida, queremos darle una idea de la historia, también.
Mas
Congratulations to Local Florist, Flora Amor
Recently Flora Amor, a local full florist company, was contracted by the Grand Palladium, Punta de Mita to provide floral arrangements for the resorts photo shoot which will promote the upcoming new wedding packages at the resort.

Denise and Susan of Flora Amor have been supplying Sayulita and the Nayarit Coast for the past 2 years with beautiful and creative floral arrangements.

Flora Amor is now the exclusive florist for all American and Canadian destination weddings at the Grand Palladium.
Congratulations Flora Amor!
GPS: Fiesta Fundraiser of 2013
The Fiesta has passed, a great time was had by all. We completely sold out all tickets and we gratefully thank all of the volunteers, donors, all those who attended and all those who bid and bought items. We cannot thank Don Pedro's enough and Suzanne Gravelle did a superhuman job of organizing. We are cleaning up some of the final issues and will update the website with the long list of those who contributed to another amazing event.
More
La Fiesta ha pasado un gran momento fue tenido por todos. Estamos totalmente vendido todos los boletos y con gratitud las gracias a todos los voluntarios, donantes, todos los que asistieron y todos los que pujar y comprar artículos. No podemos agradecer lo suficiente Don Pedro y Susana Gravelle hizo un trabajo sobrehumano de organización. Estamos limpiando algunos de los temas finales y se actualizará la página web con la larga lista de los que han contribuido a otro evento increíble.
Mas
Top Recommendations of the Week
Veterinarian of Sayulita
Casa Limon
Pueblo Magico: A Fish Story
I love going to restaurants but I'm getting fussier. I mean, if you buy fresh fish just a few hours out of the ocean, there's not much you have to do to cook a pretty tasty meal. So when I go out, I'm demanding to eat 'comida' that I can't cook easily at home. And I must say, out of the many (well over 100 restaurants in all) eateries all around town, many surpass my standards. I really can't beat Don Pedro's or Sayulita Café, for example, but I'm trying. Even many of the small ones are surprisingly sophisticated in their cuisines. More
Me encanta ir a restaurantes, pero yo estoy más inquieto. Quiero decir, si usted compra pescado fresco sólo unas horas fuera del océano, no hay mucho que tiene que hacer para cocinar una comida muy sabrosa. Así que cuando salgo, estoy pidiendo para comer "comida" que no puede cocinar fácilmente en casa. Y debo decir que, de los muchos (más de 100 restaurantes en total) restaurantes de toda la ciudad, muchos superan mis estándares. Yo realmente no puedo superar Don Pedro o Sayulita Café, por ejemplo, pero lo estoy intentando. Incluso muchos de los pequeños son sorprendentemente sofisticados en sus cocinas.. Mas
Upcoming Events in Sayulita
Sayulita Community Calendar
The Sayulita Community Calendar is a tool to help bring us all together. Now there is a central place to find out when, what, and where events are taking place. View, read, sort and post every Sayulita-related event.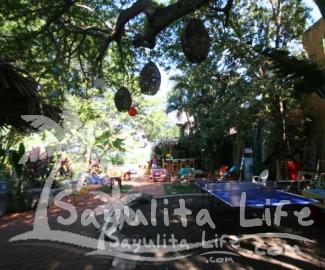 Date:
Tuesday March 26th
Time: 8:00 PM

Come enjoy watching a movie in the Iguana Gardens. Every Tuesday until April 9th is movie night at the Iguana Gardens.
Movie Night at Hotlito Los Suenos
Date:
Thursday March 28th
Time: 7:00 PM


Donation go to Sayulitanimals. A tale of love, betrayal, and brotherhood, in the early 1900s in the Rocky Mountains of Montana. In the wilds of Montana, Colonel Ludlow decides to raise his three sons, after being discharged.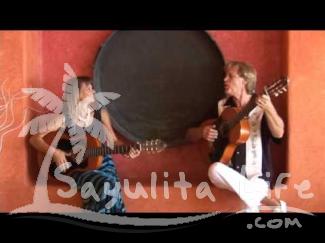 Don Pedro's Latcho & Andrea Gypsy Flamenco
Date:
Thursday March 28th
Time:
7 PM
Gypsy Flamenco Music with Latcho & Andrea. Every Thursday until June 20th 2013
Add your upcoming event to the Sayulita Community Calendar
Kids Corner: Sayulita Berry Smoothie
Have you ever been thirsty but don't want any water? Then I have the drink for you! The Sayulita berry smoothie!
Ingredients:
½ blueberries
½ cup strawberries
1 cup of water
1 cup of ice
1 spoonful of sugar (optional)
Directions:
Get out your blender and put in the blueberries and strawberries first. Then put in the water and ice. If you want to add the sugar now is the time. Put on the lid and blend until liquid and most of the ice is crushed. Pour the smoothie into a cup and drink up! Hope you enjoy the Sayulita berry smoothie!
¿Alguna vez has tenido sed, pero no quieres nada de agua? Entonces tengo la bebida para ti. El Licuado de Moras en Sayulita!
Ingredientes:

½ moras azules

½ taza de fresas

1 taza de agua

1 cucharada de azúcar (opcional)
Instrucciones:

Saca tu licuadora y mete las moras y las fresas primero. Luego, mete el agua y el hielo. Si deseas agregar el azúcar ahora es el momento. Coloque la tapa y mezcle hasta que esté líquida y la mayor parte del hielo es triturado. Verter el batido en una taza y beber! Esperamos que disfrute de la baya Smoothie de Sayulita!
Pet of the Week: "Nika"
Nika is a one year old pup who was found with her sister. They were neglected, starving and in need of medical aid. Nika is the larger and more outgoing pup of the two. She is very sweet and loves to play on the beach with other dogs. Nika is going to be a medium sized dog and is already potty trained. She is spayed, dewormed, deflead and ready to find her "Fur-Ever" home. Let us know if you can adopt or foster this sweet puppy.
To adopt an animal or donate to Sayulitanimals contact: sayulitanimals@hotmail.com
Nika es una cachorrita que se encontro junta con su hermana. Fueron descuidadas, tenian hambre y necesitaban atencion medica. Nika es la mas grande y sociable de las dos. Es muy tierna y le gusta jugar con otros perros en la playa. Nika sera un perro de tamano mediano y ya sabe donde ir al bano. Es esterilizada, desparacitada, despulgada y lista para ir a un hogar por siempre. Avisanos si puedes adoptar esta perrita.
Para adoptar un animal o donar a Sayultianimals contacta: sayulitanimals@hotmail.com
Photo of the Week:
Jardin de Colores
Photos by Donna Day Photography
A lot has been going on at the Primary School in Sayulita. They've been painting the buildings colorfully, cleaning everything up. But the most impressive project of all has been the gardens. All the students, teachers and parents have been working non-stop for weeks putting in beautiful gardens all over the school. Each class has it's own garden and there is a main garden in back for everyone. They even made a garden honoring the memory of their lost amigos--4 kids who have died over the last year. It's all very beautiful and impressive.
Mucho ha pasado en la primaria en Sayulita. Han pintado los edificios con muchos colores, han limpiado mucho, pero lo mas impresionante de lo proyectos es el Jardin. Los alumnos, padres y maestros han trabajando duro durante semanas colocando jardines en todas partes de la primaria. Cada clase tiene su propio jardin. Hicieron tambien un jardin en la memoria de sus amigos fallecidos; cuarto ninos que se murieron durante el ano pasado. Todo es muy hermoso e impresionante:
THANK YOU | GRACIAS
Thanks for reading.
Please let us know your opinions, suggestions, complaints or anything else you feel will help make Sayulita a better place in which to live and vacation.
Owners: SayulitaLife.com and ElSayulero.com
Gracias por leer. Favor de hacernos saber sus opiniones, sugerencias, quejas o cualquier otra cosa que usted cree que ayudaria a hacer que Sayulita sea un mejor lugar donde vivir y vacacionar.

Atentamente,

Ian & Kerry Hodge

Duenos: SayulitaLife.com y ElSayulero.com