Join Our List

Our Offices
Atkins-Kent Building, Suite 101
W. Orange, NJ 07052
973-736-1100
33 Overlook Rd.
MAC Building
Suite 108
Summit, NJ 07901
908-522-4558

731 Broadway
Bayonne, NJ 07002
Clark, NJ 07066

Physicians
Robert J. Rubino,
Audrey A. Romero, M.D., F.A.C.O.G.
Lisa Abeshaus,
M.D., F.A.C.O.G.
Jacqueline Saitta, M.D., F.A.C.O.G.

Allan D. Kessel,
Diana Huang,
M.D., F.A.C.O.G.
Priya R. Patel,
M.D., MPH
Howard D. Fox,
D.O., F.A.C.O.G.
Heavy, Painful Periods?
Dr. Rubino is nationally recognized for his expertise on Her OptionŽ
Cryoablation,
15-minute,
in-office procedure.
Click here to find out more.
EssureŽ is a simple, non-invasive,
10-minute office procedure for permanent birth control (tubal ligation).
Click here
to see if Essure is

right for you.
Sign up for your PHR (Personal Health Records) - right on our website:
Click here
Medical Fact
"I didn't know that!"
Immediately after pregnancy, 5% to 10% of women with gestational diabetes are found to have diabetes, usually type 2.
Women who have had gestational diabetes have a 35% to 60% chance of developing diabetes in the next 10-20 years.

Happy September - an exciting time for back to school, transition into Fall and thriving schedules. We hope you had a wonderful summer with your family and friends and enjoy the change in season.
In this month's newsletter, we welcome a guest author, Debra Ann Duryea, DMD, who shares an article on how the health of your teeth can affect the health of your body. We also provide information on gestational diabetes including the causes, tests and ways to control it. In our Healthy Living section, we offer suggestions for a successful and stress-free transition to back-to-school. In addition, in our Meet the Staff section, we introduce a new medical assistant to the group, SueAnn. And, you'll find a new interesting "Medical Fact".
As always, we will continue to provide topics that are current, informative and important to your good health.



Sincerely,
Healthy Teeth = Healthy You
In recent years, a cultural shift in how we view our health in terms of
prevention has taken place. Preventing disease and staying healthy have become the standard of care for most dental and medical practitioners. Poor oral health has been studied and shown to negatively effect one's overall health. Oral health declines with age if there is not a clear level of communication with one's dentist about what is necessary to keep the teeth and tissues clean. Routine dental cleanings as well as individualized "home care" instructions in between visits are paramount to dental health. Most individuals do brush their teeth regularly but fall short when it comes to flossing correctly and using other devices to maintain existing dental work. A summarized "Healthy Mouth Standard" may look as follows:
pink gums
gum pockets 3mm or below
no bleeding
no decay
no leaky fillings (bacteria or mercury)
no recession
no oral cancer lesions
no crowded or missing teeth causing bacterial accumulation
The first indication of oral disease is gingivitis, which leads to periodontitis if left untreated. Periodontitis causes destruction of the apparatus that connects the tooth, bone and gums together. Other factors such as bruxing (grinding), smoking and poor nutrition can complicate and add to the severity of the periodontal disease. Untreated periodontal disease will lead to gum pocketing, bone loss, abscesses and a chronic "gum infection." Unfortunately gum disease is most often painless, until it's very late stages, and can go undiagnosed without the proper diagnosis and dental treatments.
Chronic gum disease and it's ongoing infection and inflammation has been studied and linked to many diseases. Chronic gum inflammation has been associated with the development of cardiovascular problems such as heart disease, blockage of blood vessels, and strokes. Poor oral health has been linked to the development of infections in other areas of the body. Research has also found as association between gum disease relating to low birth weight babies, rheumatoid arthritis and diabetes. Multiple ongoing studies are still looking at the relationship of gum disease and many other diseases including certain forms of cancer.
During pregnancy a condition called "pregnancy gingivitis" could occur, which is caused by increased levels of progesterone which allow the gingivitis-causing bacteria to grow and exaggerate the body's response to the toxins.
Recommended good oral care requires:
At least 2 visits per year to your dentist for prophylaxis (scaling and polishing)
Brushing at least 3 times per day using a soft bristle toothbrush at a 45 degree angle toward the gum tissue inside and out - including brushing the biting surfaces and the tongue
Flossing at least once per day using a gliding up/down technique under the gums and along the surfaces below the gums
Gum disease is preventable, reversible if caught early and controllable after it's onset. On many levels, having a healthy mouth is one of the most important ways an individual can add to their overall health and well being.
Debra Ann Duryea DMD, has a practice in Mendham: Aesthetic Image Dentistry LLC, 5 Cold Hill Road South Suite 5, Mendham, NJ 07945
Gestational Diabetes - What is it?
Pregnant women who have never had diabetes but who have high blood
glucose (sugar) levels during pregnancy are referred to as having "gestational diabetes". It is estimated it affects 18% of pregnancies, however it usually goes away after delivery.
Cause
Gestational diabetes is caused by a change in the way a woman's body responds to insulin during pregnancy. Insulin is a hormone that moves glucose (sugar) out of the blood and into the body's cells and turned into energy. During pregnancy, a woman's cells naturally become more resistant to insulin's effects as a way to increase the mother's blood glucose level to make more nutrients available to the baby. The mother's body makes more insulin to keep the blood glucose level normal. Gestational diabetes starts when your body is not able to make and use all the insulin it needs for pregnancy. Without enough insulin, glucose cannot leave the blood and be changed to energy and builds up in the blood in high levels. This is called hyperglycemia.
Gestational diabetes typically affects the mother late in pregnancy, after the baby's body has already been formed but while the baby is still growing. Extra blood glucose goes through the placenta, giving the baby high glucose levels with causes the baby's pancreas to make extra insulin to get rid of the blood glucose. Since the baby is getting more energy than it needs to grow and develop, the extra energy is stored as fat. Babies with extra fat can cause damage to a baby's shoulders during birth, very low blood glucose levels at birth and a higher risk for breathing problems. Babies with excess insulin typically become children who are at risk for obesity and adults who are at risk for type 2 diabetes. High blood pressure and preeclampsia are more common in women with gestational diabetes.
Who is at risk?
Gestational diabetes is more likely for women:
who are older than 25
who are overweight
who have family members who have had gestational diabetes
who have family members who have type 2 diabetes
have had a stillbirth in previous pregnancies
African American, American Indian and Hispanic/Latina American women
Routine screening
Typically, your doctor will send you for a gestational diabetes screening test between week 24 and 28 of pregnancy. During this test, you drink a syrupy glucose solution. One hour later, you are given a blood test to measure your blood sugar level. A blood sugar level below 140 mg is usually considered normal. If your levels are higher than normal, you have a higher risk of gestational diabetes and need to go for a follow- up test. A follow-up glucose tolerance testing involves fasting overnight, having your sugar levels measured and then drinking another sweet solution with a higher concentration of glucose than the original test. Your blood sugar is then checked every hour for a period of three hours. If at least two of the blood sugar readings are elevated, you will be diagnosed with gestational diabetes.
If you are diagnosed with gestational diabetes, your doctor will work with you on an individualized eating and exercising program to keep your levels in check.
If you have any concerns or additional questions, please make an appointment with one of our doctors.
Healthy Living:
Tips for Parents: Back-to-School Transition
Starting a new school year off on the right foot can influence your child's attitude, confidence and performance socially and academically.
The pressures of adjusting back to work, schedules and structure can often be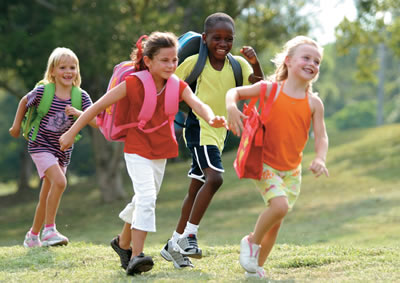 difficult and stressful for children and parents. Some tactics to handle the increased life pace include planning ahead, being realistic and keeping a positive attitude.
Tips for the first week of school:
Clear your own schedule to allow you and your children to acclimate to the new school routine

Plan and/or make lunches the night before school

Set alarm clocks - maybe even a few minutes earlier - to teach children to keep to a schedule and be responsible for getting up and ready in the morning

Have your child eat a healthy & nutritious breakfast

Leave extra time to get ready - getting dressed, eating breakfast, packing backpacks and lunches, etc

Set a schedule for afterschool homework, activities, dinner and downtime
Ways to overcome anxiety
Keep cool - try not to over-react if the first few days are tough - especially for young children who may experience separation anxiety; Reassure your children you love them and will see them soon

Let your children know you care - send personal notes in their lunch box or backpack

Keep optimistic and confident - children absorb their parent's anxiety; Let your children know it is natural to be a little nervous anytime you start something new

Praise your child's best efforts - let them know how proud you are

Plan to volunteer in the classroom - it's a great way to get a feel for your child's environment, helps them understand school and family life are linked and gives them the message you care about their learning experience
It is important to also try to balance extracurricular activities and focus on quality vs. quantity. Too much scheduled time can cause a child to be anxious and stressed and may be too much for them to manage. Activities should be fun, reinforce social development and teach new skills. It might be easier to start with a lighter activity load in the beginning of the year and add gradually if your child seems to manage it well.
Back to school can be an exciting time of year. Keeping open communication with your children, listening to them when they share about their day and working together can help keep stressful times in check.
Content extracted from NASP Resources: Helping children achieve their best in school at home and in life.
Meet the Staff
SueAnn recently joined The Rubino OB/GYN Group as a Medical
Assistant.

She previously worked at Planned Parenthood in Illinois prior to beginning with the practice. She

attended Everest Institute where she received her

diploma and certification as a medical assistant. SueAnn is continuing her education to become a registered Dietician.
SueAnn describes herself as
very ambitious, caring,
persistent and motivated. She comes from a Caribbean background with many Jamaican relatives. She loves her culture including dancing and traditional foods. She enjoys e
xercising, nature, learning new things and is very handy (which she credits to her father).
SueAnn is interested in traveling and
meeting new people with different ways of living and outlooks on life. She is a
mom of "the best 4 year old" and is very much enjoying her time with The Rubino OB/GYN Group. Please join us in welcoming SueAnn.
New Video for The Rubino OB/GYN Group
We recently completed a new video for the practice that provides an
overview of our services, doctors and philosophy. The video can be viewed on the home page of our website:
We hope you enjoy seeing the practice on a more personal level and welcome your feedback! Simply reply to this newsletter.
Office Announcements
vitaMedMD Vitamins
The Rubino OB/GYN Group is now offering vitaMedMD™ in all 4 office locations. VitaMedMD offers patients high quality physician recommended products at an affordable price. Available products include Women's Multivitamin, Prenatal Plus, Prenatal One, Menopause Relief and Iron 150.
Emmi Video Tutorials
Emmi is a free, online video tutorial that makes complex medical information simple and easy to understand. Emmi provides clear and concise step-by-step information on common health topics and procedures right on our website. Click here to find out more.
Save Time with Online Appointments, Consultations &Personal Health Records
To schedule online appointments, consultations or view your personal health records at your convenience

, just visit the home page of
www.rubinoobgyn.com
. You can also call 973-736-1100 now to schedule an appointment at any of our four locations.

"Important Announcements" on Our Website
You can find important new developments and time-sensitive announcements (such as office closings) right on the upper right hand portion of our
home page
.
Enterprising Patients
If you would like to add your business or service to the website,
please e-mail us at network@rubinoobgyn.com.
Products Available on Our Website
For more information visit the products page on our website.