Join Our List

Our Offices
Atkins-Kent Building, Suite 101
W. Orange, NJ 07052
973-736-1100
33 Overlook Rd.
MAC Building
Suite 108
Summit, NJ 07901
908-522-4558

731 Broadway
Bayonne, NJ 07002
Clark, NJ 07066

Physicians
Robert J. Rubino,
Audrey A. Romero, M.D., F.A.C.O.G.
Lisa Abeshaus,
M.D., F.A.C.O.G.
Jacqueline Saitta, M.D., F.A.C.O.G.

Allan D. Kessel,
Diana Huang,
M.D., F.A.C.O.G.
Priya R. Patel,
M.D., MPH
Howard D. Fox,
D.O., F.A.C.O.G.
Heavy, Painful Periods?
Dr. Rubino is nationally recognized for his expertise on Her OptionŽ
Cryoablation,
15-minute,
in-office procedure.
Click here to find out more.
EssureŽ is a simple, non-invasive,
10-minute office procedure for permanent birth control (tubal ligation).
Click here
to see if Essure is

right for you.
Sign up for your PHR (Personal Health Records) - right on our website:
Click here
Medical Fact
"I didn't know that!"
Water helps convert food into energy and regulates body temperature.
There is a 10% decrease in your mental performance when you feel thirsty. Long term effects of dehydration include kidney and urinary tract infections, constipation, continence problems and kidney stones.
It's hard to believe it is already August. The summer is flying by and back-to-school is almost here. We hope you enjoy these last few weeks before fall and take advantage of the beautiful weather.
In this month's newsletter, we are excited to welcome a new doctor to our staff, Dr. Patel, joining us from PSoM of the University of Pennsylvania. We are also thrilled to share the launch of a new video for our practice, which can be viewed on the
home page
of our website. In this issue, we discuss the digestive system and how it correlates to constipation and IBS. In our Healthy Living section, we discuss the importance of hydration. And, you'll find a new interesting "Medical Fact".
As always, we will continue to provide topics that are current, informative and important to your good health.



Sincerely,
We are excited to welcome Priya R. Patel, MD, MPH, the newest
member of our elite staff at The Rubino OB/GYN Group.
Dr. Patel will officially be starting with the practice on August 19th. She graduated medical school at Stony Brook University and completed her residency in OB/GYN at the Hospital of the University of Pennsylvania. She received her Master of Public Health at Columbia University and her BS at Sophie Davis School of Biomedical Education. Dr. Patel continued her training in Pennsylvania as a fellow in minimally invasive gynecological procedures and has published multiple research articles. She was an instructor for the last 4 years at PSoM of the University of Pennsylvania.
Dr. Patel specializes in non-invasive alternatives to surgery. She speaks Gujarati and medical/conversational Spanish. She is excited to begin working at The Rubino OB/GYN Group. "I am committed to helping patients find a solution to their medical issues and look forward to meeting members of the practice."
Born and raised in New York City, Dr. Patel is excited at the opportunity to be closer to home. When she is not working, she loves traveling, photography and spending time with loved ones.
Dr. Patel will be seeing patients in all four offices.
Please join us in welcoming Dr. Patel to the practice!
New Video for The Rubino OB/GYN Group
We recently completed a new video for the practice that provides an
overview of our services, doctors and philosophy. The video can be viewed on the home page of our website:
We hope you enjoy seeing the practice on a more personal level and welcome your feedback! Simply reply to this newsletter.
Digestive System - Constipation & IBS
The digestive system is made up of several hollow organs joined in a long,
twisting tube from the mouth to the anus that work together, along with other organs, to help the body break down and absorb food. It includes the mouth, esophagus, stomach, small intestine, large intestine (colon), rectum and anus. Two "solid" digestive organs, the liver and the pancreas, produce digestive juices that reach the intestine to help in food digestion.
Some common problems of the digestive system include constipation, diarrhea, heartburn, irritable bowel syndrome (IBS), hemorrhoids and gas/bloating.
Most problems with the digestive system are easy to control with lifestyle changes and medication. In some cases, these problems can indicate a more serious health issue.
Constipation is a reduction in bowel movements that can be painful. Constipation includes fewer than three bowel movements a week, stools that are firm or hard to pass, swelling or bloating of the abdomen, straining during bowel movements and feeling full. You can prevent constipation by drinking lots of fluids, eating a diet high in fiber, exercising, using the bathroom when the urge is there and possibly adjusting medications with your doctor. In some cases, a laxative might help but should be discussed with your doctor as they can alter the natural function of your digestive system.
Irritable bowel syndrome (IBS) mostly affects women between the ages of 30 and 50. Symptoms include cramps, gas, bloating, changes in bowel habits - constipation or diarrhea, an urge to have a bowel movement that doesn't happen and stools with mucus.
IBS can be caused by stress, eating large meals, travel, certain medications or menstrual cycles. It can also be caused by what you consume including caffeine, dairy products and large amounts of alcohol.
IBS can be managed to reduce symptoms. Keeping track of what you consume and digestive changes will help isolate the problem. Eating frequent small meals during the day can also help.
If you are experiences a lot of gas or bloating, it can be caused by foods that are hard to digest and remain in the large intestine. Gas affects many people who are lactose intolerant or have trouble digesting vegetables. Gas can be prevented by tracking which foods cause gas and slowly removing them from your diet.
If you think you are having digestive problems that won't subside, please make an appointment with one of our doctors.
Healthy Living:
The Importance of Proper Hydration
Are you not feeling well, find yourself tired all the time or have trouble concentrating?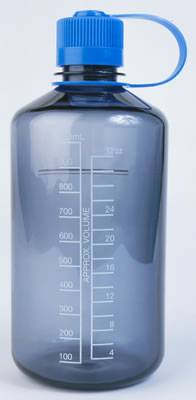 Are you getting headaches or have constipation? It could be you are dehydrated. Keeping your body properly hydrated is extremely important, especially in warmer weather. Water flushes out toxins, helps carry nutrients to your cells and supports every system in your body. It is your body's principal chemical component and makes up about 60 percent of your body weight. Not getting enough water can lead to dehydration which stresses out your organs and can cause headaches, dizziness, fainting and exhaustion.
According to Nutrition Sciences at the Berlin School of Public Health, drinking the right about of water can also help with weight loss. One theory is water helps keep hunger away. Another is that water-induced thermogenesis, a process where drinking water makes you more energetic, can actually help you burn more calories overall.
You lose water every day through breathing, perspiration, urine and bowel movements. Dehydration can be caused by excessive sweating (from exercise or even hot flashes from menopause), excessive urine output, fever, vomiting or diarrhea.
Symptoms of dehydration include:
It is very easy to combat dehydration. Drinking fluids throughout the day, rather than large amounts at one time, will help keep your body hydrated during a full day of activity. The Institute of Medicine determined that an adequate intake of water for men is about 3 liters (13 cups) and women 2.2 liters (or 9 cups) of total beverages a day. The amount of water you need may increase or decrease by your activity level. If you are extremely active, you should increase your amount of water intake to replenish your body.
It is not necessary to use sports drinks to hydrate unless you are participating in strenuous activities for more than 2-3 hours in a day. A sport drink may be recommended if you are severely dehydrated and need to replenish electrolytes quickly. The use of beverages with caffeine, alcohol and carbonated water are discouraged as they may cause dehydration by stimulating urine production and decreasing voluntary fluid intake. A great alternative to sports drinks is natural coconut water.
There are many benefits to keeping properly hydrated. Ensure you drink plenty of fluids during the day to keep your body functioning at it's optimal level.
Office Announcements
vitaMedMD Vitamins
The Rubino OB/GYN Group is now offering vitaMedMD™ in all 4 office locations. VitaMedMD offers patients high quality physician recommended products at an affordable price. Available products include Women's Multivitamin, Prenatal Plus, Prenatal One, Menopause Relief and Iron 150.
Emmi Video Tutorials
Emmi is a free, online video tutorial that makes complex medical information simple and easy to understand. Emmi provides clear and concise step-by-step information on common health topics and procedures right on our website. Click here to find out more.
Save Time with Online Appointments, Consultations &Personal Health Records
To schedule online appointments, consultations or view your personal health records at your convenience

, just visit the home page of
www.rubinoobgyn.com
. You can also call 973-736-1100 now to schedule an appointment at any of our four locations.

"Important Announcements" on Our Website
You can find important new developments and time-sensitive announcements (such as office closings) right on the upper right hand portion of our
home page
.
Enterprising Patients
If you would like to add your business or service to the website,
please e-mail us at network@rubinoobgyn.com.
Products Available on Our Website
For more information visit the products page on our website.