Join Our List

Our Offices
Atkins-Kent Building, Suite 101
W. Orange, NJ 07052
973-736-1100
33 Overlook Rd.
MAC Building
Suite 108
Summit, NJ 07901
908-522-4558

731 Broadway
Bayonne, NJ 07002
Clark, NJ 07066

Physicians
Robert J. Rubino,
Audrey A. Romero, M.D., F.A.C.O.G.
Lisa Abeshaus,
M.D., F.A.C.O.G.
Jacqueline Saitta, M.D., F.A.C.O.G.
Allan D. Kessel,
M.D., F.A.C.O.G.
Howard D. Fox,
D.O., F.A.C.O.G.
Heavy, Painful Periods?
Dr. Rubino is nationally recognized for his expertise on Her OptionŽ
Cryoablation,
15-minute,
in-office procedure.
Click here to find out more.
EssureŽ is a simple, non-invasive,
10-minute office procedure for permanent birth control (tubal ligation).
Click here
to see if Essure is

right for you.
Sign up for your PHR (Personal Health Records) - right on our website:
Click here
Medical Fact
"I didn't know that!"
Skin cancer is the most common form of cancer in the United States. More than 3.5 million skin cancers in over two million people are diagnosed annually.
June 20th will mark the first day of summer. The season has officially begun!
In this month's newsletter, we share a local educational program called "Bedtime Math". We include an article on postpartum depression, symptoms and solutions. And, in our Healthy Living section, we outline new 2013 sunscreen regulations. We also provide information on Dr. Kessel's office hours for June/July. And, you'll find a new interesting "Medical Fact".
As always, we will continue to provide topics that are current, informative and important to your good health.



Sincerely,
Following is an article from a recent, local program regarding children's
education:

We all know we should read to our kids at night - but what about math? Bedtime Math is a new nonprofit dedicated to making math a fun part of kids' everyday lives, as common and beloved as the bedtime story. The organization was founded by local Short Hills resident Laura Overdeck, a trained astrophysicist and mother of three, who wanted to nurture her own children's interest in math.

According to Overdeck, the goal of Bedtime Math is nothing less than culture change, "The goal of Bedtime Math is to change the way our culture views math, so we can raise a next generation that truly loves numbers."

Bedtime Math posts a playful new math problem every day on topics ranging from ninjas to flamingos. Parents can sign up for a free daily email, or access each day's content on the website, on the app, or on Facebook. Bedtime Math Problems are more than just kid-friendly - they're kid-appealing. "We firmly believe that learning math skills can be a fun, engaging, and exciting family activity," Overdeck says. "Parents, grandparents, and anyone who cares about education can encourage the children in their lives to learn without making it seem like homework," she says.

The movement is catching on. The first Bedtime Math app was released in April 2013 and quickly landed on the iTunes top 20 list of free educational apps. The organization also recently launched a "Summer of Numbers" math incentive program to help prevent the "summer slide" in math skills over the summer.

June 25th will mark the release of the first Bedtime Math book. BEDTIME MATH: A Fun Excuse to Stay up Late, will be the first of three books to be published by Macmillan Children's. The book will feature all new math problems written in the offbeat Bedtime Math style, with clever illustrations by renowned children's illustrator Jim Paillot.

Proceeds from the book will help support other Bedtime Math initiatives, including Summer of Numbers and "Pajama Parties," a series of hands-on math programs designed for use by libraries, museums, and other non-profit organizations.

For more information on Bedtime Math, visit the website at www.bedtimemath.org.
Postpartum Depression - It's Normal
Postpartum depression is a type of clinical depression that typically affects women after childbirth (it can occasionally occur in men, however
it is much less common). It is very common and is often alleviated after a couple of weeks.
Symptoms of postpartum depression include:
strong feelings of sadness, anxiety and despair

difficulty coping with daily tasks

fatigue

changes in sleeping and eating patterns

reduced libido

crying for no clear reason

anxiety and irritability

not being able to care for yourself or the baby

intense concern or worry about the baby or lack of interest in the baby

fears of harming the baby

thoughts of self-harm
Fatigue can have an integral part in experiencing postpartum depression. It can take women weeks to regain normal strength and new mothers rarely get the sleep they need. Fatigue and lack of sleep can go on for months, which can lead to depression.
Pregnancy can also bring forward the feeling of loss of freedom, loss of an old identity and loss of pre-pregnancy shape and attractiveness. You can also experience a lack of family support or breast-feeding challenges which can all attribute to feelings of anxiety or depression.
It is not clearly understood what causes postpartum depression. It has been related to significant changes in a woman's hormones during pregnancy, a lack of vitamins, and profound lifestyle changes of caring for an infant. It is likely a result of mind, body and lifestyle factors combined. It effects women different - some may experience it and others not.
If you are experiencing postpartum depression, you are not alone. It is a very common condition and can occur for any mother. Try to take care of yourself and your baby by getting plenty of rest, trying not to do it all, nap when the baby naps, ask for help, get a sitter, meet with a friend, go for walks, eat well, talk to other new moms or tell others how you feel.
If you are experiencing symptoms that last longer than a few weeks, it may be a more serious condition and you should talk to your health care provider. They can help find you avenues for emotional support, prescribe antidepressants or help find support groups in your area.
There are new labeling rules for all products claiming to shield your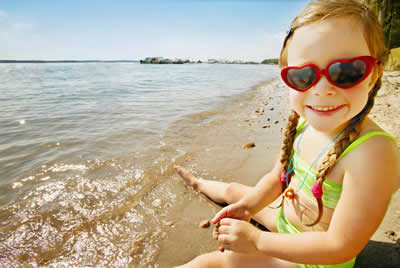 skin from the sun, including lotions, sprays, make-up and even lip balm.
No longer are companies allowed to use terms suck as "sunblock" and "sweatproof". The new labeling required is more accurate, research-backed terms that help consumers more clearly understand how well a product protects against UV-induced skin damage and skin cancer. Some of the new regulations include:
products may not claim an SPF higher than 50+ to avoid misleading the public (SPF 60 barely blocks any more UV rays than an SPF 30)
products with an SPF 15 and under now must come with a warning since they may protect you from sunburn, but not premature aging or skin cancer
products may only claim "broad spectrum" (protection against both UVA and UVB rays) on sunscreens that pass a test for broad spectrum
manufacturers can no longer use the terms "waterproof" or "sweat proof" - they can only claim "water resistant" with the time noted on the label
drug facts must be listed on a sunscreen label
all broad-spectrum products with an SPF of at least 15 must advise that wearing long sleeves, a hat, sunglasses and staying out of midday sun, when UV rays are strongest, will also cut back on your skin damage odds
The regulations on products were instituted to help educate the consumer on the dangers of sun exposure and the increasing incidences of skin cancer. One sun burn doubles your chances of getting skin cancer. Many factors seem to be contributing to the growing number of skin cancers including climate change and the thinning of the ozone layer and using the wrong sunscreens. Sunscreens that contain Vitamin A or retinol (with claims to slow aging) in the presence of sunlight may actually speed up the development of skin tumors and lesions, as confirmed by the FDA.
This May, consumer reports listed two good sunscreens for kids and pregnant women - Coppertone Waterbabies SPF 50 lotion and Equate Ultra Protection Sunscreen SPF 50. For the full article click here.
It is important to take the proper precautionary steps, especially during spring and summer months when more skin is exposed, to avoid facing premature aging and skin cancer.
Dr. Kessel - Out of the Office
Dr. Kessel will be out of the office starting Thursday, June 6th through
July 5th and returning to his office hours on July 8th.
During Dr. Kessel's absence, his appointments will be covered by the other doctors on our staff.
If you have a scheduled appointment, it is still on schedule. If you need to make an appointment, please call the office.
Office Announcements
vitaMedMD Vitamins
The Rubino OB/GYN Group is now offering vitaMedMD™ in all 4 office locations. VitaMedMD offers patients high quality physician recommended products at an affordable price. Available products include Women's Multivitamin, Prenatal Plus, Prenatal One, Menopause Relief and Iron 150.
Emmi Video Tutorials
Emmi is a free, online video tutorial that makes complex medical information simple and easy to understand. Emmi provides clear and concise step-by-step information on common health topics and procedures right on our website. Click here to find out more.
Save Time with Online Appointments, Consultations &Personal Health Records
To schedule online appointments, consultations or view your personal health records at your convenience

, just visit the home page of
www.rubinoobgyn.com
. You can also call 973-736-1100 now to schedule an appointment at any of our four locations.

"Important Announcements" on Our Website
You can find important new developments and time-sensitive announcements (such as office closings) right on the upper right hand portion of our
home page
.
Enterprising Patients
If you would like to add your business or service to the website,
please e-mail us at network@rubinoobgyn.com.
Products Available on Our Website
For more information visit the products page on our website.