Join Our List

Our Offices
Atkins-Kent Building, Suite 101
W. Orange, NJ 07052
973-736-1100
33 Overlook Rd.
MAC Building
Suite 108
Summit, NJ 07901
908-522-4558

731 Broadway
Bayonne, NJ 07002
Clark, NJ 07066

Physicians
Robert J. Rubino,
Audrey A. Romero, M.D., F.A.C.O.G.
Lisa Abeshaus,
M.D., F.A.C.O.G.
Jacqueline Saitta, M.D., F.A.C.O.G.
Allan D. Kessel,
M.D., F.A.C.O.G.
Howard D. Fox,
D.O., F.A.C.O.G.
Sabina Cherian,
M.D., F.A.C.O.G.
Heavy, Painful Periods?
Dr. Rubino is nationally recognized for his expertise on Her OptionŽ
Cryoablation,
15-minute,
in-office procedure.
Click here to find out more.
EssureŽ is a simple, non-invasive,
10-minute office procedure for permanent birth control (tubal ligation).
Click here
to see if Essure is

right for you.
Sign up for your PHR (Personal Health Records) - right on our website:
Click here
Medical Fact
"I didn't know that!"
The structure of the heart was first described in 1706, by Raymond de Viessens, a French anatomy professor.
When attempting to locate their heart, most people place their hand on their left chest. Actually, your heart is located in the center of your chest between your lungs. The bottom of the heart is tipped to the left, so you feel more of your heart on your left side of your chest.
As you probably have heard, the groundhog did not see his shadow, which means an early spring. Warm weather might just be on the horizon.

February is American Heart Month with specific attention on heart disease. A topic we cover in our Healthy Living section. We also review puberty and the signs and symptoms to look out for as girl's bodies start to change. In addition, we discuss the Rh Factor - and how it relates to pregnancy. Our "Meet the Staff" this month features Reshma Naik, our IT and process support professional. And, you'll find a new interesting "Medical Fact".
As always, we will continue to provide topics that are current, informative and important to your good health.



Sincerely,
Puberty - Signs & Symptoms for Girls
Puberty is the time when boys and girls bodies change and become more like an adult. It can begin as early as 8 years old and as late as 13
and starts when the brain sends signals, or hormones, to certain parts of the body to start growing and changing.
Changes during puberty:
Growing taller and gaining weight
Girls hips get wider and breasts start to grow
Hair grows under the arms and on the genitals
Body odor may change
Acne or pimples appear
Girls get their first menstrual period
What should a girl expect during puberty?
Breasts
When a girl's breasts begin to change, the areolas may look swollen and the breasts grow rounder and fuller. Breasts may be sore, tender and uneven in size.
Menstruation
Menstruation is the body preparing for a possible pregnancy as hormones signal the ovaries to release an egg every month. If the egg is not fertilized, the lining of the uterus breaks down and flows out of the body through the vagina, referred to as "your period." Menstruation typically occurs between 12 and 14 years old.
Periods can last between 3 and 7 days and typically come every 21-45 days. At first, they will most likely be irregular and could skip a month. Some girls experience cramps in the lower abdomen and back or get headaches or feel dizzy. This is all normal until the body regulates.
It is best to prepare for a first menstrual cycle by having pads and/or tampons close by. Typically, a flow is heavier on the first days of a period. It is recommended to change a pad or tampon every 4-8 hours.
When should you see a doctor?
If you are 15 and have not yet had a period
If your periods suddenly become irregular
Your period comes more often than every 21 days or less often than every 45 days
Your periods come 90 days apart
Your period lasts more than 7 days
Your periods are so heavy you have to change pads or tampons every 1-2 hours
Cramps prevent you from everyday activities
Acne
Acne is a result of overactive glands in the skin that make a natural oil called sebum. Puberty produces extra sebum that can clog pores in your skin and cause "acne". The best recourse to acne is to wash the face often with water and a mild cleanser and do not scrub or pick the skin. If you have a more serious condition, talk to your doctor about possibly prescribing a medication.
Puberty can be a scary change for girls. The more information they know about puberty before it happens, the better prepared they are.
RH Factor and How it Relates to Pregnancy
The Rh factor, or Rhesus, is a type of protein on the surface of red blood
cells. An individual either has, or does not have, the Rh factor - indicated by "Rh positive" or "Rh negative" - and confirmed through a simple blood test.
The Rh factor causes problems when an Rh-negative person's blood comes in contact with Rh-positive blood and causes antibodies that fight against the Rh factor as if it were harmful. Once formed, the antibodies do not go away.
In pregnancy
A fetus and mother do not share blood systems, however a small amount of blood from the fetus can cross the placenta into the mother's system. If this happens, a pregnant woman with Rh-negative blood who carries an Rh-positive fetus will make antibodies against the Rh factor which can attack and break down the fetal Rh-positive blood cells and cause anemia with serious effects to the fetus.
When not to worry
An Rh-negative mother can only have a fetus with Rh positive if the father is Rh positive. If both the mother and father are Rh negative, there is no chance the fetus will be Rh positive, and therefore, there is no risk to the mother. If the mother is Rh positive and the father is Rh negative, sensitization does not occur.
If it's a mother's first pregnancy with an Rh positive fetus, the baby can be born without any problems since the mother has not developed antibodies. In a second pregnancy IF the mother has developed antibodies to the Rh factor, it's possible the fetus would be at risk for developing anemia.
How do antibodies develop in the mother?
A mother can be sensitized whenever Rh positive blood mixes with her blood. This can happen if a woman has had a miscarriage, an ectopic pregnancy, a blood transfusion, amniocentesis, CVS or bleeding during pregnancy.
How to prevent the Rh factor effecting a fetus
A simple blood test can identify a mother's blood type and Rh factor. An antibody screen can show if an Rh-negative woman has developed antibodies to Rh positive blood. It can be prevented if a woman has not yet made antibodies against the Rh factor with Rhlg, a blood product injected into the mother around the 28th week of pregnancy, that can prevent an Rh-negative mother from being sensitized. Shortly after birth, if the child has Rh-positive blood, the mother should be given another dose of Rhlg. The treatment is good only for the pregnancy for which it is given. Each pregnancy and delivery of an Rh-positive child requires a repeat dose of Rhlg.
If you have any concerns or questions, please speak to one of our doctors during your regular pregnancy exam.
February is American Heart Health month. Cardiovascular disease is the leading cause of death for both men and women in the United States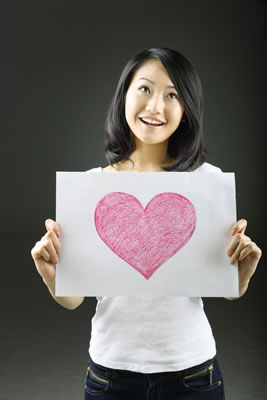 - more deadly than all forms of cancer combined. According to the American Heart Association, one out of every three women's deaths is from heart disease and stroke.
Heart disease, or cardiovascular and coronary heart disease, is a broad term used for any disorder than affects the heart related to plaque build-up on the walls of the arteries, causing the arteries to narrow and create a risk for heart attack or stroke. Examples of heart disease include cardiac arrest or heart attack - the sudden loss of heart function, arrhythmia - an irregular heartbeat, congenital heart disease - heart defects you are born with that affect how the heart works, coronary disease - the arteries that supply blood, nutrients and oxygen become damaged by plaque build-up and heart failure - the heart does not pump blood around the body efficiently (high blood pressure can cause this effect).
Symptoms of heart disease differ between men and women. Women are less likely than men to feel severe chest pain during a heart attack. Most women experience symptoms before an attack happens. The top symptoms to look out for include: fatigue, shortness of breath, indigestion, sweating, upper abdominal pain or nausea, chest pressure or tightness, jaw or throat pain and arm pain (especially in the left arm). Some "atypical" symptoms include: back, neck or jaw pain, nausea, vomiting, weakness and dizziness. Women experience more "atypical" symptoms during a heart attack than men.
Risk factors in women include:
Age of 55+ years old
A family history of heart disease or heart attack
High cholesterol or high LDL level
High blood pressure
Smoking cigarettes
Not getting regular exercise
Obesity
Diabetes
Early prevention of risk factors can greatly decrease the incidence and suffering associated with heart disease. Lifestyle changes are the key to keeping heart healthy. Some important lifestyle changes include:
Quitting smoking
Reducing stress
Eating a nutritious, healthy, well-balanced and low-fat diet
Exercising regularly
Getting adequate sleep
Maintaining a healthy weight
It is important for women to recognize the symptoms of heart failure or attack as soon as possible to get the treatment you need fast. Many women wait hours after their symptoms begin before they seek medical help. This delay can result in long-lasting heart damage, or even death.
If you are experiencing any of the symptoms of heart disease or feel you are at high risk, please address your concerns during an appointment with one of our doctors.
Meet the Staff
This month, we highlight Reshma Naik, IT and Process Support at The
Rubino OB/GYN Group.
Reshma is a certified billing professional with over 9 years of experience. She has worked with some esteemed billing companies and practices.
Reshma joined The Rubino OB/GYN Group in December of 2012 to handle all IT & process support. She enjoys challenges and problem solving which compliment her current position.
Besides work, Reshma's daughter Arya and her dog Miley keep her busy and she loves spending time with them. She also enjoys music and traveling.
Office Announcements
Flu and TDap Shots Now Available
We are now offering flu and TDap shots for our pregnant patients. Please call the office to make an appointment.
vitaMedMD Vitamins
The Rubino OB/GYN Group is now offering vitaMedMD™ in all 4 office locations. VitaMedMD offers patients high quality physician recommended products at an affordable price. Available products include Women's Multivitamin, Prenatal Plus, Prenatal One, Menopause Relief and Iron 150.
Emmi Video Tutorials
Emmi is a free, online video tutorial that makes complex medical information simple and easy to understand. Emmi provides clear and concise step-by-step information on common health topics and procedures right on our website. Click here to find out more.
Save Time with Online Appointments, Consultations &Personal Health Records
To schedule online appointments, consultations or view your personal health records at your convenience

, just visit the home page of
www.rubinoobgyn.com
. You can also call 973-736-1100 now to schedule an appointment at any of our four locations.

"Important Announcements" on Our Website
You can find important new developments and time-sensitive announcements (such as office closings) right on the upper right hand portion of our
home page
.
Enterprising Patients
If you would like to add your business or service to the website,
please e-mail us at network@rubinoobgyn.com.
Products Available on Our Website
For more information visit the products page on our website.